Think Pink: Why Bordeaux Rosé should be your go-to this summer
As modern consumers' thirst for pale pink Rosé continues to grow, look to Bordeaux for a selection of delicious, great-value Rosé wine this summer. Rosé is produced throughout Bordeaux under the sizeable appellation 'Bordeaux AOC', meaning styles of Bordeaux Rosé can differ greatly. However, most Rosé from Bordeaux focus on fresh, elegant and fruit forward wines. Gone are the days of dark pink clairet, these are modern Rosé that have been created to appeal to a younger, more contemporary audience with the aim of introducing them to Bordeaux.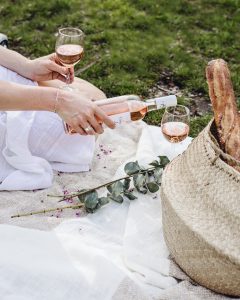 To meet increased demand, Rosé production in Bordeaux has doubled in the last 10 years, now representing 4% of all wine made in the region. Yet it is not just the quantity that has increased, the quality has also risen. While in the past Rosé was often treated as a by-product of red wine production, Bordeaux winemakers are now regularly picking red grapes with express purpose of making Rosé.
Here are 5 things you should know about Bordeaux Rosé:
•Unlike clairet, the pale, raspberry pink Bordeaux Rosé has more in common, colour-wise with rosé from other parts of France, without the price tag
•Versatile and food-friendly, with intense aromas of strawberry, gooseberry and grapefruit, Rosé wines from Bordeaux pair superbly with vegetarian dishes and grilled meats – they are perfect for summer entertaining.
•Despite being made from the same famous Bordeaux grape varieties as the famous Reds, Bordeaux Rosé are light in colour – this due to a contact time of just 12 hours between the skins and the juice.
•Bordeaux Rosé have a unique blue tinge, with no hints of orange-salmon. This is a character unique to Bordeaux Rosé; this comes from the terroir, its varieties and their acidity.
•The Bordeaux Rosé appellation covers the entire Bordeaux wine region, with 3600ha of the vineyard dedicated solely to Rosé