BORDEAUX RISES TO THE CHALLENGE
Despite the strict curfews imposed by the Government and the eerie quietness of the usually vibrant city centre, Bordeaux's vineyards have remained a hive of activity. For the past few months, winemakers have been hard at work to ensure a good vintage for 2020, while observing strict hygiene regulations.
In a demonstration of solidarity that has become synonymous with the response to Covid-19, the CIVB has been working hard to help provide winemakers with the necessary equipment and sanitary materials throughout the lockdown, providing advice and financial support as required. The CIVB also organised an online charity auction from 15th to 21st June, to raise funds for hospital carers to say "Thank you" for their unwavering care and support during this difficult time.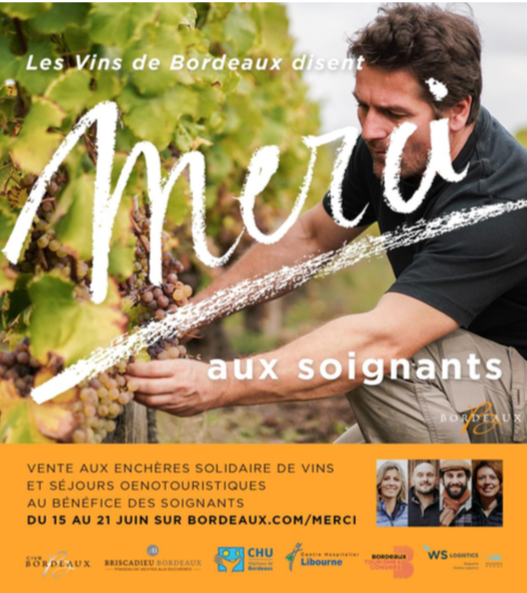 As in the UK, the on-trade has been profoundly hit by the crisis. In response to this, the CIVB has partnered with J'aime mon Bistrot, an country-wide initiative that brings together suppliers from all foodservice sectors, to support restaurants, bars and cafés, with a series of promotions and bursaries. To date, it has raised over €1.5M.
Meanwhile in the UK, Team Bordeaux has been busy adjusting and rescheduling the activities and initiatives planned for 2020.
As you may know the inaugural Bordeaux Day, previously scheduled for 5th May, has been moved for a second time to Wednesday 4th November. At a time when travel to Bordeaux is still uncertain, we will be bringing Bordeaux to the UK and hope that you will join us to immerse yourself into our world of wines. Tastings, briefings and seminars will be held throughout the day, with fingers crossed that our winemakers and members of the CIVB will be on hand to answer your questions and discuss the imminent 2020 harvest.
At this point, we are unable to confirm whether the postponed trade trips will go ahead in September as we had hoped, but will be in touch as soon as a decision is reached.
The PR team has also continued to generate exceptional coverage for Bordeaux Wines, encouraging both trade and consumers to rediscover Bordeaux through the new Hot 50 Bordeaux Selection 2020.
"We greatly admire and appreciate the ingenuity borne of necessity and the outstanding coming together of the wine community during this uncertain and unsettling time," says Allan Sichel, Vice President of the CIVP.
"We wish you courage, confidence, perseverance, creativity – and as always, a glass of good wine! Stay healthy, maintain the calm and composure needed to deal with this situation and we look forward to raising a toast with all of you at Bordeaux Day in a few months' time." #WeAreInThisTogether.