Top selection of Bordeaux wines to serve with your BBQ
Since meetings outdoors are allowed, now is the perfect time for gathering friends or family for a classic BBQ in the garden, on a rooftop, in the park, or really anywhere you can find a grill for a bit of socially-distant fun.
We have selected a few examples of Bordeaux wines to match with various BBQ recipes. To discover where they are sold, or to find more examples please click here.
Some might say that no BBQ party can be complete without some sort of meat (unless you are making a vegan BBQ, of course). Serve a powerful red Bordeaux wine (Bordeaux Supérieur, Côtes de Blaye or Côtes de Bourg) with a good rib of beef. The wines' woody aromas will be sublimated by the braised meat. Why not try Château Mille Anges Cadillac Côtes De Bordeaux, with it's rich but soft tannins, this Merlot blend is well-structured and powerful. A delightful pairing! 
Some other ideas – a Médoc (for example, Château Patache D'Aux, an elegant Cabernet Sauvignon blend) with black fruit aromas will be sensational with braised beef. Or a Korean rib-eye sprinkled with roasted sesame tastes even better with a round and structured red Bordeaux wine like Château des Laurets from Puisseguin Saint-Emilion.
We love a grilled lamb chop in the summer – they're classier than burgers but take about the same amount of time (maybe less) to prepare and that slight gamey taste that some people find off-putting can easily be obscured with garlic and herbs. 
We like to pair lamb with a fruity Cabernet Sauvignon or Cabernet/Merlot blend. Château Vignol is just one of many great choices from Bordeaux – this wine is full of fruit and flavour, yet with real Bordeaux structure – the perfect partner for the marinated lamb chops.
Lamb chops recipe 
In a food processor, blend together garlic, rosemary, salt, pepper (you can use something spicier than black pepper here if you like), and enough olive oil to yield a thick paste. Rub this simple marinade thoroughly on to your lamb chops and let sit for at least 30 minutes and up to overnight. If using a charcoal grill, light a chimney of coals and arrange them so that there's a "hot side" and "cool side" of the grill. Sear the chops for two minutes per side over the hot coals and then let sit for about three more minutes on the "cool side" for medium-rare.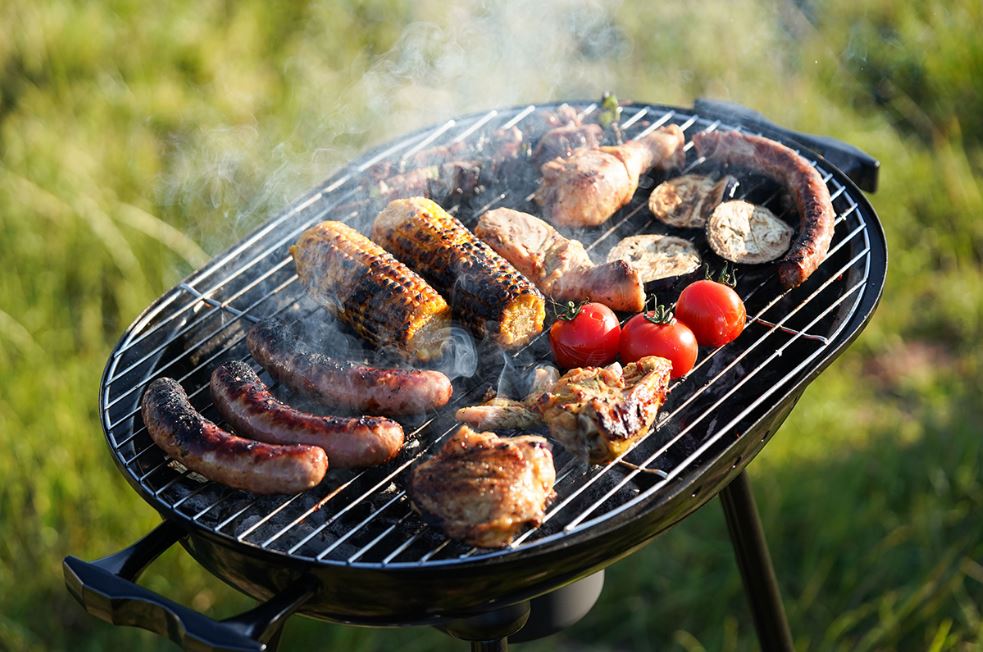 Dry white Bordeaux wine pairing ideas
A fresh and aromatic white Bordeaux wine (dry white from Côtes de Blaye or Entre-Deux-Mers, sparkling Crémant de Bordeaux) is a perfect match to grilled fish (sardines, shrimps) and grilled vegetables.
Bordeaux Sauvignon Blanc blends – such as Château Perron, from Graves or Château Sainte Marie Vieilles Vignes from Entre-Deux-Mers – have a toasty quality that makes them an ideal companion for the char of grilled, citrus-scented poultry.
Lemon chicken recipe
Not in the mood for lamb? No worries! We've got you covered with a healthy and delicious recipe for lemon chicken. Pound chicken breasts and thighs until they're of roughly even thickness and whip up a quick marinade of olive oil, lemon juice, lemon zest, garlic, oregano, salt and black pepper. Ideally, your chicken should sit in the fridge entirely covered in the marinade for at least a few hours, but you can get away with less if you're pressed for time. Grill for about 4-5 minutes per side or until cooked through. Let your chicken sit for a few minutes after removing from the grill, sprinkle with chopped fresh green herbs, and serve immediately with a chilled bottle of Sauvignon Blanc, such as fresh and crisp Château Reynon available from The Wine Society.
Bordeaux rosé wine pairings suggestions
Why not try a Bordeaux rosé with meat skewers or traditional merguez-sausages. Its aromas of strawberry, redcurrant and acid citrus freshness are perfect for refreshing the barbecue and titillating your summer taste buds. 
If you have guests of the pescatarian persuasion, we recommend blowing them away with a simple yet gourmet seeming Japanese-inspired miso-glazed salmon that pairs perfectly with a glass of Bordeaux rosé such as De Luze Rosé – Bordeaux rosés are almost always fresh and fruit-forward – a great match for summery grilled fish!
Miso glazed salmon recipe 
Whisk together white miso, mirin, rice vinegar, sesame oil, and minced fresh ginger and save a small dollop of the resulting concoction for later. Cover your salmon (either fillets or steaks work great here) with the rest of the glaze and marinate for about half an hour. Grill for about 4-7 minutes per side depending on desired doneness. Top each piece of salmon with a dollop of the reserved glaze and serve with a glass of rosé.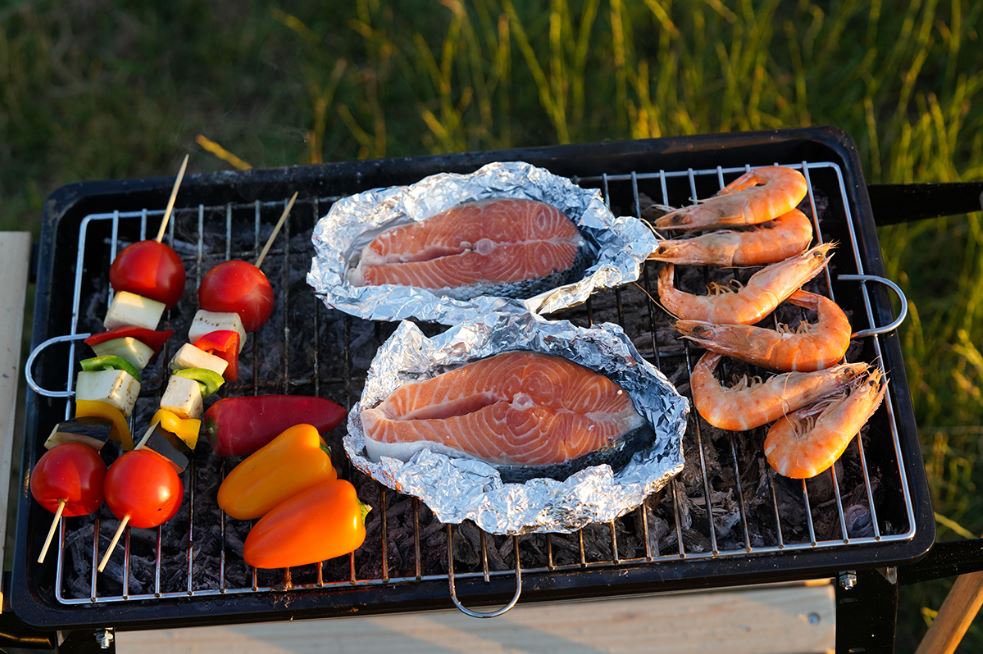 Grilled corn
When in season, any grilled corn on the cob is going to be delicious but, in our humble opinion, corn lives its best life in Mexican street food style. Simply grill ears of corn until some kernels on all sides are slightly blackened and then remove from heat. Make a paste of mayonnaise, hot chilli powder, and salt (you can also add a crumbly cheese like cotija if you prefer) and spread onto a baking sheet or any flat surface. Squirt your corn cobs thoroughly with fresh lime juice and then dredge through the chilli-mayo. Eat immediately with your hands and a glass of Bordeaux rosé, such as a fruity Château Bauduc Rosé.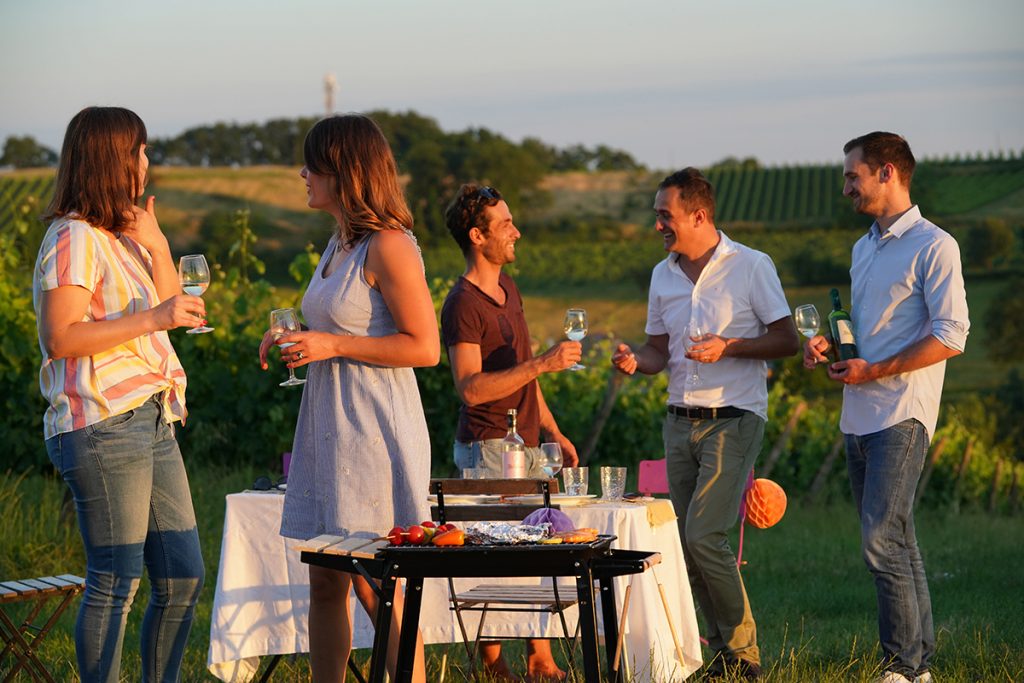 As always, of course, whichever recipes and wines you end up choosing, we wish you happy BBQing!