Romantic Bordeaux wines and top recipe pairings from our Everyday Bordeaux selection
If you're staying in and cooking this Valentine's Day, first of all good on you! Avoid watching other couples drool over each other on the table next to you, treat yourselves to the pace you want and enjoy a lot more freedom with your food and wine pairing options. 
We've selected some of the most romantic Bordeaux wines from our Everyday Bordeaux selection (aka good value, amazing quality) and found some inspiring, tasty recipes to serve up with them.
Remember there are no hard and fast rules with food and wine matching; if you like it, it works! Don't forget to let us know how you get on and share any favourite Bordeaux wines @BordeauxWinesUK. Bon appetit!
Crémant de Bordeaux
Who needs a dish to serve? Enjoy as an aperitif! Try Calvet La Fleur Baron has white flower, peach and gooseberry aromas and is a blend of popular grapes Sauvignon Blanc and Sémillon at £8.50.
Serve with this roast cauliflower, kale and goat's cheese salad from Delicious Magazine, the fruit flavours of these wines will compliment the goats cheese nicely. Keep it healthy but tasty, they'll love you for it. 
Red Bordeaux
If you fancy red then go for Avery's  supple and fruity Château Picheron Bordeaux Rouge 2015. At £7,49 this is a bargain, fresh and smooth with a fine balance between fruit and tannins, a lovely blend of Cabernet Sauvignon Cabernet Franc and Merlot.
Or for a more round and structured red wine go for Laithwaite's Le Grand Chai Montagne Saint Emilion 2014 which costs £14.99 and is dominated by spicy oak flavours.
Try this simple yet scrummy Heston Blumenthal perfect steak with it, the fat from the steak will soften the tannins and either of these juicy wines will help boost the flavour of the steak.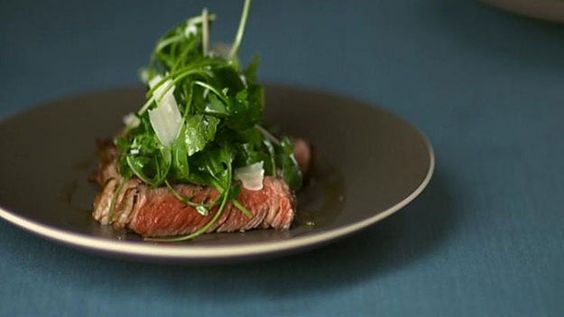 Sweet Bordeaux
To finish it would be rude not to have dessert, and a sweet Bordeaux wine to go with it. Marks and Spencer's has a beautiful L"or du Ciron from Sauternes, an intense, luscious blend of Sauvignon Blanc and Sémillon in a handy half bottle for £12.50.
For a slightly lighter sweet wine try this mellow and fruity Premières Côtes de Bordeaux from Tesco, a steal at only £6.50 for a 75cl bottle.
Try making Laurent Favre-Mot's Dark Chocolate Mousse from our chocolate table – let us know what you think and share a photo if you make it! @BordeauxWinesUK