Get involved with Bordeaux
Once again, the CIVB is investing in a number of activities created to help increase awareness and visibility of Bordeaux wines to boost your sales in 2020. Focusing on highlighting the diversity, quality and affordability of modern Bordeaux wines, these original educational initiatives aim to fully immerse you in the world of Bordeaux.
Bordeaux Day – attend our exciting new trade event in London on Wednesday 9th September and find out all you need to know about the Bordeaux wines of today – diverse, versatile, affordable and sustainable, red, white, rosé and sparkling, there is a Bordeaux wine to suit everyone. Register here.
Bordeaux Uncovered – brush up on your knowledge of Bordeaux by attending one of our Bordeaux Uncovered sessions. Especially created for sommeliers, independents, agents, wholesalers and multiple retailers, these educational and interactive tasting events kick off with a short masterclass, followed by a fun, blind speed-tasting. Bordeaux Uncovered sessions will be held in Manchester, Glasgow, London and Cambridge. Dates to be confirmed.
Bordeaux Training – why not sign up for one of our exclusive training sessions? These two-hour long sessions have been developed to enable you to offer your customers and your sales teams, the chance to familiarise themselves with Bordeaux. Hosted by a Bordeaux Wine School accredited tutor in your offices, or perhaps in a customer venue, these sessions include an overview of the region as well a comprehensive tasting of the region's more modern wine styles including dry whites, rosés, Crémants and fruit-forward reds. We'll bring the wine – or we can use wines from your own portfolio.
Education Trips – discover the variety of wines that Bordeaux has to offer by taking part in one of our popular fully-funded three-day trade trips. As well as training sessions at the world-famous Ecole du Vin de Bordeaux, you'll meet winemakers and taste a wide variety of wines in some breath-taking châteaux.  Please note that spaces on these trips are limited to merchants, distributors, agents, retailers, and for those with buying influence within the on-trade.
Bordeaux Wine Month – boost your sales of Bordeaux wines by taking part in Bordeaux Wine Month. Returning for its third year this September, this promotion, created especially for independent wine merchants, provides an excellent platform to showcase the diversity and value of Bordeaux Wines, priced between £6-25, to new and existing customers. All participants will be provided with £200 and a comprehensive POS pack. 100% of those who took part in 2019 have expressed an interest in Bordeaux Wine Month 2020. What are you waiting for?
Oenobordeaux – and finally, with more time at home, why not have fun testing and expanding your Bordeaux wine knowledge with our must-have free wine app? Developed by the world-famous Ecole de Vin de Bordeaux, Oenobordeaux will provide you with everything you need to know about Bordeaux wines. Download it today from iTunes and GooglePlay.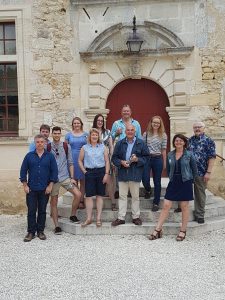 For more information on any of our activities and how you can get involved, please contact teambordeaux@cubecom.co.uk