All they want for Christmas is…
Crémant de Bordeaux
Although the Crémant appellation is one of the newest in Bordeaux (1990), the production of sparkling wines in the region is a century-old tradition. These wines, produced throughout the Bordeaux Appellation, have experienced record success in recent years: indeed, over the past 10 years, Crémant de Bordeaux Blanc has increased in production by 268% to 5.2 million bottles, while Crémant de Bordeaux Rosé production has risen by a staggering 466% to 2.3 million bottles.
Despite the significant rise in production levels, Crémant de Bordeaux remains an undiscovered wine for many. Made in the traditional method, grapes are picked exclusively by hand, undergo a very gentle extraction of the juice, followed by fermentation first in tank and then in bottle aged for a minimum of 9 months. However, unlike other traditional method wines, the grapes used are uncommon, with any Bordeaux varietal permitted for Crémant de Bordeaux Blanc and any red variety permitted for Crémant de Bordeaux Rosé, with Sémillon and Cabernet Franc playing a significant role respectively. The result is unique, great value and intriguing traditional method sparkling wines.
Whether it's for virtual apéritifs with friends, family meals, New Year's and holiday celebrations, with its great diversity of styles yet consistently delicate bubbles and a fresh yet structured palate, there is a Crémant de Bordeaux for every festive occasion, making it a must-stock for retailers.
For Virtual Office Parties and Apéritifs
With its light, persistent effervescence and complex, nutty, gently honeyed nose, Crémant de Bordeaux Blanc is the perfect tipple to get the party started. With consumers increasingly seeking out alternative sparkling wines, it is an exciting option with strong provenance and quality traditional method production. What's more, Crémant de Bordeaux Blanc represents excellent value for money, making it the perfect fizz for customers to pop open at their next Zoom party.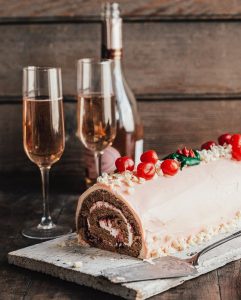 For Starters
Sparkling rosé is one of the fastest growing categories in the UK so why not take the opportunity to promote elegant Crémant de Bordeaux Rosé? Made from the red grape varieties of Bordeaux, this traditional method sparkling wine offers note of ripe red fruit, toasted pastry with a supple nuanced palate; serve it on  Christmas Day with salmon and cream cheese blinis.
For the Christmas Day Feast
More than ever, this year is the time to indulge without breaking the bank, and a Crémant de Bordeaux Blanc de Blanc does just that. Typically a little fuller than other Crémants with a great nutty complexity yet still fresh, fruity and floral, this wine style has the quality the festivities deserves, with the depth to stand up to the rich flavours of your Christmas centre piece.
For Vegan Dishes
Vegan dishes call for vegan wines and thankfully, there are many Crémants de Bordeaux on the market that are produced using no animal products. With its bright acidity, it is a superb style to pair with a Mushroom Wellington this winter. For those looking for a sustainable option, there are plenty of sustainably produced Crémants de Bordeaux with more than 65% of the Bordeaux vineyard area following a certified environmental approach in 2020, including Organic Agriculture, High Environmental Value and Terra Vitis.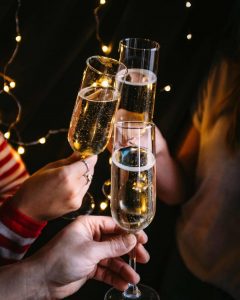 New Year's Eve Celebrations
Why not try something a little different and serve up some Crémant de Bordeaux cocktails to see in the new year?  Accompanied by fruit juice or spirits, Crémants de Bordeaux have stirred up the creativity of mixologists. Serve with gin, lemon juice and sugar for a fresh twist on the classic French 75.