Ludovic Greffier – 50 shades of white
For more than 150 years and across 5 generations, the Vignobles Greffier have produced an exclusive range of dry white wines, making them a specialist in their trade and unique in the Bordeaux region. Their property in the Entre-Deux-Mers region, located around the tip of the Gironde (La Butte de Launay), has been in the hands of the Greffier family since time began.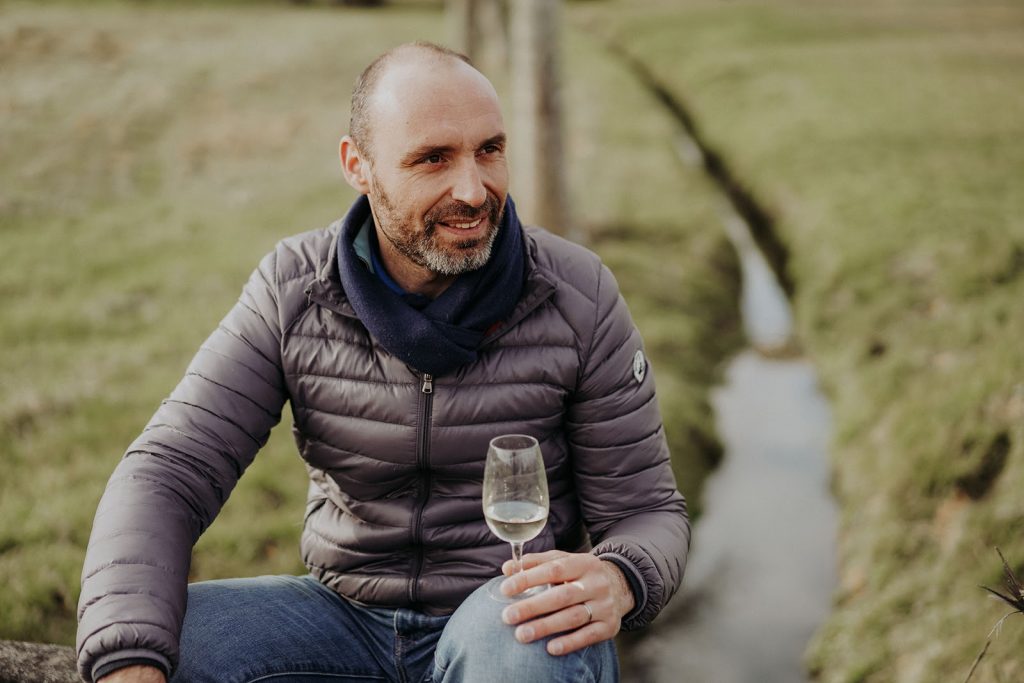 30 years old Ludovic, manager of the domain since 2015, re-joined the family property in 2013, after working as a salesman in the construction industry for 10 years. He trained in oenology and started running the family business under the guiding hand of his father. In line with the family tradition, he only produces dry white wines: "With our 74 hectares of land, we want to keep this specialty by diversifying our white varietals. We currently have six: Sauvignon Blanc, Sauvignon Gris, Sémillon, Muscadelle, Ugni Blanc and Colombard. All our vineyards are located in Entre-Deux-Mers. The clay-limestone soils of the region are known to favour the growth of white grape varieties."

Greffier wanted to take over the domain and put his own stamp on it. He chose to cover the entire area with grass and maintain a maximum density of 3,300 plants/ha so as to prioritise the quality of the harvest and to be able to better control the maturity of each grape variety.

Since the end of 2017, he has been committed to the SME (Système de Management Environmental [Environmental Management System]) charter to run his vineyards in harmony with the environment. His aim is to obtain the double certification ISO 14001 and Haute Valeur Environnementale [High Environmental Value].
Modernity and traditions
Greffier has invested in cutting-edge technologies to control the temperatures in his cellar at an extremely precise level. With thermoregulation on each vat and air-conditioned buildings, he aims for optimal preservation of his dry white wines. This modern approach does not veer far from the family traditions and their age-old expertise in white wines. He applies a specific methodology that has been used for generations. Pellicular maceration, cold storage, fermentation at low temperatures and maturation on fine lees are a few key points in the conception of his wines.
The art of taking one's time
Greffier also stands out because he uses old fermentation yeasts, but especially because he takes the necessary time to allow his white wines to optimally mature and develop a beautiful aromatic palette. "After the harvest, I stabilise the juice at cold temperatures for ten days or so to obtain a maximum of aromas. I also treat the lees, even though this usually doesn't happen anymore. I'd rather take enough time, even if this means that my wines are put on the market later on in the year, around May time."
In recent years, Greffier has expanded his range, particularly with 'Le 5 de Vignobles Greffier', a tribute to the five generations of winemakers. The Château Moulin de Launay which, like 'Le 5', originated from a blend of 5 varietals (Sauvignon Blanc, Sauvignon Gris, Sémillon, Muscadelle and Ugni Blanc) and in 2017 an atypical 100% Muscadelle. "I plan to invest in more casks so I can introduce a new range of flavours. I also want to increase my international sales", Greffier concludes.