From Hull to Malborough
Meet Estelle Roumage, a globe-trotting winemaker from Entre-deux-Mers
We are living in strange times and travel is currently unfortunately not possible. But when you can't travel, you can dream while learning about the adventures of Estelle Roumage, the winemaker at Château Lestrille in the Entre-Deux-Mers area of Bordeaux. Her past travels have inspired Estelle to produce the white wine that you can find in our HOT 50 selection.
Where did your travels start?
First, I studied in England in the 90s. I studied in Hull, an industrial city, do you know it? I loved these moments.
Any moment in particular?
Yes! The fish and chips around the corner, where the lady would wrap it all up in a newspaper and say "Ta lurve" to thank us, or something like that. At the time I was in a European school. We were a mix of English, Dutch, Spanish, German people… It was so great.
And after that?
London! After studying in Hull, I spent a year in London with a wine importer, discovering all these wines that were imported to the UK. It made me want to travel, especially to Chile. I then said to myself that I will learn Spanish, and to make a transition, I went to Madrid. I ended up spending 4 years there, but I never went to Chile (laughs).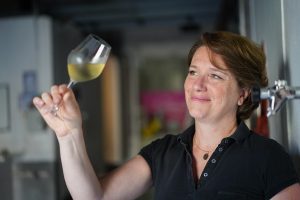 And then a detour to New Zealand?
Yes. But let me tell you the story from the start – I am the winemaker at Château Lestrille. My family has been producing wine for 5 generations. Coming back from Madrid, I graduated to become a winemaker in Bordeaux. For the validation of the diploma, we had to find an internship more than 60 km from the family farm, so I went to New Zealand, to the region of Malborough.
It's a region that produces a lot of whites, especially Sauvignon Blanc, and that made me want to develop white wine production in Bordeaux. At the time, dad had 5 acres, and now we have about 37 acres. Today, of the total production, half is white and rosé wines. The other half is red.
What is the peculiarity of a white Bordeaux wine?
Here there is a strong peculiarity: the oceanic climate. For example, Sancerre is rather mineral, Malborough wines have notes of passion fruit, asparagus. In Bordeaux, we are more on the grapefruit notes, which gives very fresh wines. What makes the beauty of our profession, is to bring different notes according to the expression of our soil. That's the whole game, so every wine is different.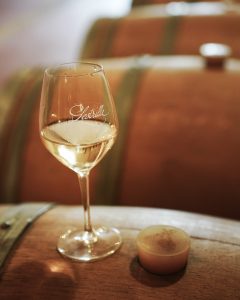 How do you manage to create the wine you want?
What I love is exchanging wine-making techniques with people from all over the world. I had so much fun creating these white wines with this typicity. It's magic to try lots of different things and keep doing them to get this white wine.
Tell us more about your wine.
This wine is a white wine that is fermented and aged in barrels. In Entre-Deux-Mers the wines are fresh with a good level of acidity. Here our specificity is to use Sauvignon Gris with Sémillon. These are grape varieties that support aging in barrels. It will give a wine with exotic aromas such as mango, pineapple and a touch of ginger. There are also discreet notes of brioche and vanilla brought by the aging in barrels.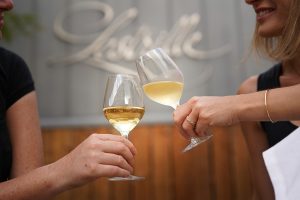 You also have your own wine bar in the centre of Bordeaux, right?
Yes, it's called "Un Château en Ville". Dad started selling direct to consumers in the early 1980s. In the UK, you can find our wine at independent wine merchants, restaurants, on e-commerce sites. But in France, almost all of our sales are made directly to consumers. At the property we do tastings, food and wine pairings, blending workshops, we love sharing our wine knowledge and we want people to discover how we work. We also wanted to meet people directly in the city of Bordeaux, to share, to taste our wines – whites, rosés, reds, so that's why we created this bar. We also plan to add our favourite wines from elsewhere, always with the idea of sharing things we love.
You as a globe-trotter, you make us want to come to visit you in Bordeaux as soon as possible. When I come to Bordeaux, how should I spend 2 days there?
Ah, so first of all, you have a glass of Entre-Deux-Mers at Château en Ville, then rent a car or better still rent a bike and take the cycle path to Château Lestrille. You stop just before Saint Emilion and you come to see us. You can rent a guest room next door. We can do a tasting tour, assembly workshop, you can come to one of our monthly wine evenings, and we also do tours in 2CV.
It's in Entre-Deux-Mers, tell us a bit about this region
Yes! It is often said that Entre-Deux-Mers is the Tuscany of Bordeaux. It is hilly, with beautiful biodiversity, groves, rivers, with different cultures: market gardeners, cereals, vines. We are in a region where life is good.
For years we have used sustainable viticulture on our property. We converted to organic this year, as you see more and more of this in the Bordeaux region.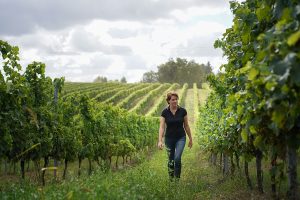 What do I do after I come to see you?
Then you enjoy the city of Bordeaux, the quays, la Cité du Vin, a lot of gourmet places, and if you have a little more time, you go to the coast to enjoy oysters with a glass of Entre-Deux-Mers.
Ok, that made me actually want to drink one now, so tell us what do we drink your wine with?
Our wine is on a creamier side so it goes well with risotto, poultry and cheese platters. But there are no rules. Just enjoy it.
What is the best possible experience to enjoy a wine?
It's when you are with the right people. The wine is shared, at any time, any location, but always with the right people.
Let's come back to you a bit, you are a woman, are there a lot of female winemakers in Bordeaux?
Yes, more and more. Now it is very common. In the beginning, women were in the commercial part, now they are everywhere. 15 years ago we were asked what do you bring as a woman? Now nobody asks us this and it is much better this way!