Wine and pizza – a few ideas from Bordeaux
Pizza is one of the world's most versatile and glorious culinary creations. And we all know that a pizza party is the best kind of party. No matter whether you opt for a homemade pizza or order a takeaway – we have Bordeaux wines to match with all the possible toppings. So why not invite your friends to come over, serve a selection of Bordeaux wines and see which wine they think goes best with each pizza?
There are no strict rules and we would like to offer you just a few suggestions. At the end of the day, it's all about one's personal preferences.
Margherita Pizza
No pizza party is complete without a Margherita. Featuring the simple and classic flavours of tangy tomato, creamy mozzarella and fragrant basil, a Margherita pizza lends itself to light/medium-bodied wines. The zesty flavours of a dry white Bordeaux Sauvignon Blanc wine such as Dourthe N°1 are just enough to bring out the pizza's flavours, without overpowering it.
Alternatively, try a delicate Bordeaux rosé such as Château Penin – with light red fruits, it's dry and refreshing – just right to balance out the fresh ingredients of a Margherita.
What is your favourite wine to drink with a Margherita?
Pepperoni Pizza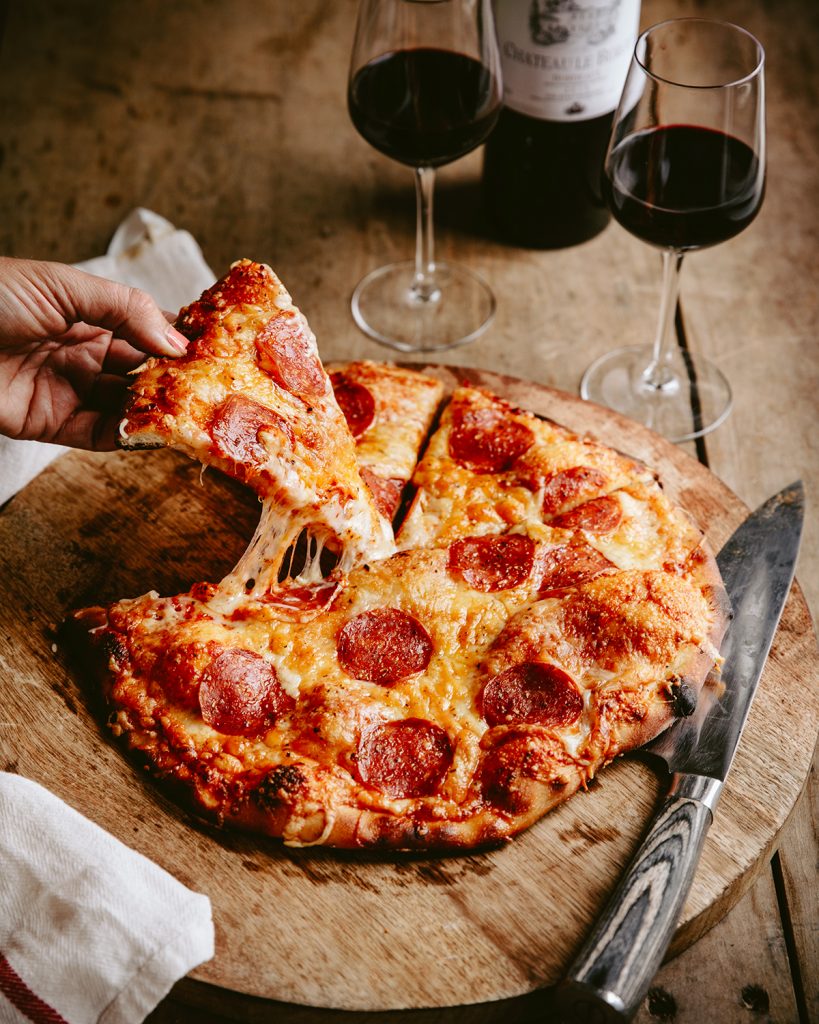 To stand up to the strong spice of pepperoni, we suggest opting for a wine with rich, fruity flavours like a Bordeaux Supérieur such as Château Saint Germain. Its ripe red fruit with crisp acidity and fine tannins will cut through the pepperoni's fat and saltiness, providing the perfect match. The same rule can be applied for other meaty pizzas like sausage or meatballs.
Vegetarian Pizza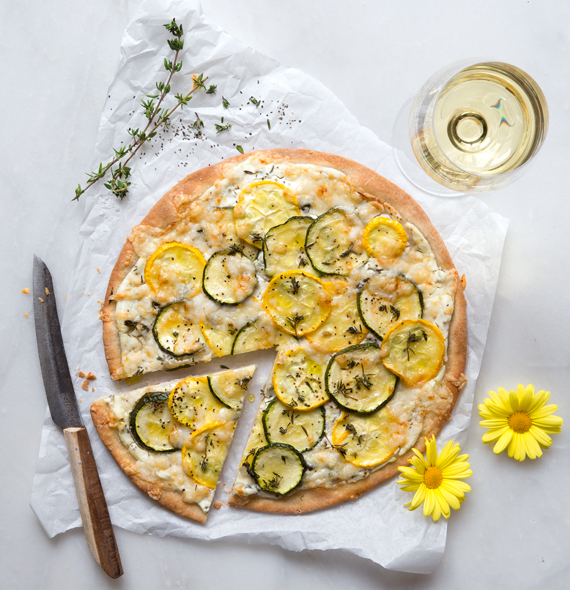 Veggie pizza tends to be slightly more neutral in terms of acidity and flavour which is why it goes well with an unoaked dry white Bordeaux from the Entre-Deux-Mers region such as Château de Beauregard Ducourt. With its gentle notes of citrus and ripe fruit, it complements the flavours of the vegetables perfectly.
Barbecue Chicken Pizza
To match the smoky and sweet flavours of the barbeque sauce go for a fruit-forward red Bordeaux wine. We suggest a blend of Merlot and Cabernet Sauvignon grapes such as Château la Passonne – it has fresh raspberry aromas, is dry and structured.
At the end of the day, there is no right or wrong answer when pairing pizza with wine. The most important thing Wis to enjoy both!