Three picnic ideas to enjoy in the sun this summer
We have been so lucky with the wonderful sunny weather this year. And what better way to enjoy it than with a socially-distanced picnic! Not all of us are ready to dine out yet so picnics are a great way to get together with friends and family for a special occasion or for a fun weekend activity that can pretty much happen anywhere in or outside of the city!
Here are our favourite picnic settings, and the ideal Bordeaux wines to sip on. 
Wine and cheese picnic at the park
After work or on the weekends, grab a group of friends and head to your favourite local park. All you really need is a large blanket and enough Bordeaux!
No need to overcomplicate the bites here – an easy, shareable, no cooking required spread totally fits a relaxed weekday evening. Some ripe cherry tomatoes, your favourite hard cheeses (you'll find prawn cocktail make for delicious picnic snacks).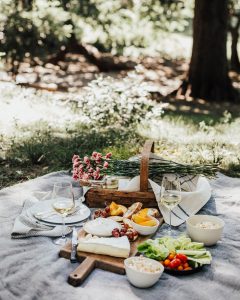 Pour a cool, delicious glass of Bordeaux white from Pessac-Léognan region. These wines tend to have wonderful aromatic complexity from their barrel-aging technique. Better yet, these wines are ready to drink young or aged up to 10 years. A solid investment that is ready to make your picnic this season, or years down the road. Why not try Château de Cruzeau – with floral and grapefruit aromas, this wine is textured and complex, with crisp green apple flavours. A perfect match for all your picnic food, and especially cheeses. 
For those who still think cheese goes well with red wine only – you can find more of our white Bordeaux and cheese matching tips here.
If you are still keen on the red wine – go for a lighter fruitier style such as Château Le Bédat, a Merlot blend available from The Wine Society for just £7,50 a bottle. It's a nicely balanced, young red wine with vivid fruit and spicy undertones.
Seaside white wine picnic
Take to the seaside with your better half or a friend for a day of fresh oysters and even fresher chilled Bordeaux! It'll be a shucking good time, and the perfect way to wind down.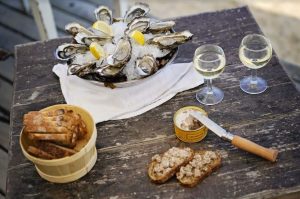 Whichever seafood you choose for your seaside escape, don't leave town without the ideal bottle from Entre-Deux-Mers.
Nicely chilled, lively and fruity, a sip of a wine from the Entre-Deux-Mers region will bring unmatched freshness to a summer's day. 
We suggest Château Sainte Marie Vieilles Vignes, available from Great Western Wine. Characterful, bright white Sauvignon Blanc blend with aromas of gooseberry and fresh cut grass and a good, dry, concentrated finish.
Picnic by the lake with your favourite Bordeaux wine
Think back to childhood summers at your favourite lake house. There's no reason why you can't revisit lazy dockside days as an adult, plus, it'll be even more fun with friends and your favourite wine!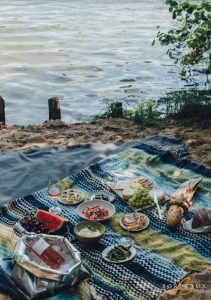 Whether you share a picturesque Airbnb or take to the local docks for the day, keep it low key and delicious. Our favourite wine? You guessed it – Bordeaux rosé, such as Château Tour De Mirambeau, available from Tanners Wines – with wild strawberry and pear aromas, this bright and fruity rosé will give you mouthwatering freshness on the dry finish.
Is fizz your thing? Why not try a sparkling Château de Bonhoste Rosé available from Hourlier Wines. The cabernet franc grape gives this sparkler fine fragrant aromas and bright, red berry fruit – well-balanced, fresh, complex Crémant de Bordeaux rosé.