Summer sipping with Bordeaux
Summer is the perfect time to discover Bordeaux, but as it's not yet recommended to travel, we would like to invite you to discover the best summer locations of Bordeaux through our wines. So let's get sipping (in moderation, of course)!
Just under forty miles from the city of Bordeaux lies the Bay of Arcachon, an area of fantastic natural beauty that is home to stunning beaches, pine forests, world-renowned oyster beds, and a truly incredible sand dune.
Dune du Pilat
The Dune of Pilat, known as Les Sabloneys ('the New Sands') until the 1930s, holds the impressive title of the tallest sand dune in Europe, rising to over three hundred and fifty feet above sea level.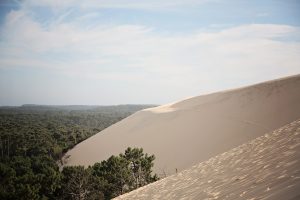 After hiking on the dune you will need to cool down. And what better way than with a glass of delicious chilled dry white Bordeaux wine from the Entre-Deux-Mers region such as Château Sainte Marie Vieilles Vignes. This characterful, bright Sauvignon Blanc blend with aromas of gooseberry and fresh-cut grass has a good, dry, concentrated finish that would be just perfect after all the hard walking.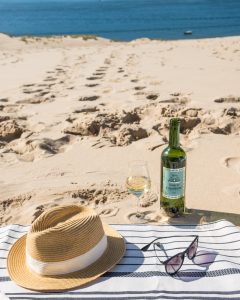 Bordeaux beaches
If, however, you'd rather relax on a beach than hike up a mountain of sand, we completely understand! You're also in luck, since the Bay of Arcachon is home to an incredible diversity of beautiful beaches: on the Ocean, the Bay, and even along the shores of Lakes Cazaux, Biscarosse and Hourtin-Carcans. In total, there are almost fifty miles of beach to choose from, so everyone should be able to find the perfect stretch of sand for themselves.  
And what could be better than a picnic on one of these beaches with a delicious glass of Bordeaux Rosé! Its fresh and fruity aromas match perfectly with summer flavours. With pink grapefruit and rose petal aromas, light, dry and refreshing De Luze Rosé is made for that summer day with your feet in the sand.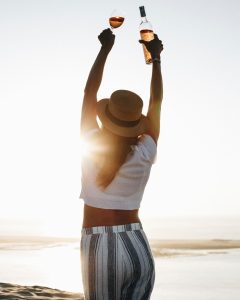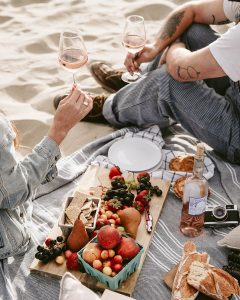 For sparkling wine lovers, an equally perfect option would be Calvet Crémant de Bordeaux Rosé. This elegant fizz is pale pink in colour, fresh and lifted – an impressive sparkler made from Bordeaux's two classic red grapes Cabernet Sauvignon and Merlot.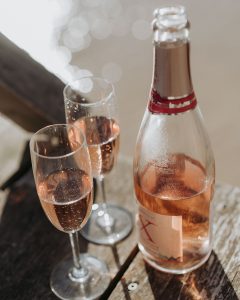 Eating out in Arcachon 
Dune hikes and beach sunning can induce hunger in equal measure and, as chance would have it, Arcachon is known by many as the capital of French oysters. At this point, you may be asking yourself: what do sand dune hikes, sunny beaches, and oysters all have in common? Well, we'll tell you: they all pair perfectly with a delicious glass of dry white Bordeaux wine! Our choice is Château La Louvière Blanc from Pessac-Léognan. It's a top-notch Bordeaux Sauvignon Blanc, balancing zesty fruit with a creamy texture and long, complex finish – delicious on its own and a versatile food match.
The proximity of the Atlantic ocean gives Bordeaux wines a special taste that you can enjoy at one of many scenic oceanfront terraces in the Arcachon area. We're confident that you'll love drinking an affordable and fresh white wine while watching the sailing boats go by or a sunset over the water. Why not try Château Reynon Sauvignon Blanc – it has delicate flavours of peach and grapefruit, is crisp and pleasant, smooth, dry and rounded. The most perfect way to end a day in the Bordeaux area!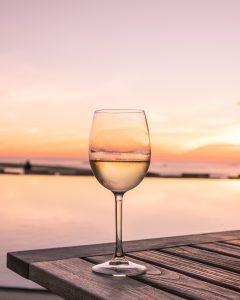 In the vineyards
No visit to Bordeaux can be complete without stopping by at some of the region's wonderful vineyards. Of course, there are world-renowned wineries that produce some of the best complex red wines but since it's summer we suggest to go for a lighter fruitier Bordeaux red, such as Château Vignol. A modern Cabernet Sauvignon and Merlot blend, full of fruit and flavour, yet with real Bordeaux structure.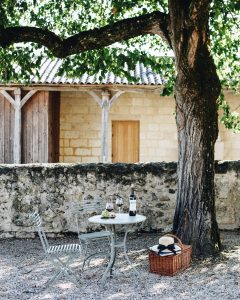 Bordeaux city
With so many great restaurants in Bordeaux, you can't leave the region without enjoying a delicious meal on one of the city's numerous terraces. And the best way to start any meal is with a glass of chilled sparkling Crémant de Bordeaux, such as Monfaucon Estate Pétillant –  with complex flavours of honey and fennel this lively fizz is a high quality, characterful sparkling wine.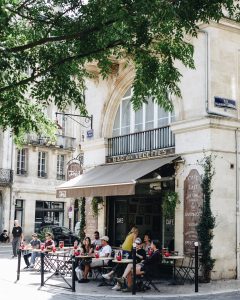 We can't wait to welcome you to our beautiful region again soon but for now, we hope you will enjoy the wines in the comfort of your own home.
Have a look at more delicious and affordable wines to try here.