Top 5 Dry White Bordeaux Wines for British Cheeses
We've all done the 'red wine and cheese' combo. And it's so yesterday. If you really want to mix things up, try pairing dry white wines from Bordeaux with your local British-made fromage. Sweep aside that 'full-bodied red' talk and get your mouth round some gorgeous Bordeaux dry whites that will bump your weekend cheese board up a whole new level.
Although Bordeaux may be better known for its red wine production, the dry whites long predate the reds and there are currently almost 2000 winemakers producing this alluring wine style in 12 appellations across the region.
The combination of diversity of terroirs, the oceanic crispness and the winemakers' expertise results in high quality crisp, fruity and structured wines that are not only affordable and versatile but are also great with cheese. So, whether it's a bright and crisp single varietal Sauvignon Blanc from Entre-Deux-Mers, a rich and generous barrel-fermented blend of Sauvignon Blanc and Sémillon from Graves or an unexpected Bordeaux cuvée such as a Sauvignon Gris dominant blend bursting with flavours of lemon zest, grapefruit and white pepper, there's a white Bordeaux to match even your most adventurous cheese choices. 
We have selected 5 dry whites from the Bordeaux Hot 50 Selection, a brand new initiative that showcases the exceptional quality, diversity and affordability of Bordeaux wines, and paired them with 5 sumptuous styles of cheese, let's get this fromage fest started.
A powerful dry white made by a producer more normally associated with sweet wines. Textured and delightfully fresh and crisp this perfectly cuts through the creaminess of a Wensleydale.
G de Guiraud AOC Bordeaux Blanc, 2016 £16.50 from Palmers Wine Store
For vegan cheeses
More delicate vegan and nut cheeses will be charmed by the oak undertone of this fruit-driven white, which brings zesty, bold citric fruits and a touch of white pepper to the palate.
Château Lestrille Capmartin AOC Bordeaux Blanc, 2018 £16.99 from Strictly Wine
For Cerney Ash and other Goats' cheese
Nothing sings the praises of Goats' cheese more than a 100% Sauvignon Blanc; the bright intensity of citrus, gooseberry and herbal flavours, combined with bracing acidity is ideal to offset the rich, creamy but rustic notes of a good Goats' cheese.
Dourthe "Terroirs d'Exception" Roqueblanche Sauvignon Blanc £9.49 from Waitrose
For Stinking Bishop and other washed-rind cheeses
This bone-dry white may look ordinary, but it hits the tasting sweet spot when paired with the pear and herbal notes of a rich Stinking Bishop. Light and unoaked, the wine compliments the creamy tones of washed-rind cheeses beautifully.
Mouton Cadet Blanc £10.50 from Vinatis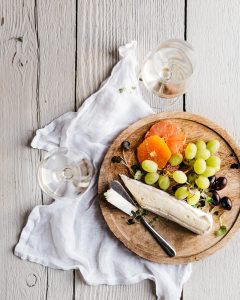 For Applewood and other smoked cheeses
The mild, smoky, spiced flavours of Applewood cry for the confident oaked notes of this dry white wine. Rich and spicy, flavours of ripe earthy apricot and creamy peach are underscored with a crisp, lemony kick.
Château La Louviere Pessac-Léognan, 2013 £24.99 from Waitrose
For other ideas on cheese and wine pairings have a look here.