3 light and delicious summer recipes paired with Bordeaux wines
We still have a few weeks of summer left, and while not all of us have had a proper holiday this year, many of us have used the time to become better cooks. No matter if you have improved your cooking skills or not, our light summer recipes are as easy to make as they are to pair with Bordeaux wines!
Zucchini noodles with prawns
Most of you will probably have come across the name zoodles, as this pasta alternative increased in popularity all over the world. Our version is made with prawns and believe us, you'll want to eat it again and again!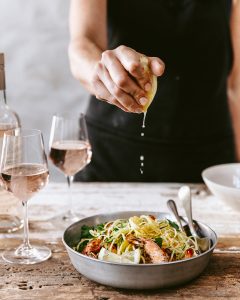 Ingredients
3 medium zucchini

500g prawns

1 tbsp butter

1 tbsp olive oil

5 cloves garlic, chopped

3 tbsp lemon juice

1 teaspoon paprika (hot)

1 pinch of chilli flakes

Fresh parsley, chopped

Salt and pepper to taste
Method
 Cut the zucchini to make zoodles with your vegetable cutter and then spread them out on a paper towel. Sprinkle with a little salt and roll them up to make them lose moisture. 

 Season the prawns with a mixture of salt, pepper, paprika, and chilli flakes. Heat a large pan on medium heat and add a tbsp of butter and a tbsp of olive oil. Add the prawns and let them cook until they are lightly browned. Set the cooked prawns aside.
 Add chopped garlic and lemon juice to the pan, then add zoodles and cook stirring well for about 3-4 minutes. Finally, bring back the prawns and add chopped parsley. Mix everything together and serve with parmesan and fresh pepper.
Wine accompaniment
It doesn't always have to be white wine when seafood is on the table! A Bordeaux Rosé can also make an excellent pairing and we would definitely recommend you to try it. You won't go wrong with Château Tour De Mirambeau Rosé available from Tanners Wines. With wild strawberry and pear aromas, this pale pink rosé is bright and fruity, with mouthwatering freshness on the dry finish.
Broccoli and mango salad
If you like it sweet, sour and salty, you will love this salad!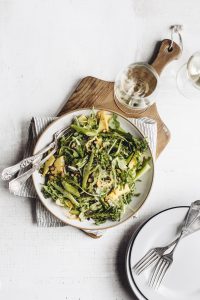 Ingredients
1 medium-sized broccoli, cut into 5cm pieces

5 stalks of green asparagus, cut into 4cm long pieces

1 avocado

1 mango

150g rocket salad

1 red onion, finely chopped

1 small red chilli, finely chopped

1 tbsp finely chopped coriander

1 tbsp sesame oil

2 tbsp white wine vinegar
Method
 First, bring 1L of water to the boil, then add the pieces of broccoli and asparagus and cook for 5 minutes.
 Drain the vegetables. Mix in chopped onion, rocket, avocado and mango pieces.
 To make the dressing, mix chopped chilli, white wine vinegar and sesame oil with salt and pepper and then add it to the salad.
Wine accompaniment
Here you would most likely pair the salad with a dry white Bordeaux wine, preferably one with a nice fruity note. Château Bauduc Sauvignon Blanc, available from their online shop would be exactly right here. It's a bright, breezy Sauvignon Blanc with ripe peach flavours, good depth and a long, dry finish. A Bordeaux rosé would be another great pairing option.
Tomato tart
A tomato tart is not only delicious to eat but it is also very pretty to look at. You can get really creative here because there are various sorts of tomatoes and almost all are suitable. Let your creativity run free and experiment with different coloured tomatoes, cherry tomatoes, beef tomatoes – use just any type you like!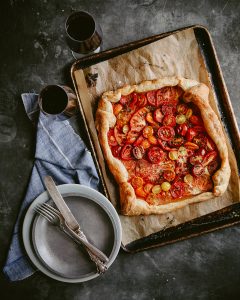 Ingredients:
1 roll of puff pastry

100ml sour cream or crème fraîche

1 tbsp mustard

2 teaspoons fresh thyme

¾ teaspoon salt

Freshly ground pepper

150g tomatoes of your choice, sliced

1 pinch of seas salt flakes
Method
Preheat the oven to 180°C, line the tray with baking paper, roll out the dough and prick a few times with a fork.
Mix the sour cream with the mustard, thyme, ¼ tbsp salt and pepper in a small bowl. Spread the mixture evenly over the dough, leaving about 3 centimetres from the edges. Then arrange the tomato slices on top and sprinkle with sea salt flakes and/or some more pepper.
Fold in the edges and bake for about 30 minutes, until the tomatoes look dry.
Wine accompaniment
A smooth and fruity Bordeaux red wine perfectly complements this tart. We, therefore, recommend that you try Château Le Bédat, a blend of Merlot, Cabernet Franc and Cabernet Sauvignon, available from the Wine Society. It's a nicely balanced, young red with vivid fruit and spicy undertones.