Easy homemade recipes to enjoy with a glass of dry white Bordeaux wine
Like many others, we are currently stuck at home and are using this time to try some new dishes to pair with a glass of refreshing dry white Bordeaux wine. We hope you, like us, will enjoy making those easy pairings at home.
Zucchini quiche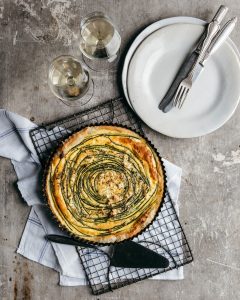 Ingredients for pastry
• 150g plain flour
• 100g butter
• 1 egg
• Pinch of salt
For the filling
• 4 eggs
• 100ml milk
• 100ml double cream
• 1 large zucchini, cut into thin strips with a peeler
• 200g grated Emmental cheese (or vegetarian alternative)
• 100g goat or feta cheese
• Salt and pepper
Method
 For the base, you can you a ready-made shortcrust pastry or prepare your own as follows. Simply add the salt to the flour and then knead with the egg and the soft butter. Let chill in the fridge for at least 30 minutes. Then roll the dough on a lightly floured surface into a circle large enough to line a round baking tin with it.

 For the filling, whisk the eggs, cream and milk in a bowl. Season with salt and pepper. Then add sliced ​​zucchini, goat and Emmental cheeses, stir and then pour into the cake tin. 

 If you want to create a beautiful pattern similar to our photo – first put the egg mixture in the cake pan. Form a rose from the zucchini strips first on a plate, then transfer to the cake tin. Use a knife to separate the stripes to create the effect from the photo. 

 Bake the quiche for 25-30 minutes at

180C/160C Fan/Gas 4

.

Take out of the oven and leave to cool slightly before removing from the tin and transferring to a serving plate. Serve warm.
Wine pairing
A creamy quiche is best paired with a full-bodied white Bordeaux wine that will cut through all of its richness. We love Château Beaumont Les Pierrières, available from Lea & Sandeman. This crisp and fresh dry white wine, made from a blend of Sauvignon Blanc and Sémillon grapes,  with aromas of lemon pith, guava and pink grapefruit has a richly spiced, toasty complex finish that works great paired with rich creamy sauces.
Wild garlic risotto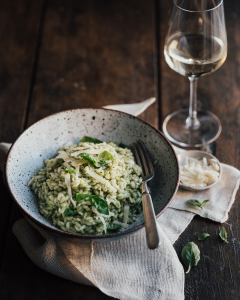 Wild garlic is currently in season and risotto is a wonderfully filling, hearty dish to make out of it!
Ingredients
• 300 g risotto rice
• 100g wild garlic, finely chopped
• 1l stock
• 200 ml dry white wine
• 2 shallots, cut into small cubes
• 2 garlic cloves, grated
• 1 tbsp butter
• 2 tbsp olive oil
• Salt and pepper to taste
Method
To begin, heat the oil and butter in a large saucepan on medium heat, add the garlic and shallots and let them cook until translucent. 

 Now add the rice, fry for a minute and then gradually add the white wine and stir until it has almost completely dissipated. 

 

Add about 200ml of stock to the rice at a time and continue to cook while constantly stirring the rice

, wait until the rice absorbs the stock before pouring more.

 When the liquid boils down and the risotto is nice and creamy, add the chopped ​​wild garlic and stir it in well. If you like it extra creamy, you can stir in 20g of butter at this point, or 2 tablespoons of Parmesan.
Wine pairing
A wild garlic risotto is best enjoyed with a glass of dry white Bordeaux wine. Why not try Château de Beauregard Ducourt (available from Montrachet Fine Wines) from the Entre-Deux-Mers region. This dry and flavoursome wine is made from Sauvignon Blanc and Sémillon grapes and offers a very fresh gooseberry and citrus nose, with intense ripe fruit and zesty lemon peel flavour that will go hand in hand with the hearty risotto.
Baked pasta shells with spinach and peas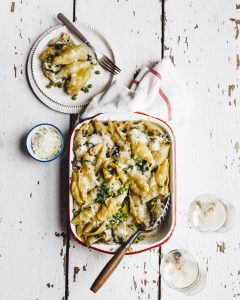 Ingredients
• 250 g conchiglioni pasta shells
• 200 g spinach
• 150g frozen peas
• 2 garlic cloves
• 70 g plain flour
• 300ml milk
• 70 g Parmesan or Grana Padano cheese, grated
• Salt and black pepper to taste
• Olive oil
• 50 g butter
Method
Place the pasta shells in a large pan of salted boiling water. Cook the conchiglioni a little less than the time required for al dente, then drain and run under cold water.

Preheat oven to 200C.

To make the cheese sauce, melt the butter in a saucepan. Add the flour and stir until you have a smooth paste. Gradually add the milk, stirring with the whisk until smooth, before adding more milk. When all of the milk has been added, continue to stir, whilst heating until the sauce thickens. Add half of the grated cheese and stir.

Heat the olive oil in a frying pan on a medium heat and add chopped garlic. Allow to cook for about 30 seconds before adding in spinach, then season with salt and pepper. Allow to wilt, stirring occasionally. Then add the peas and cook for another minute. Combine the cheese mixture and the cooked vegetables.

Spoon the cooked pasta into a baking dish, add the cheese and vegetable mixture, mix well and sprinkle with the remaining cheese on top.

Bake for about 20-25 minutes until the top starts to brown. Serve immediately with extra grated Parmesan or Grana Padano if desired.
Wine pairing
A zesty white Bordeaux wine would work really well here – by adding a crisp freshness to the pasta bake. Mouton Cadet, available from Amazon, is a lovely blend of Sauvignon Blanc and Sémillon grapes – with its fresh aromas of lemon, pineapple and herbs,  this white wine is lively and zesty on the palate with a dry a clean finish – exactly what is needed to take this pairing to the next level.