3 simple and delicious dessert recipes paired with Bordeaux wines
Ok, we admit it, we love puddings but who doesn't? We love them with our wines, and at any time of the day. Desserts make our time at home a little bit brighter, and we would like to share the joy with you.
Today, therefore, we show you three recipes of wonderfully versatile desserts, which you could serve after a great meal, as well as in the afternoon or even for brunch. Hope you have fun baking!
Plum galette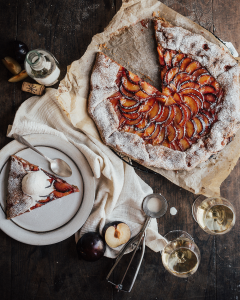 Ingredients
250g plain flour
125g room temperature butter for the dough, 50g for the filling
50g sugar for the dough, 40g for the filling
2 tbsp cold water
½ tsp salt
300g plums
Method
1. To prepare the dough, mix the flour and 125g butter with both hands until you get a homogeneous mass. Mix the salt with the cold water and then add, together with the sugar, to the dough. Knead the dough and form a dough ball. Leave covered in the fridge for at least 2 hours (ideally overnight).
2. Heat the oven to 180 °C. Cut the plums into thin slices.
3. Roll out the dough on a tray lined with baking paper and start to lay your plum slices on it – use the flower pattern on the photo for inspiration. Leave empty space of around 6cm near the edges.
4. Heat up 50g butter until slightly melted, then mix with 40g sugar. Lightly cover the plums with the mixture. Finally, fold over the edges and bake in the oven for 30 minutes until the crust is golden brown. If you like, you can sprinkle some icing sugar once the galette has cooled down. 
Wine pairing
The galette tastes particularly good with a scoop of vanilla ice cream and a glass of dry white Bordeaux wine. We would suggest Château Sainte Marie Vieilles Vignes from Entre-Deux-Mers region of Bordeaux available here. This characterful, fresh and crisp Sauvignon Blanc, Sémillon and Muscadelle blend has aromas of gooseberry and a dry, concentrated finish. 
A great alternative pairing idea would be a Bordeaux Rosé such as a smooth and fruity Château Tour De Mirambeau available from Tanners Wine Merchants and made from Cabernet Sauvignon grapes. This wine is filled with wild strawberry and pear aromas and has a mouthwatering freshness on the dry finish.
Chocolate pear cake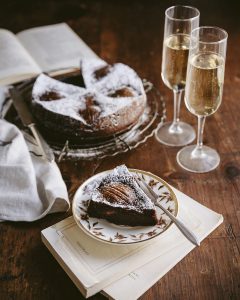 Almond-chocolate-pear cake – the name alone makes us want to pick up baking straight away! With a scoop of vanilla ice cream and a glass of sparkling Crémant de Bordeaux wine, this cake is simply a highlight of home cooking.
Ingredients
4 eggs
200g dark chocolate (55-70% cocoa)
150g butter
8g unsweetened cocoa powder
100g ground almonds
Pinch of salt
1 tsp almond flavour
100g sugar
3 ripe pears, peeled, halved and deseeded
Icing sugar for dusting
Method
1. Separate the egg yolks and set aside. Beat the egg whites with a blender until stiff. Gradually stir in sugar and continue beating.
2. In the meantime, melt the chocolate in a metal bowl over a saucepan with boiling water. Once melted, take off the heat. Add the egg yolks, then stir in cocoa powder, almonds, salt and almond flavour.
3. Add the egg white mixture to the chocolate mixture and stir carefully until combined.
4. Spread the finished dough in a greased round baking. Rest each pear half on a large serving spoon and cut widthways at about 2mm intervals – cutting the pear on a spoon stops you slicing all the way through. Place the pear halves on the dough at equal intervals. Bake in a preheated oven at 180 °C for 35-40 minutes.
5.To serve, sprinkle the cooled cake with icing sugar.
Wine pairing
A dry sparkling Crémant de Bordeaux would wonderfully complement this delicious aromatic cake. Whether you have a special occasion or just fancy a glass of bubbly, those fizzy wines are guaranteed to be ideal companions for any occasion. Why not try fresh and crisp Château Bauduc Crémant de Bordeaux available here – the Sémillon grape provides this wine with more depth and richness of flavour or, alternatively, Maison de la Rougerie Crémant Blanc Brut available from Iceland – this fresh, clean, easy-drinking sparkling wine, a blend of Sémillon and Muscadelle, is a bargain at £8.75 per bottle.
Peach sorbet
We want to introduce you to a dessert that can be enjoyed without any regrets because it is a sorbet! Peach sorbet to be precise. It's as simple as it is tasty and all you need is:
1kg very ripe peaches (with or without skin)
3 tbsp honey
2 teaspoons of freshly squeezed lime juice
Method
1. Remove the stones and slice the peaches. Freeze for at least 2 hours.
2. Put the frozen peaches in a powerful blender, add honey and lime juice. Depending on how your mixer works, you may need to add a little water.
3. If you like your sorbet a little softer, you can enjoy it immediately. Alternatively, you can put it in the freezer for an hour to harden. 
Wine pairing
This light, airy sorbet tastes heavenly with a sweet Bordeaux wine like Tesco Finest Sauternes, a blend of Sémillon and Sauvignon grapes, available from Tesco. With pronounced aromas of pink grapefruit and Seville orange, this wine is rich and luscious, yet still supremely fresh.
Those who prefer a dry white will appreciate a fresh and crisp Château Perron available from Sainsbury's, a blend of Sauvignon Blanc, Sémillon and Muscadelle – with crunchy, green apple flavours, this wine is fresh, vibrant and easy-drinking, also ideal as an aperitif. And those who feel like having something fizzy will enjoy the sorbet with a glass of sparkling Crémant de Bordeaux.