The perfect Valentine's Day 3-course homemade dinner paired with Bordeaux wines
Valentine's Day is just around the corner, and no matter if you are celebrating or not, it's the perfect time to spoil yourself or your loved ones with a delicious homemade dinner, with Bordeaux wines to match. We've rounded up some of our favourite matches to surprise your other half (or to enjoy yourself) this Valentine's Day.
Burrata with tomatoes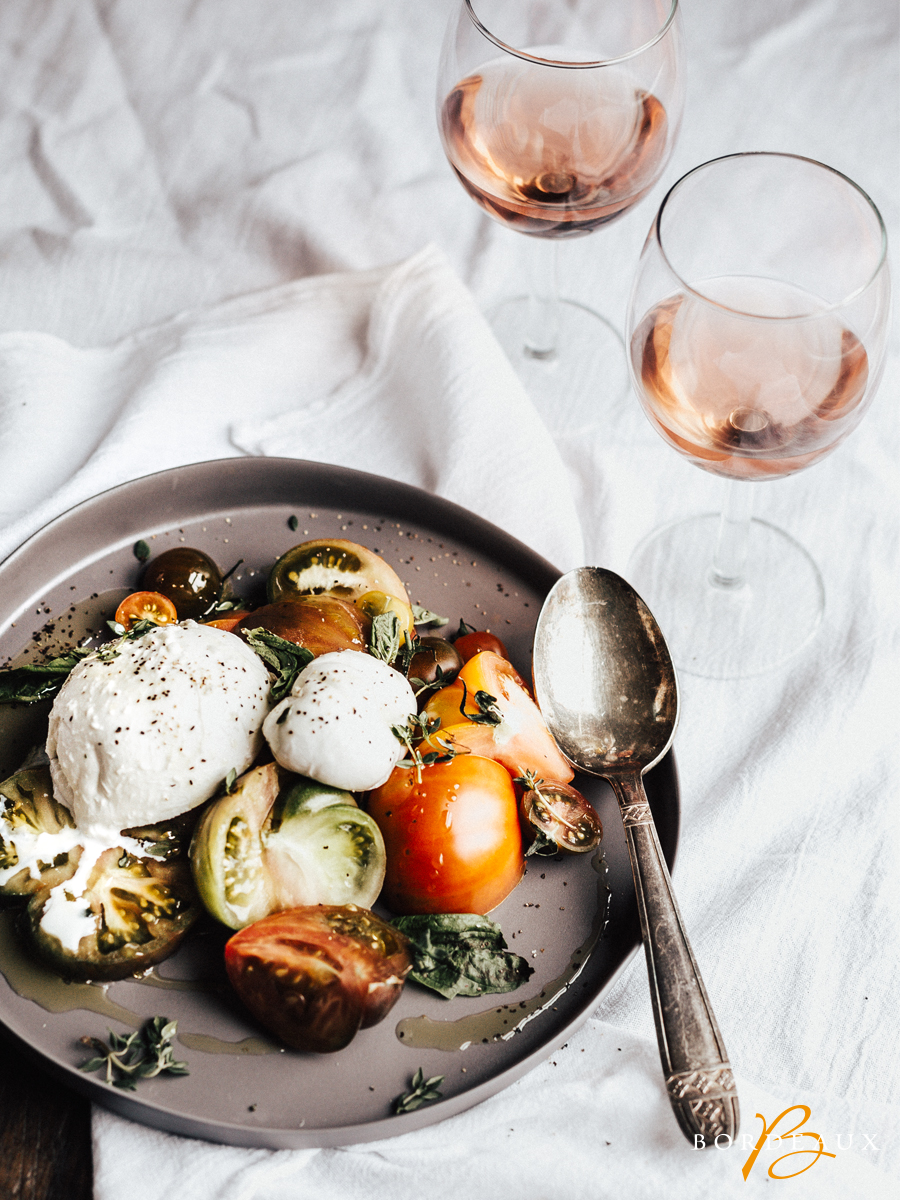 A super simple and delicious salad that is so quick to whip up together.
Ingredients
Tomatoes of your choice – a mix of sizes and colours works really well here
Burrata or mozzarella
Handful basil
Olive oil
Salt and pepper
Method
Chop the tomatoes and arrange them on a serving platter. Place burrata on top. Add basil leaves and sprinkle with olive oil. Season to taste.
Wine pairing
Serve with The Lion & the Lily Bordeaux rosé. This fresh, mouthwatering wine is very pale in colour with crisp aromas of raspberry and strawberry that pair so well with sweet tomatoes and creamy burrata. Discover other Bordeaux rosé wines, all priced between £6-15 here.
Porcini mushroom risotto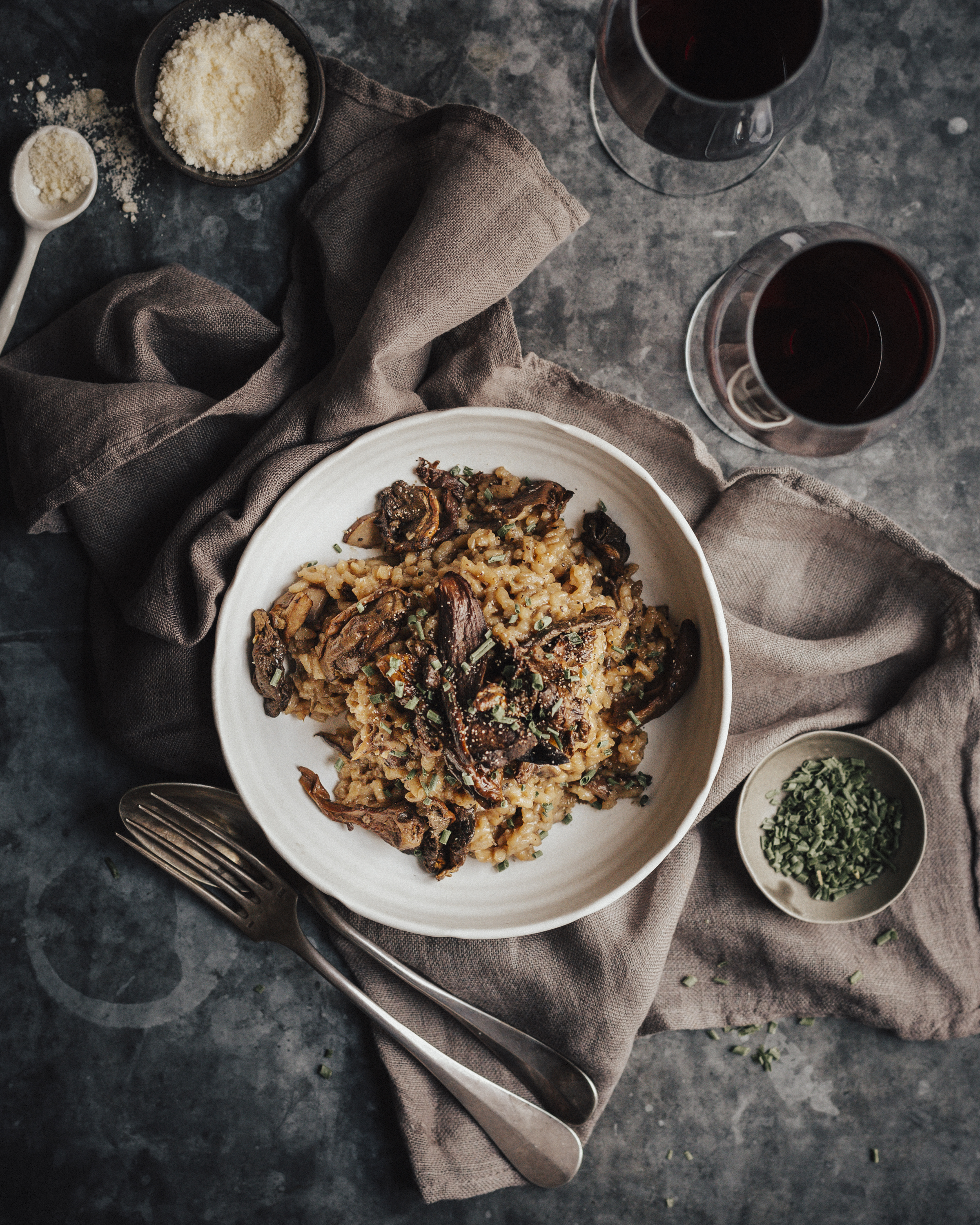 An absolute classic and not nearly as complicated to prepare as some might think!
Ingredients
300g risotto rice
1 onion
2 cloves garlic
200 ml white wine
500 ml strong chicken broth (+100 ml water from the porcini mushrooms)
20 g dried porcini mushrooms or 250 g fresh porcini mushrooms, sliced
70 g grated Parmesan
20 g butter
Salt and pepper
Method
If using dried porcini mushrooms, put them in a bowl, pour boiling water over them and let them soak for 2 hours. If using fresh porcini mushrooms, clean them and quickly sauté in olive oil.
Finely chop onion and garlic and then sauté in butter on low heat until translucent. Add the rice and cook until it is translucent too. Pour white wine and let simmer until the liquid has been absorbed by the rice. Gradually add the broth and keep stirring so that nothing sticks.
Take the porcini mushrooms out of the water, cut them into small pieces. Keep about 100ml of the mushroom water and add to the rice.
In about 20-25 minutes the rice will be cooked al dente. Season with salt and pepper (to taste) and stir in the Parmesan cheese. Decorate with chopped parsley if desired.
Wine pairing
This delicious mushroom risotto will pair equally well with a medium-bodied red or a lightly oaked white Bordeaux. We suggest Château Reynier Bordeaux Supérieur 2018, a classic blend of Merlot and Cabernet Sauvignon with aromas of ripe red berry fruit and hints of oak. Medium-bodied red Bordeaux with well-integrated tannins and a good length.
Or why not try Château Beaumont Blanc 'Les Pierrières' Blaye 2019, made from Sauvignon Blanc and Sémillon grapes, with complex aromas of ripe peach and toast, and notes of wild herbs. This bold, textured and spicy white Bordeaux will make a great complement to risotto.
Chocolate pear cake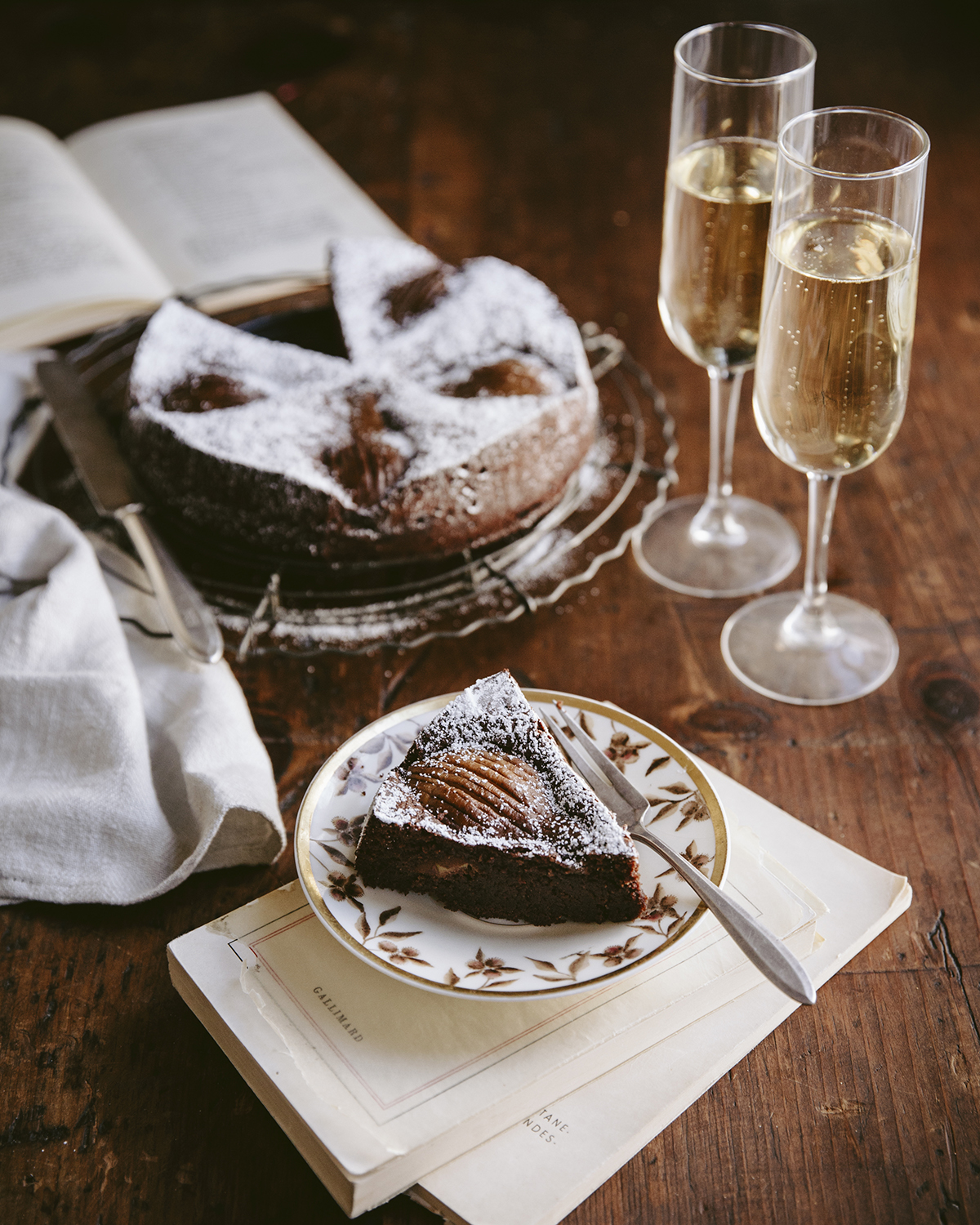 Almond-chocolate-pear cake – the name alone makes us want to start baking straight away! With a scoop of vanilla ice cream and a glass of sparkling Crémant de Bordeaux wine, this cake is the perfect Valentine's Day treat.
Ingredients
4 eggs
200g dark chocolate (55-70% cocoa)
150g butter
8g unsweetened cocoa powder
100g ground almonds
Pinch of salt
1 tsp almond flavour
100g sugar
3 ripe pears, peeled, halved and deseeded
Icing sugar for dusting
Method
1. Separate the egg yolks and set aside. Beat the egg whites with a blender until stiff. Gradually stir in sugar and continue beating.
2. In the meantime, melt the chocolate in a metal bowl over a saucepan with boiling water. Once melted, take off the heat. Add the egg yolks, then stir in cocoa powder, almonds, salt and almond flavour.
3. Add the egg white mixture to the chocolate mixture and stir carefully until combined.
4. Spread the finished dough in a greased round baking. Rest each pear half on a large serving spoon and cut widthways at about 2mm intervals – cutting the pear on a spoon stops you slicing all the way through. Place the pear halves on the dough at equal intervals. Bake in a preheated oven at 180 °C for 35-40 minutes.
5. To serve, sprinkle the cooled cake with icing sugar.
Wine pairing
A dry sparkling Crémant de Bordeaux would wonderfully complement this delicious aromatic cake. Why not try fresh and crisp Comtesse de Saint Pey Crémant de Bordeaux. This toasty fizz offers a creamy mid-palate, it's ripe and elegant with a dry finish – exactly what you need to celebrate Valentine's Day. Best served well chilled.