5 Romantic Valentine's Day Bordeaux Wine Pairings
For inspiring romance, much has been said for flowers, candy, and moonlight strolls. But we think the most important ingredient of a cozy, intimate evening is a delicious bottle of Bordeaux! These pairings are sure to set the perfect mood for your Valentine's evening.
Crémant de Bordeaux + Oysters
Rumor has it that Casanova, Italy's most famous lover, ate 50 oysters a day to stoke the flames of his romantic stamina… and we agree that the bewitching bivalves are a perfect prelude to a romantic evening. Not only are they sensual to eat, but they're filled with zinc and amino acids that scientists say can enhance your romantic attraction.
Accentuate raw oysters' sweet, creamy, and briny flavors with a mignonette sauce or simply a squeeze of lemon. And make sure to pop a bottle of Crémant de Bordeaux for a luxurious, bubby toast! All the grapes must be picked by hand and the wine aged for a minimum of twelve months to qualify as Crémant de Bordeaux– and while Crémant de Bordeaux wines come in white and rosé, we recommend a Crémant de Bordeaux white as an oyster pairing. With a mix of grapes including Sémillon, the wine will have more mineral flavor and floral aromas than what you'd expect to find in Champagne.
Bordeaux Blanc + Vegetable and Goat Cheese Tart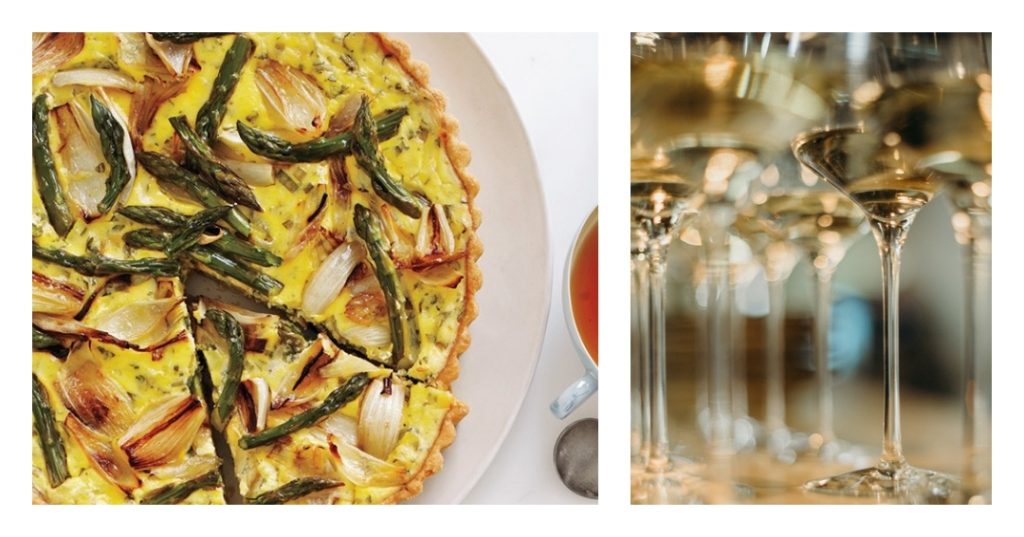 An elegant starter to any meal: a savory and tangy goat cheese tart! And the perfect wine to go with it: a dry white from AOC Bordeaux Blanc! Blends of Sauvignon Blanc, Muscadelle, and Semillon, these wines are refreshing and crisp, with flavors of fresh herbs and citrus fruit– the perfect accent to the savory, rich flavors of goat cheese. The Bordeaux appellation covers the entire Bordeaux wine region, a very large geographical area with a wide variety of soils and terroirs; so no matter your palate there's a Bordeaux Blanc for you. Some can be fuller and rounder if there's more Semillon in the blend; whereas the wines composed of primarily Sauvignon Blanc will be more light, zesty, and crisp.
Bordeaux Rosé + Rosé and Pink Peppercorn Scallops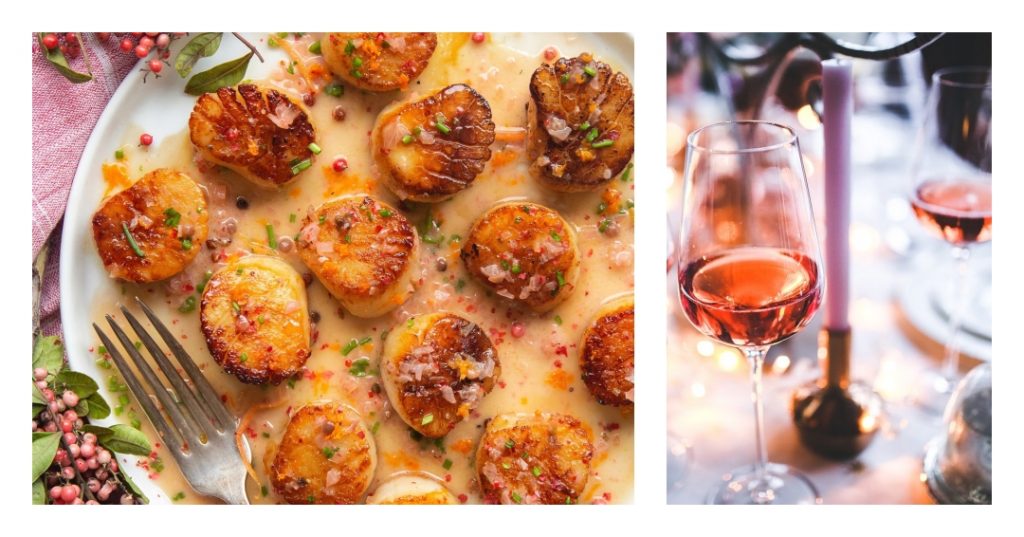 A delicate pairing with seafood– like these Rosé and Pink Peppercorn Scallops (recipe via thefeedfeed), Bordeaux Rosé is not just popular for summertime sipping– the best bottles are wonderful to sip year round and are fantastic food pairing partners!
You might be surprised to learn that Bordeaux is producing more rosé every year (last year, rosé accounted for 7.0% of the total wine production of the Bordeaux region, or 12 million bottles!). Bordeaux rosés are produced from a combination of Cabernet Sauvignon, Cabernet Franc and Merlot grapes and then vinified at low temperatures. Finally, in a process called assemblage, these components are blended by the winemaker to create lovely wines with flavors of red fruit, strawberry and currant, citrus and grapefruit. 
Bordeaux Sweet Wine + Chile Peppers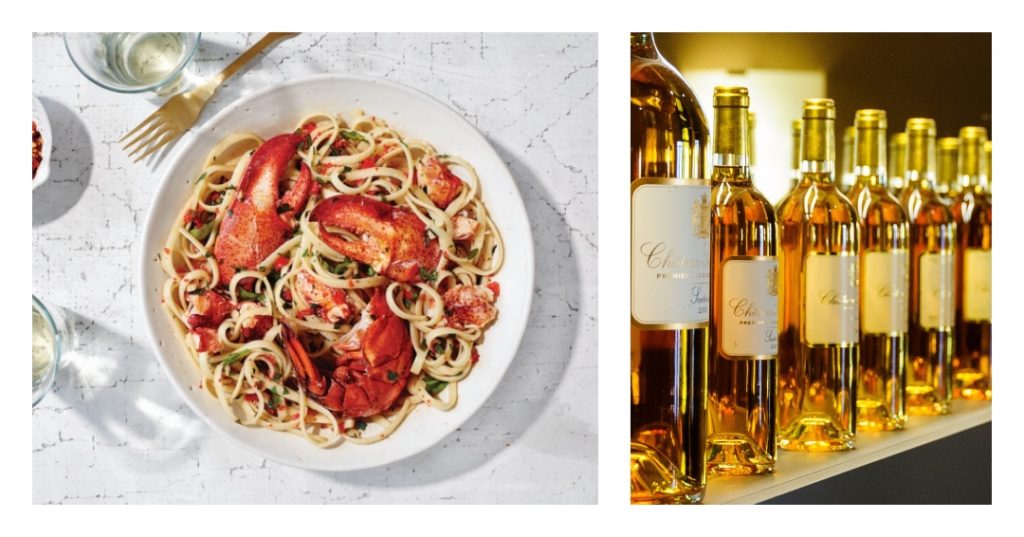 Said to make you flush, increase your heart rate, and also release endorphins, chile peppers are a pleasure inducing wonder. The trick to pairing spicy foods with wine is to select a wine with a hint of sweetness: a little sugar will balance out the heat in the dish and keep all of the flavors in balance. Why save sweet wines for dessert? Turn up the heat with a luscious Lobster Linguine With Chiles. The famous sweet wines of Bordeaux are an unexpected delight with spicy food– there are many appellations in Bordeaux that produce sweet wines including Barsac, Sauternes, Cadillac, Cérons, and Graves Supérieures, so you can find many delicious and affordable options to surprise your Valentine's date.
Bordeaux Rouge + Lamb Chops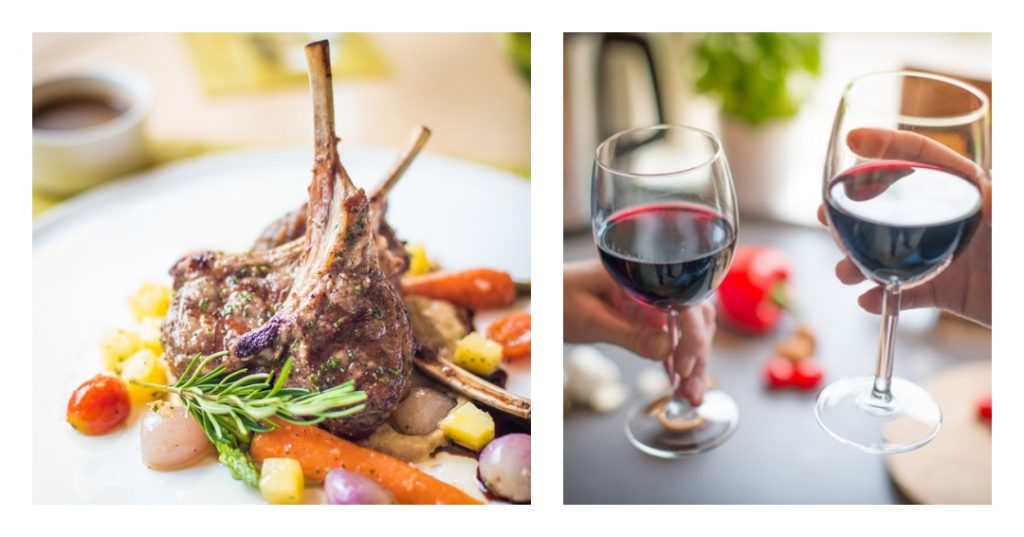 No Valentine's Day would be complete without a rich, velvety red wine: and Bordeaux produces some of the finest on the world. With a hearty, succulent meat dish like lamb chops, a full bodied and structured wine like Médoc is a perfect pairing. For round, rich, and aromatic styles look for wines from Côtes de Bordeaux. Powerful, intense reds with a solid tannic backbone like Saint-Estèphe will be bold enough to take on the flavors of rich meats– or you might prefer a dark, sultry red with coffee and licorice tones like Pessac-Léognan. For classic lovers, red wines from Saint Émilion, can stand up to big, bold flavors like braised beef, hearty stews, roasted chicken, and of course, lamb!