The Sweet Wines of Bordeaux !
Today we're going to talk about the delicious sweet wines of Bordeaux, sometimes called "late harvest wines." Harvests in the Bordeaux region traditionally take place in September, but the grapes for sweet wines are harvested much later, usually one to two months after the point at which they would be picked for other wines. The grapes are purposefully left on the vine past the point at which they reach peak ripeness, allowing individual grapes to slowly dehydrate over time, concentrating their sugar content and enabling the production of a much sweeter wine.
Long before the harvest, however, the most transformational element in the entire lifecycle of sweet wines must be introduced by nature: Botrytis cinerea, or "noble rot," a benevolent fungus that also gives us Stilton, the famous blue cheese.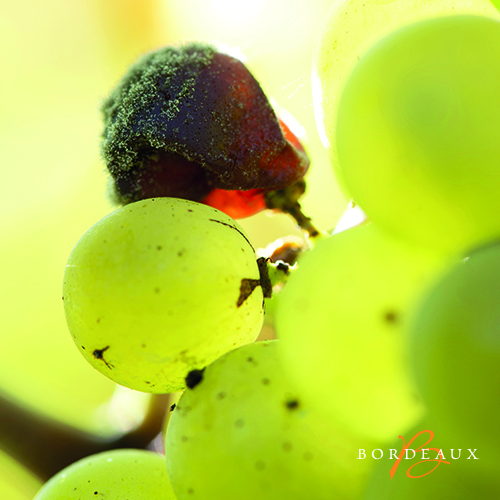 Conditions :
A specific set of conditions are necessary for Noble Rot to take hold, and it all begins with mist. Along a certain ideally situated stretch of the Ciron river, morning mists envelop entire vineyards and are often "trapped" by valleys or other topographical heterogeneity. When those misty mornings are followed by dry, sunny afternoons, Botrytis cinerea perforates nearby grape skins and allows moisture trapped inside the grapes to evaporate when dry conditions return. This cycle happens again and again throughout Autumn, increasing the concentration of sugars in the remaining grape juice and making sweet wine production in the Bordeaux region possible.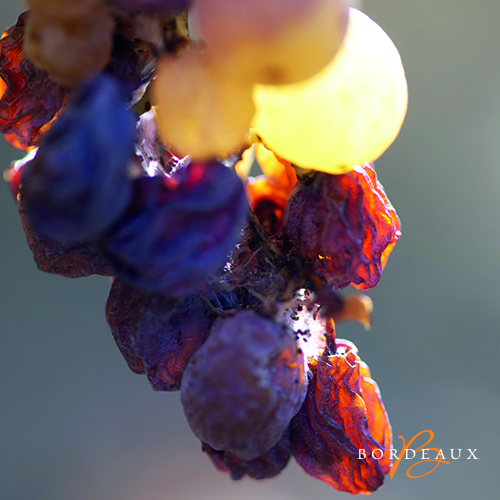 Noble rot not only concentrates sweetness but also increases the complexity of flavor of grapes. Wine experts often use words like "honied," or "honeysuckle" to describe the flavors that botrytization adds to wine. We don't know exactly how the honey flavor occurs, but science has shown that Noble Rot wines exhibit higher levels of a fragrant aroma compound called phenylacetaldehyde, which is also found in something else we love to consume: chocolate.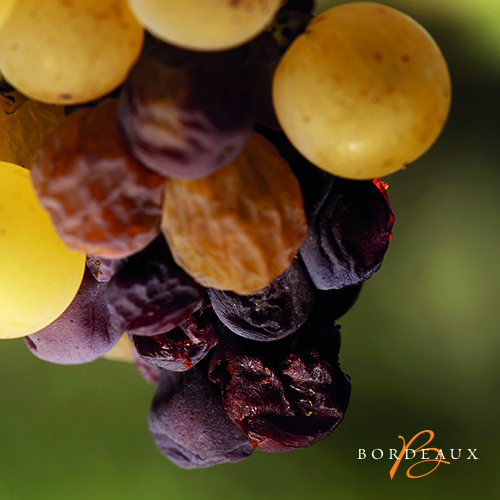 Most people know at least one or two, but there are actually ten different appellations in the Bordeaux region that produce sweet wines.
Barsac :
Barsac is a charming village about twenty-five miles south of Bordeaux whose winegrowers have a unique privilege: they can use either their own Barsac appellation or that of Sauternes for their sweet wines. Due to France's strict and specific laws governing wine production, grapes used to make Barsac wines can only be picked after their must weight (a technical measure of grape ripeness) reaches the level of 221 grams per liter. The grapes are then removed from the vine by hand by experienced grape pickers who make multiple passes through a vineyard searching for botrytized grape clusters. Barsac wines can exhibit honeysuckle and orange blossom aromas and a taste that's intensely sweet on the palate that's balanced out by the just right level of acidity.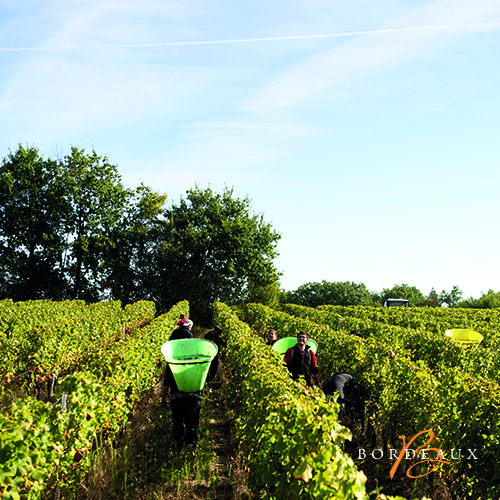 Bordeaux Supérieur :
As you may have guessed from the name, describes a subset of Bordeaux AOC wines that have been deemed "superior" and which hue to stricter production standards, including a density of 4500 plants per hectare (the standard in Bordeaux is 4000) with only 2.2 meters between rows of vines (the standard is 2.5). These guidelines assure that vines fight harder for survival, which in turn means richer and more complex wines. Bordeaux Supérieurs tend to have a fruity character with a light and refreshing taste.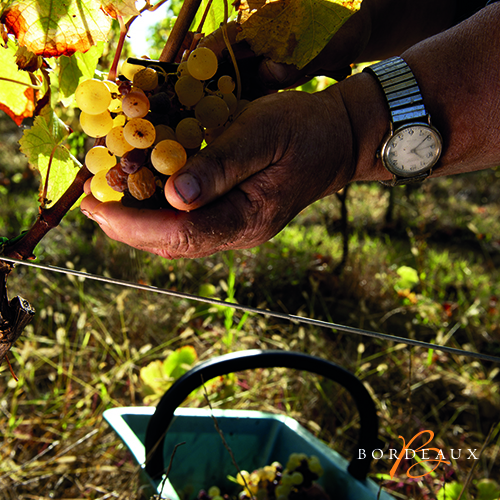 Cadillac :
Located just north of Loupiac and across the Garonne river from Cérons. Cadillac's particularly gravelly and chalky soil means that it's capable of producing delicious sweet wines that are distinct from their neighboring appellations. Cadillac's sweet and medium-sweet wines are made from the holy trinity of Bordeaux white grapes and, by law, can only be picked when their grape must reach 255 g/L, leading to particularly high levels of residual sugars and a minimum of 12% alcohol in the finished wines. Cadillac wines exhibit candied and roasted stone fruit aromas and have an elegant, smooth taste that's never heavy.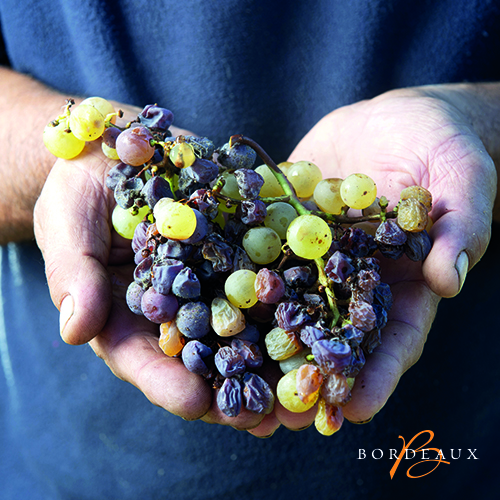 Cérons :
The name Cérons is derived from the river Ciron, a tributary of the Garonne, although the river (once directly adjacent to Cérons) has changed course over time and now bisects the Sauternes viticultural area. Cérons' sweet wines benefit from a year to a year and a half of fermentation in either barrels or vats. We find Cérons to be full and fruity, perfectly aligned with their sweet nature.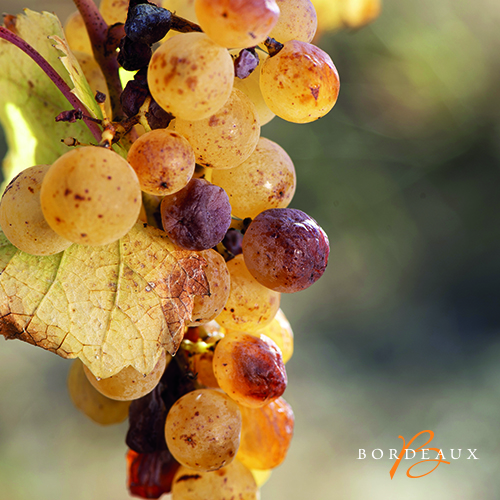 Côtes de Bordeaux-Saint-Macaire :
Côtes de Bordeaux-Saint-Macaire (often shortened to simply "Saint-Macaire") wines are produced in the ten towns of the Saint-Macairecanton (small territorial division) on the right bank of the Garonne. Their sweet wines are golden yellow in color and exhibit aromas of vanilla, peach, lime, acacia and white flowers.
Graves Supérieurs :
Graves Supérieures is the name used to describe any sweet white wines from the Graves district. A combination of the three standard Bordeaux white grape varieties (Semillon, Sauvignon Blanc and Muscadelle) can be used to make these wines and, by law, any wines bearing the Graves Supérieures appellation must exhibit a minimum must weight of 221 grams per liter, just like Sauternes and Barsac. We enjoy the gentle finesse of a Graves Supérieures sweet wine: these are softly elegant and the perfect accompaniment to poultry, Roquefort cheese, or fruit desserts.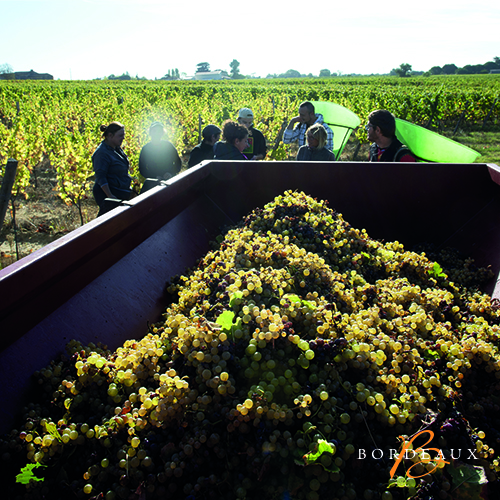 Loupiac : 
Located across the Garonne river from Sauternes and Barsac, about 18 miles southeast of the city of Bordeaux. Loupiac's appellation laws are particularly strict and specify that planting density must be at least 2024 plants per acre and grapes may only be picked when their must weight reaches 245 grams per liter (g/L) for Semillon and 229g/L for Sauvignon Blanc or other grapes. Similarly to other Bordeaux appellations that produce sweet wines, Loupiac's winemakers are increasingly turning to barrel fermentation to integrate certain woody aromas into their already complex wines.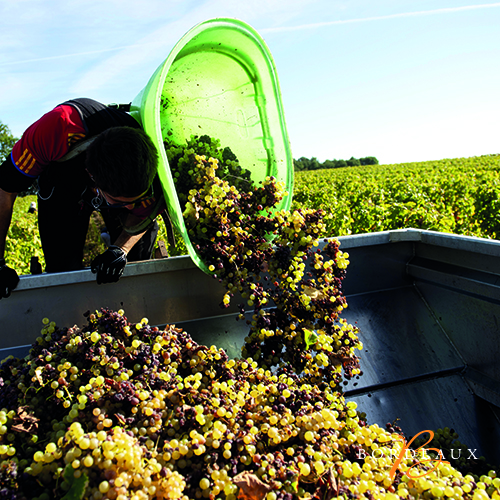 Premières Côtes de Bordeaux :
The Premieres Côtes de Bordeaux appellation runs for forty miles along the right (eastern) bank of the Garonne river, from the southernmost point of the Bordeaux winegrowing region to just before the city of Bordeaux itself. Premieres Côtes de Bordeaux is known for producing wines of particularly good value, since it remains unencumbered by the status afforded nearby appellations. Cadillac, Loupiac, and Sainte-Croix-du-Mont are essentially "islands" (since they're surrounded on all sides by the larger appellation) in the southern stretches of Premieres Côtes de Bordeaux but remain independent. You're likely to find the highly original flavors of acacia, peach, and linden when encountering these wines.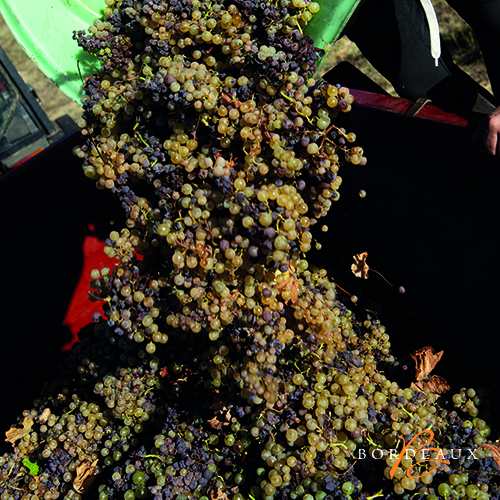 Sainte-Croix-du-Mont :
Village on the east side of the Garonne, south of Loupiac and Cadillac, that produces sweet wines from Muscadelle, Sauvignon Blanc, Semillon, and Sauvignon Gris grapes. The highest quality wines produced under the Sainte-Croix-du-Mont appellation are similar to Sauternes or Barsac, but significantly less expensive. Sainte-Croix-du-Mont wines are recognized for their fig, honeysuckle, and apricot aromas and powerful, nervy and complex taste with a long finish.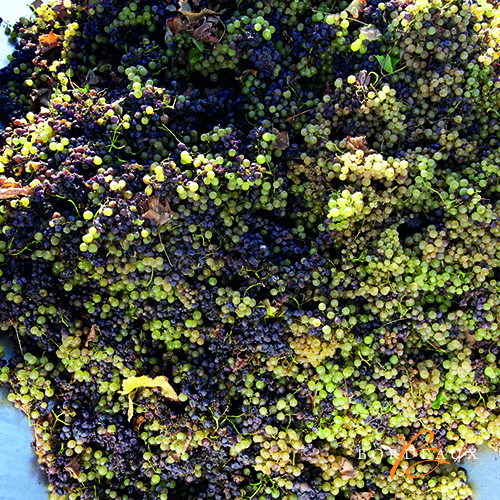 Sauternes :
Finally, we come to Sauternes, perhaps the most famous producer of sweet wines in the world. Sauternes are usually described as light gold in color when they're young and gradually take on more deep orange and even copper hues as they age. These famous sweet wines exhibit honeyed apricot and tropical fruit flavors, often with a nutty aftertaste and a powerful, rich and creamy mouthfeel.