Fresh Spring Recipe Pairings For Your Favorite Bordeaux Wines
There's something magical about early springtime: the days are growing longer and the sunshine is becoming warmer, thawing the earth and coaxing the freshest spring vegetables and herbs to sprout. For anyone who loves to cook, there's no better season to celebrate fresh produce than early spring!
We found some delicious spring recipes, perfect to compliment your favorite Bordeaux wines. Invite some friends over and share some bottles and bites!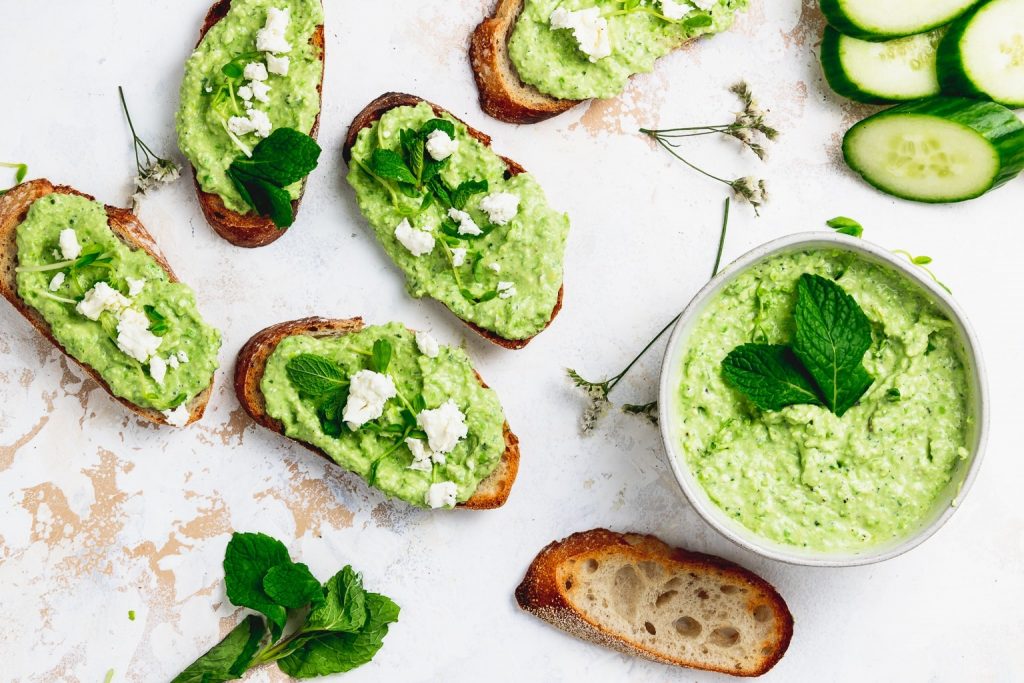 For an easy and delicious springtime snack, we love this Spring Pea and Feta Dip recipe from food blogger Jo Eats. It's so simple to make: it starts with a humble bag of frozen peas! Then the peas go into a food processor along with fresh mint, lemon juice, a big spoonful of yogurt, some salt and pepper, and a few chunks of feta cheese. It's creamy, bright perfection when slathered on a crunchy slice of toasted baguette or even scooped up with cucumber slices. Jo even encourages us to try the creamy mixture on top of hot pasta, mashed potatoes, or as a healthy sandwich spread. Get the recipe here.
And as for the wine match? Crémant de Bordeaux is a fresh and fun sparkling wine; and a glass of crisp bubbly is the perfect palate cleanser between bites of creamy dip. Crémant de Bordeaux is made in both white and rosé styles– and either one would be delightful as a pairing.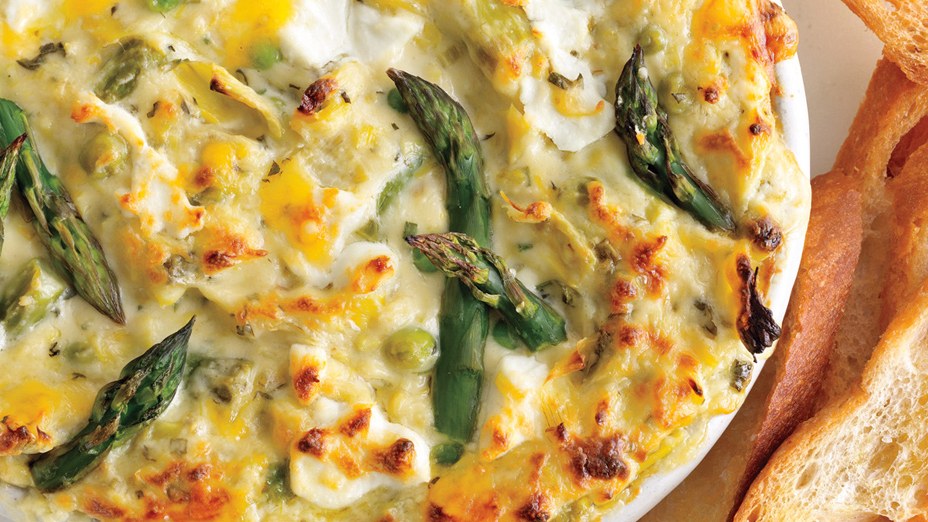 A warm, cheesy dip filled with the best spring vegetables? This will be a perfect starter to a meal, or just a nice appetizer to gather over on a peaceful afternoon with friends and a nice bottle of white wine. Bon Appetit never fails to deliver amazing recipes; this is a true celebration of spring produce, featuring  asparagus, leeks, peas and artichoke hearts– and to top it off, aromatic chives, mint, and parsley! This recipe is especially worthy of a Bordeaux-style feast– did you know that the Blaye region is famous for asparagus production? And this time of year is now the high season for asparagus in France.
A crumble of tangy, zesty goat cheese finishes this dip perfectly. Serve it with crackers or toasted bread. Get the recipe here.
The perfect wine to go with it: dry white wine from Entre deux Mers! Meaning, "Between Two Seas", Entre deux Mers is positioned between two rivers: Garonne and Dordogne. As the largest appellation in Bordeaux, its first vines were planted by ancient Romans, and it is now home to home to approximately 250 different producers. The region is mainly known for white wines (although red, rosé, and sparkling are produced as well!) and Entre deux Mers white blends are rooted in three primary grape varieties: Sauvignon Blanc, Sémillon and Muscadelle. These wines are refreshing and crisp, with flavors of fresh herbs and citrus fruit– the perfect accent to the savory, rich flavors of goat cheese. Green vegetables like artichokes can be difficult to pair with wine, but Sauvignon Blanc is one grape variety that expresses fresh, verdant and herbal aromas, making it a natural match.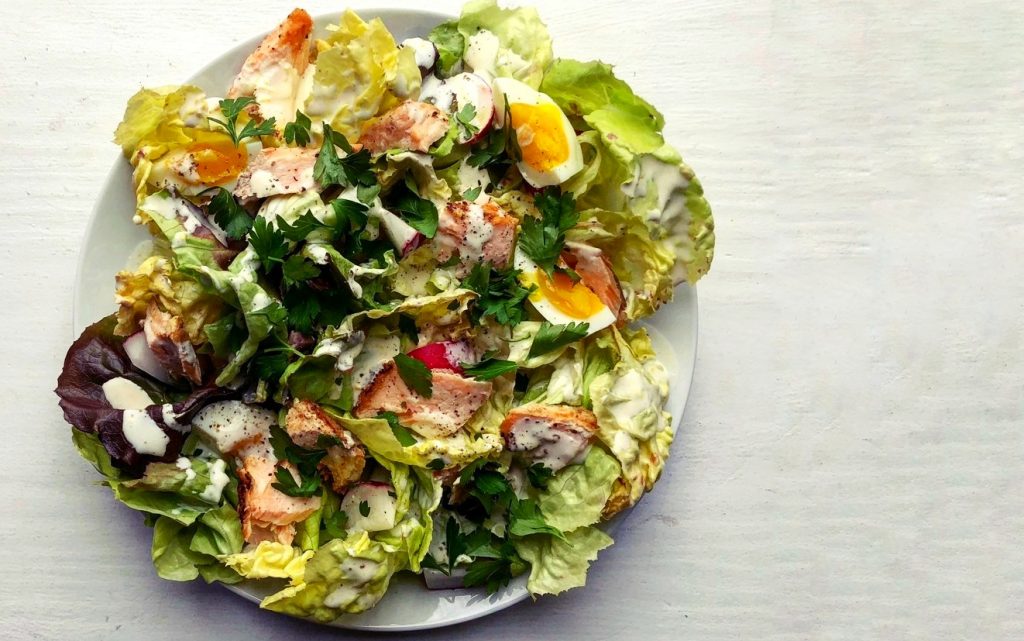 When warmer weather encourages us to dust off our patio furniture and have lunch in the sunshine, a fresh and crisp spring salad is all we want to eat! This recipe from Jeanelle at Book and Salt combines tender butter lettuce, flaky roasted salmon filets, crunchy spring radishes, and a jammy boiled egg– all topped off with a kick of lemon aioli dressing! Add fresh herbs of the season– she used parsley but tarragon or basil will work as well. Get the recipe here.
For your wine pairing, try Bordeaux Rosé! Bordeaux rosés are produced from a combination of Cabernet Sauvignon, Cabernet Franc and Merlot grapes and then vinified at low temperatures. Finally, in a process called assemblage, these components are blended by the winemaker to create lovely wines with flavors of red fruit, strawberry and currant, citrus and grapefruit. With a medium-firm and flavorful fish like salmon, Bordeaux rosé has enough concentration of flavor to be a nice match but it's still refreshing and delicate. Most people crave rosé wines in the warmer seasons– give Bordeaux rosé a try and you won't be disappointed!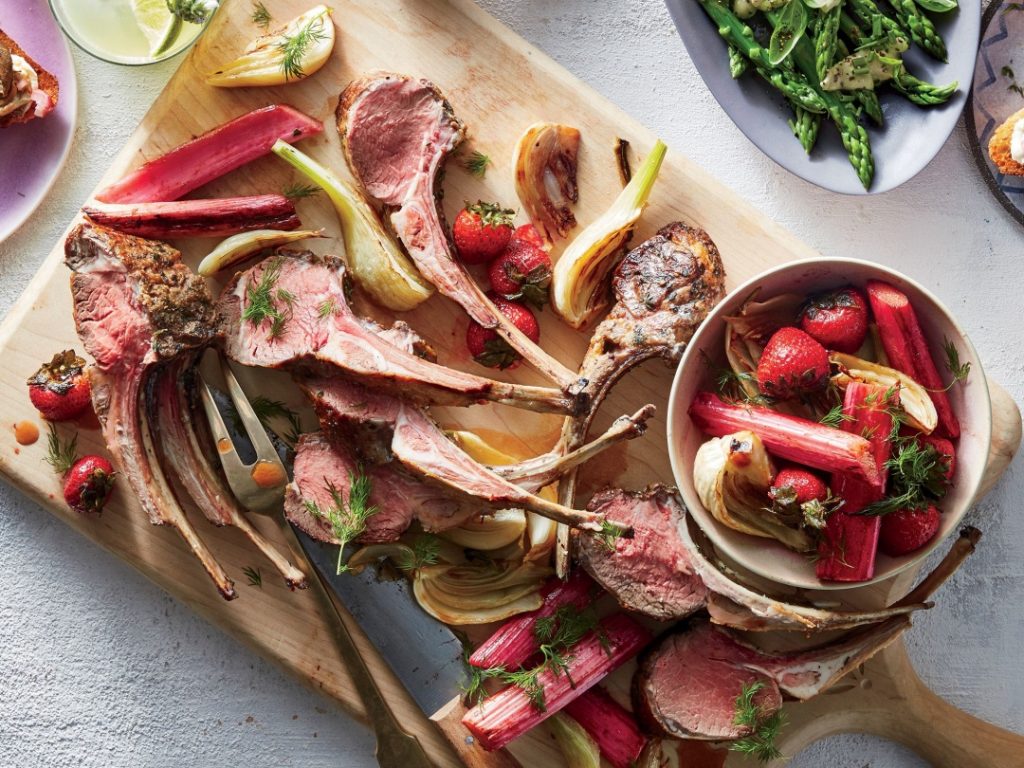 Jennifer Causey, Cooking Light
For your next dinner party, this dish is a true show stopper! Your guests will never guess how simple it is to prepare. Tart, tangy rhubarb is always reminiscent of spring; and this dish features a strawberry and rhubarb vinaigrette sauce that's a bright and playful contrast to the savory richness of the lamb. The caramelized fennel roasts right in the same pan with the lamb, and fresh herbs like oregano and thyme bring a pop spring to your palate. You can even garnish with the fennel fronds! This recipe is fittingly festive enough for a special occasion like Easter– but easy enough to make for a Sunday lunch with family and friends. Get the recipe here.
With a succulent meat dish like lamb chops, a full bodied, complex, and smooth red wine is called for. For a beautiful accompaniment to spring lamb, look for red wines from Médoc! These wines from the Left Bank are structured and robust, thanks to the alluvial gravel soil the vineyards are planted on; and are based mainly on Cabernet Sauvignon and Merlot, although Malbec, and Petit Verdot are planted as well. Common flavor elements are licorice, red and black berries, and roasted coffee aromas developing with age.
Classic French Lemon Tart
(via The Spruce Eats)
paired with Bordeaux Sweet Wine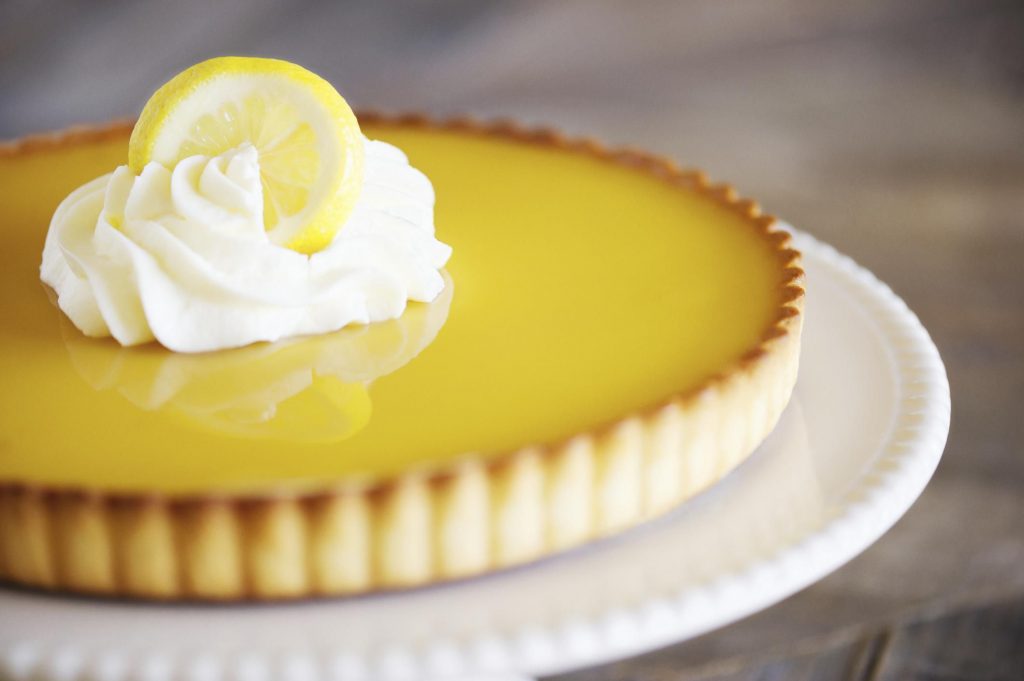 A classic French lemon tart is one of the great pleasures of life! With a flaky, tender crust and a smooth, sweet, tart and tangy lemon filling, each bite is like eating pure sunshine. Topped with a scoop of fresh cream, it's the ultimate springtime dessert! You can enjoy it chilled or at room temperature. Get the recipe here.
The famous sweet wines of Bordeaux are the perfect accompaniment to a lemon tart dessert– many appellations in Bordeaux produce sweet wines, including famous AOCs like Sauternes, and lesser-known gems like Cadillac and Cérons. Harvests in Bordeaux usually take place in September, but the grapes for sweet wines are harvested much later– usually one to two months after the point at which they would be picked for other wines. The grapes are purposefully left on the vine past the point at which they reach peak ripeness, allowing individual grapes to slowly dehydrate over time, concentrating their sugar content. Long before the harvest, however, the most transformational element in the entire lifecycle of sweet wines must be introduced by nature: Botrytis cinerea, or "noble rot." Noble rot not only concentrates sweetness but also increases the complexity of flavor of grapes. These are special wines waiting for you to discover them this spring!