Get involved with Bordeaux this winter
Despite the stop-start nature of this year, Bordeaux Wines UK has delivered a number of initiatives to support the trade and increase awareness and visibility of Bordeaux wines. From retailer promotions such as Bordeaux Wine Month to online interactive team training sessions and business-focused webinars, our programme of activities has been as diverse as our wines.
With all eyes now on the Christmas season and 2021, we have developed a wide array of resources and an exciting schedule to help you ensure that you and your business are on the best possible footing for the year ahead.
Bordeaux Means Business webinars – Thursday 3rd and Thursday 10th December @ 11am
Designed specifically to provide support to the wine trade, the Bordeaux Means Business webinars will share exclusive insight and opinion from industry experts on the latest consumer trends and behaviours to help wine business owners increase their bottom-line.
Thursday 3rd December – GETTING HEARD ABOVE THE DIGITAL NOISE
This session, specifically aimed at those with customer recruitment and engagement responsibilities, will look at the meteoric rise and importance of social media, and demonstrate how to make the most of digital platforms to support and grow your business, through a lively panel discussion. Chaired by The Buyer's Richard Siddle, the panel includes TV presenter and social media personality Helena Nicklin, Yannick Oudin from Digital Marketing Agency, Favoreat and Basile Tesseron from Château Lafon-Rochet. Register here.
Thursday 10th December – CURRENT CONSUMER TRENDS IN THE UK
Delve deeper into current consumer behaviours and find out what makes consumers tick, as the drinks industry navigates through the pandemic. This has been a tumultuous and challenging year for everyone and consumer trends have evolved as a result. But how have these changes manifested themselves? Which wines are consumers buying, how are they buying them, who are they engaging with and what does this mean for the trade?  Lulie Halstead, founder of Wine Intelligence, Waitrose wine buyer Beth Pearce MW and wine consultant Richard Bampfield MW will join Chair, Andrew Catchpole from Harper's.
Register here.
Be part of the conversation
Join us at 7pm on Thursday 3rd December as we take over UK Wine Hour on Twitter.  We'll be talking about why modern Bordeaux wines are such a great option for the festive season and how to encourage consumers to explore the region's incredible diversity #ukwinehour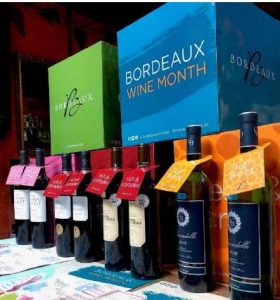 Enter wines into the 2021 Bordeaux Hot 50 Selection
After a hugely successful launch of the first Bordeaux Hot 50 this year, we are now open for submissions for 2021.
Created to communicate the exceptional quality, diversity and affordability of modern Bordeaux wines, the Bordeaux Hot 50 Selection is used as the basis of all marketing and PR activity in the UK and provides an exceptional platform for producers, importers, distributors and retailers to increase awareness for their wines amongst consumers and in the media.
Carefully curated by a panel of experts including wine buyers, sommeliers and educators, the Hot 50 Selection 2021 will showcase the 50 Bordeaux wines available in the UK between £6-£25.
We will particularly be seeking entries of dry whites, rosés and Crémants. Details regarding the submissions of entries will be issued shortly.
Watch back past webinars at your leisure
Watch back our educational webinars at your leisure for an in-depth look at some of the key issues surrounding Bordeaux today. From examining biodiversity in the Bordeaux vineyard to the inner workings of the Bordeaux wine trade, each 1-hour webinar is hosted by one of our worldwide expert L'Ecole du Vin tutors including Mary Gorman-McAdams MW, Laura Williamson MS and Jesse Becker MS; these informative sessions are hands-down one of the best ways to get to grips with these fascinating subjects. Click here to find out how the masters tackle Bordeaux.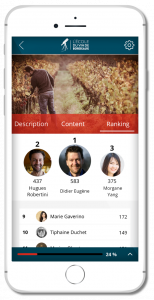 Download the OenoBordeaux App
With interactive content, over 65 study modules, engaging quizzes and insight on the latest wine news and trends in Bordeaux, the OenoBordeaux App offers everything you need to know about the wines of Bordeaux. Explore the vineyards and wines, or download the first oenology training app created for professionals including sommeliers, wine merchants and sales teams. OenoBordeaux also offers a newsfeed focusing on trends, innovations and events in the world of wine. Download the app today.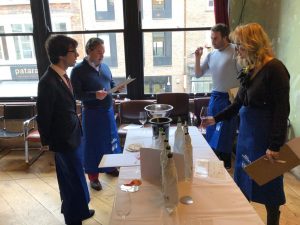 For more information on any of our activities and how you can get involved, please contact teambordeaux@cubecom.co.uk