Bordeaux Rose and summer salads – bliss! Here are 3 recipes to try
Rosé wine is the most summery of all wines and if you are not a fan yet – you should definitely give it a go! And we are here to help with the most summery salad pairings to accompany your glass of chilled Bordeaux rosé wine.
It's this time of the year when salads are a staple on the menu, BBQ's are out, and you don't want to turn the oven on and would rather have something light and fresh. Here are our top 3 of the tastiest summer salads.
Salad with grilled watermelon
Ingredients:
Rocket salad
300g seedless watermelon, cut into triangles
1 shallot
1 lime, halved
100g feta cheese
2 tablespoons sesame oil
Salt and pepper to taste
Method:
It's really easy: grill watermelon triangles for a few minutes and then arrange them with feta and the sliced ​​shallots on top of the rocket salad. As a dressing use lime (fresh or grilled), sesame oil, salt and pepper – yum!
Wine choice:
Did you know that the main rosé style produced in the Bordeaux region, is fresh and fruity? It is a light pink rosé, with fruity aromas of redcurrant, pink grapefruit and strawberries. These wines are produced from the Cabernet Sauvignon, Cabernet Franc and Merlot grapes.
Why not try Château Penin Bordeaux rosé – delicate, perfumed wine, with light red fruits, refreshing and balanced – absolutely everything a dry rosé should be. 
Smoked salmon salad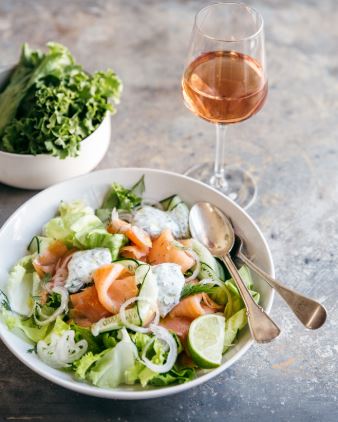 Ingredients:
150g – 200g smoked salmon, roughly torn
Lettuce or rocket salad
Crème fraîche
Juice of half a lemon or lime
Small bunch fresh dill, finely chopped
Salt and pepper
Olive oil
Optional: cucumbers, finely sliced and/or avocado, cut into pieces
Method:
1. Start with mixing together crème fraîche, lemon juice and fresh dill in a small bowl. Season with salt and pepper.
2. Arrange lettuce or rocket in a bowl, then add smoked salmon on top. If using, add cucumber and/or avocado slices. Then spoon over the dressing on top.
3. Lightly drizzle with some olive oil and season with a little more black pepper, if desired.
Wine choice:
Pair with Chai de Bordes Bordeaux rosé – a fragrant wine with elegant aromas and summer berry fruit profile. Just perfect for the warm days ahead!
Burrata with tomatoes
A super simple and delicious salad that is so quick to whip up together.
Ingredients:
Tomatoes of your choice – a mix of sizes and colours works really well here
Burrata or mozzarella
Handful basil
Olive oil
Salt and pepper
Method:
Chop the tomatoes and arrange them on a serving platter. Place burrata on top. Add basil leaves and sprinkle with olive oil. Season to taste.
Wine choice:
Serve with a Château Tour de Mirambeau Bordeaux rosé. This wine is very pale in colour, dry with subtle rhubarb aromas that pair so well with sweet tomatoes and creamy burrata. Discover other Bordeaux rosé wines, all priced between £6-15 here.