Christmas lunch with Bordeaux wines
We suggest starting with a sparkling wine as an aperitif – did you know that Bordeaux produce sparkling wines, called 'Crémant de Bordeaux', using the same traditional method as they do in Champagne? Why not try Calvet Brut, AC Crémant de Bordeaux. This crisp and fruity fizz, would be ideal with light canapés or just enjoyed on its own. As a Blanc de Blancs wine and due to its lemony, floral freshness and lively acidity this would be a perfect Christmas morning wine to partner with the classic Christmas breakfast of smoked salmon and scrambled eggs!
Baked Camembert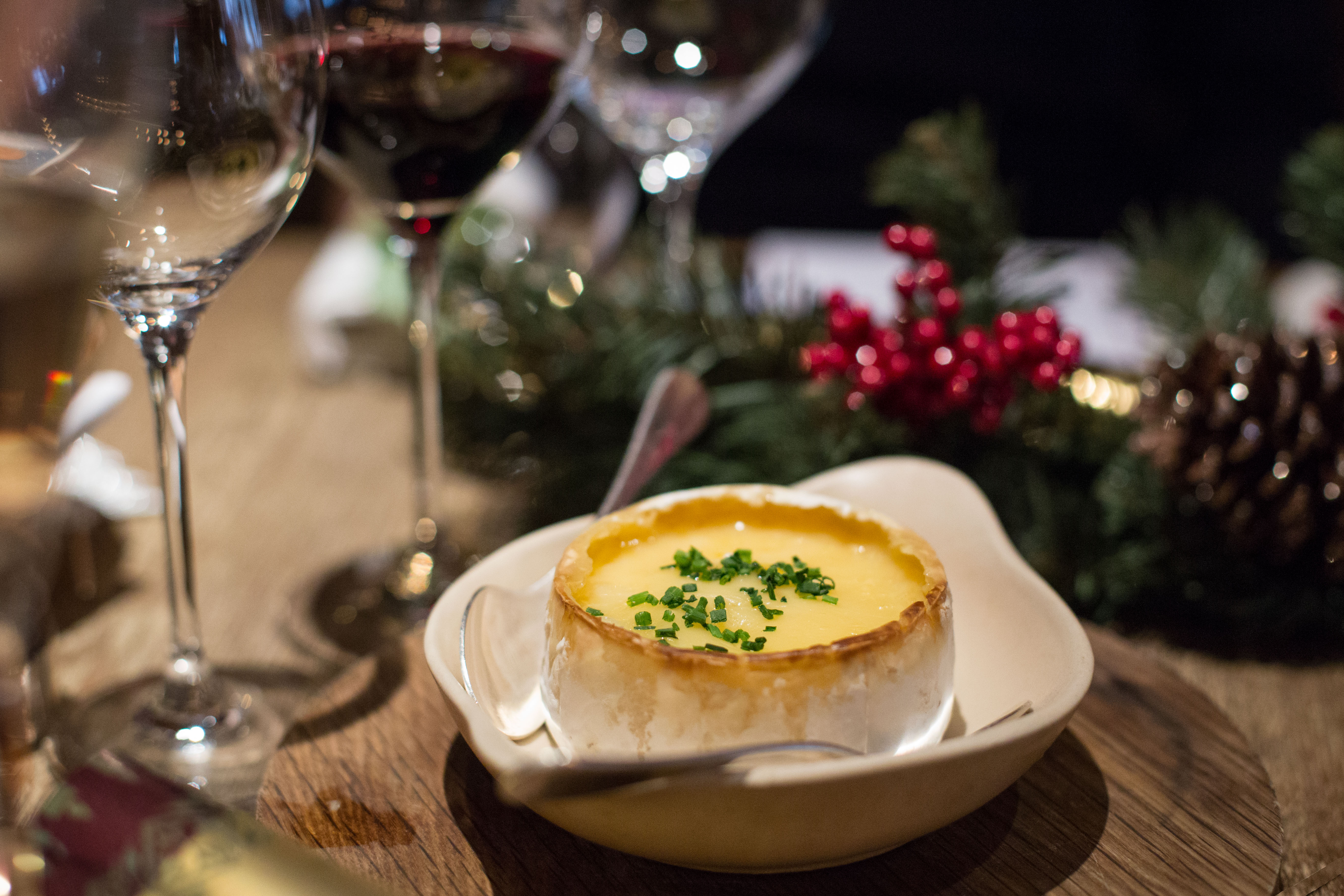 We love baked camembert as it's delicious and so easy to make. First preheat the oven to 180ºC/350ºF/gas 4. Bake camembert in the wooden box it comes with, but remove the plastic wrapping before placing it in the oven. Drizzle the cheese with olive oil and place on a baking sheet (remember to keep the cheese in its box). You can also pierce the top of the cheese in several places with a sharp knife and insert pieces of garlic and sprigs of fresh thyme or rosemary into the slits, or add some chili flakes to give a little spiciness to the cheese. Alternatively, drizzle with honey for a sweeter taste. Bake in the oven for 10-15 minutes, until the cheese is browned on top and melted inside.
Serve it warm with ciabatta, baguette or garlic bread.
With any soft white cheese red wines can be a challenge as the lactic character of the cheese can bring out the tannins in the wine. Not a problem though when paired with Les Coteaux, as this thoroughly modern red Bordeaux is Merlot-based with super silky tannins, soft plummy fruit and enough acidity to cut nicely through the melted cheese.
Roast Turkey 
There's one Christmas recipe that we can't imagine Christmas without, a roast turkey – from the traditional roast to more modern interpretations – turkey is one of key elements of a Christmas celebration.
Top tips on how to cook the perfect Christmas turkey:
Take your turkey out of the fridge at least one hour before cooking so the meat comes up to room temperature.
Cook the bird upside down – this ensures the breast meat stays juicy and tender.
Calculate your cooking times – allow 20 minutes at high heat, then 30 minutes per kilo after you have reduced the heat.
Remember to remove the foil towards the end of the cooking time so that the skin gets golden and crispy.
At the end of the cooking time, test that the turkey is cooked through by inserting a skewer or roasting fork into the thickest part of its thigh. If the juices run clear and the meat pulls apart easily, the meat is cooked. Check on your turkey every 20 minutes or so and keep it from drying out by basting it with the lovely juices from the bottom of the pan.
Remember to cover your turkey with foil and let it rest after it"s cooked for at least 20-30 minutes as it will help enhance the flavour of this delicate meat.
Tradition often says that poultry should be served with white wine, but traditional British Christmas dinner isn't just about the turkey. The wine needs to complement the flavours that are on the plate with the turkey. The rich gravy, the Brussel sprouts (which with any luck will have had something tasty done to them), pigs in blankets, meat and herb-based stuffing, rich roast potatoes, perhaps sweet caramelised carrots and cranberry jelly along with a myriad of other flavours. We love it with a red Merlot like Château La Roseraie Dumont from AC Saint-Émilion. This perfectly aged Merlot-based Saint-Emilion has soft supple tannins, rich yet elegant raspberry coulis and prune fruit aromas with blackcurrant and spice notes that make it the perfect accompaniment to the classic Christmas dinner. This wine has enough fresh acidity to cut through the goose fat roasted potatoes!
Christmas pudding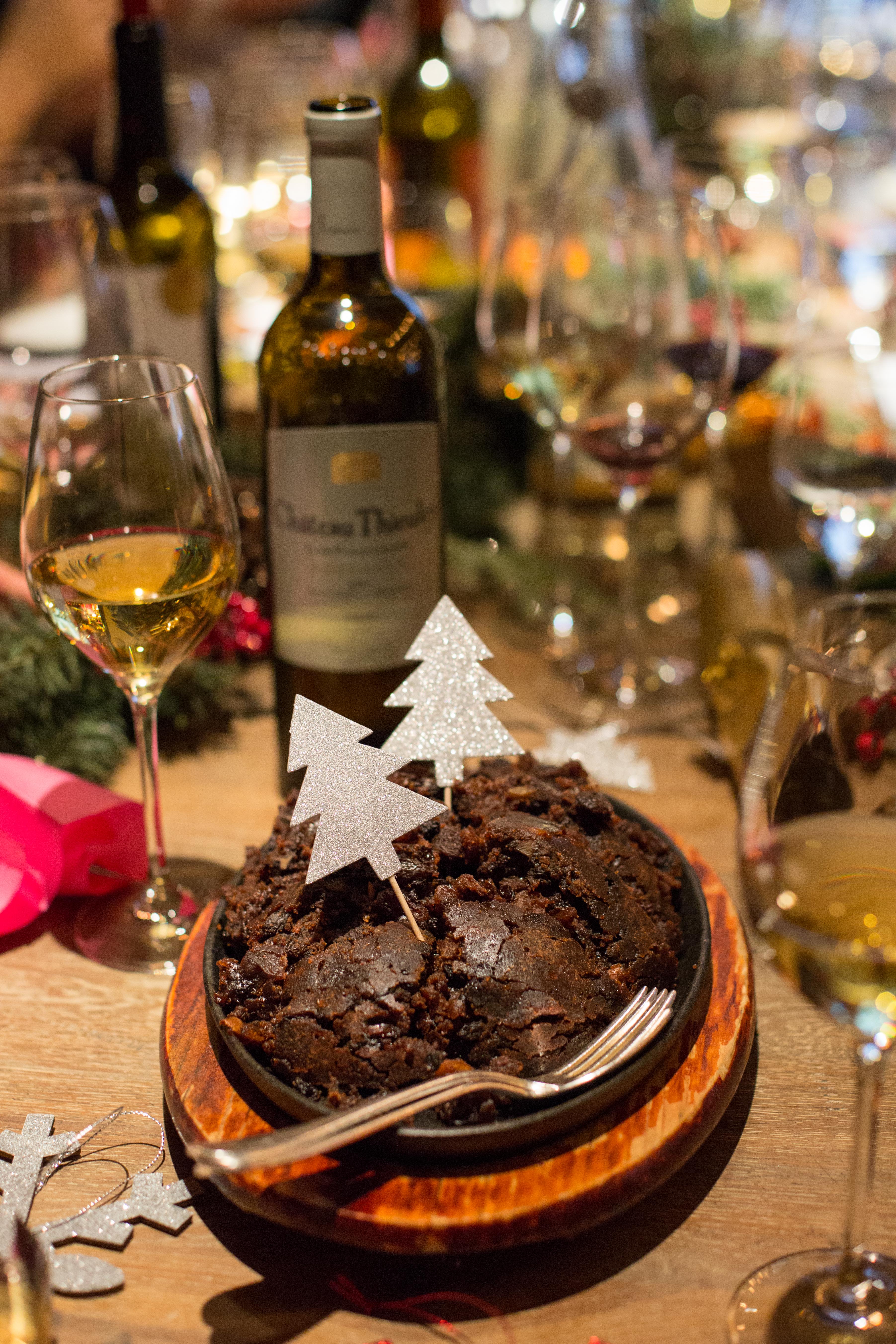 Combine the dried fruit of your choice (raisins, currants, sultanas, chopped dried figs or apricots, prunes), candied peel and brandy in a mixing bowl. Stir well to mix, cover and leave for 24 hours to soak.
The following day, in a large bowl mix the ginger, syrup, grated apples, orange juice and grated orange and lemon zest with the eggs, suet, brown sugar, crumbs and flour. Stir in the soaked fruit and mixed spice.
Grease a pudding basin with butter. Cover with a double layer of greaseproof paper or baking parchment, pleating it to allow for expansion. Cover with a large piece of pleated foil, ensuring the pleats are on top of one another, then tie with string. Place the pudding in a steamer set over a saucepan filled with simmering water and steam the pudding for 5-6 hours, topping up the water level as necessary throughout cooking. Store in a cool, dry place until required. On Christmas day steam for a further 2 hours.
Serve your pudding with a dry white Bordeaux such as Château Thieuley, which is made from the classic Bordeaux white grapes Sauvignon Blanc, Semillon and Sauvignon Gris. The rich spicy dried fruit of the Christmas pudding is complimented beautifully by the spicy character of this aged white Bordeaux. Lemon peel, honey, vanilla and peach, full-bodied and long. Quite lovely together but also beautiful on its own!
Our last tip for Christmas dinner – not everyone likes (or has room for) Christmas pudding. A glass of sweet Bordeaux on its own has the sweetness and richness needed to finish the meal but only uses up a tiny space in the already full tum.
Bordeaux wines wishes you a wonderful Christmas!