Bordeaux and brunch – a perfect match
Lazy weekend mornings when you are not in a rush and can sleep in a little longer also mean that it might be too late for breakfast but a little too early for lunch. This is when our recipes come in, all moderately paired with Bordeaux wines, of course.
Green Shakshuka
Surely most of you have already heard of this delicious breakfast dish of eggs and tomatoes. In recent years, shakshuka has become well established in many cafes around the world. Our shakshuka today is slightly different than a regular one because it is made without tomatoes, but with green vegetables – beans, peas and asparagus.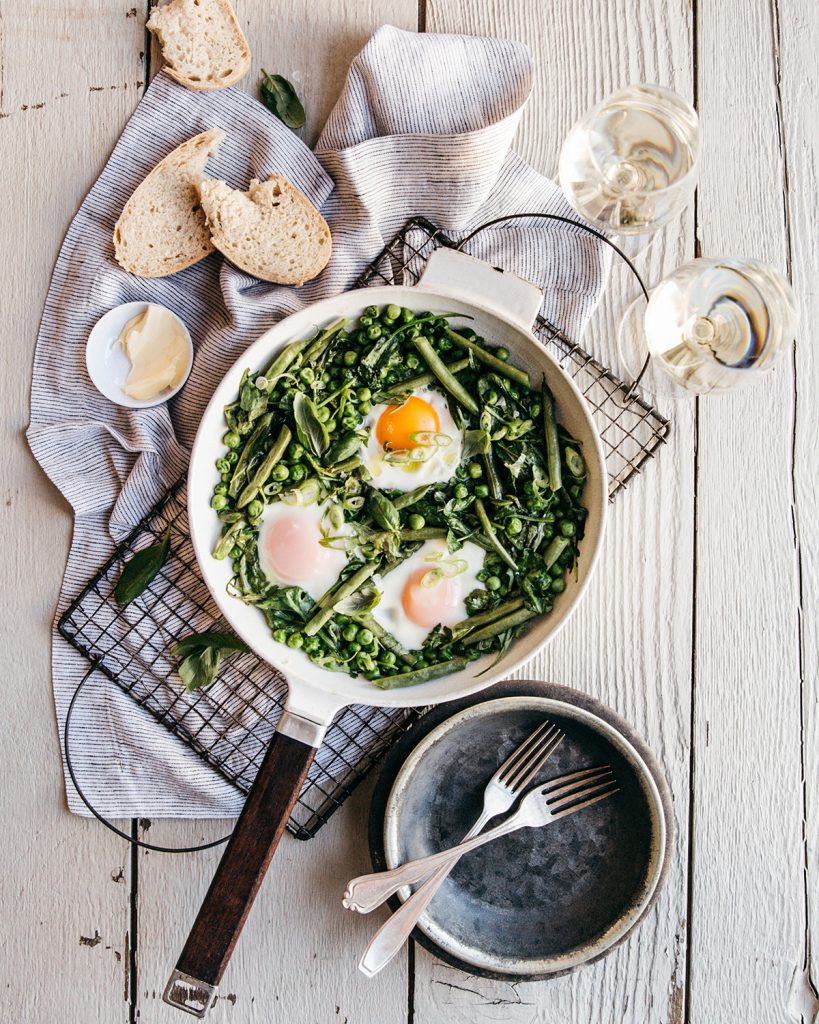 Ingredients:
12 asparagus tips
200g peas
200g spinach
olive oil
butter
6 spring onions
2 garlic cloves, sliced
grated cumin to taste
4-6 eggs
a pinch of salt
Method
Blanch peas, asparagus, and spinach for 30 seconds in a saucepan filled with boiling salted water. Put a pan on medium heat, then add butter and olive oil and fry the sliced ​​spring onions. Now add garlic, cumin and salt and then mix in your blanched vegetables. Use a wooden spoon to prepare space for the eggs, break the eggs one by one and add them to the pan, season with salt and pepper as desired. Bake at 180 degrees in the oven until the eggs reach the consistency you prefer.
Wine accompaniment
This dish goes well with a Bordeaux Sauvignon Blanc. It should be lively and fruity, such as a Château Bel Air Perpencher Réserve, well-balanced and fine scented, but basically, you are well placed with any Bordeaux Sauvignon Blanc wine here.
Zucchini quiche
This quiche makes brunch lover hearts beat faster and works particularly well if you are hosting a big group. The good thing about this recipe – it can be easily converted into a low-carb version by simply leaving out the floor – it also works and tastes good!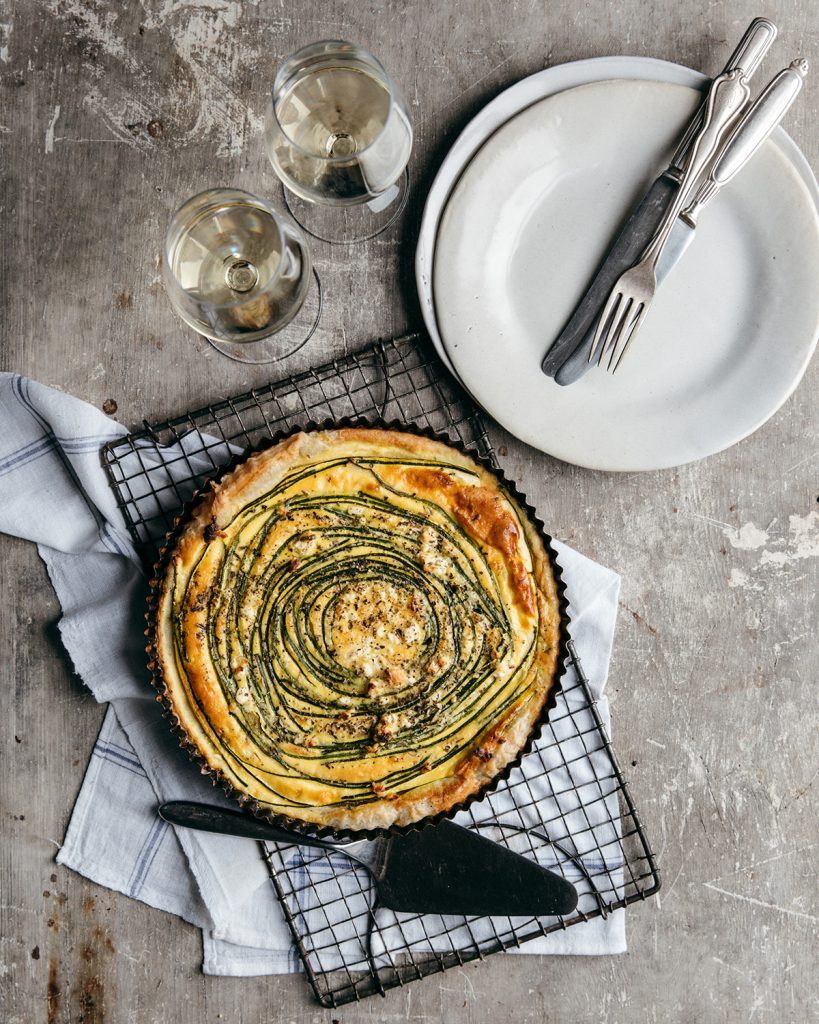 Ingredients for the crust:
150g flour
100g butter
1 egg
pinch of salt
For the filling:
4 eggs
100ml milk
100ml double cream
1 large zucchini, cut into thin strips with a peeler
200g grated Emmental cheese
100g goat's cheese or feta
salt and pepper
Method
The base is a shortcrust pastry that you can either buy premade or prepare at home – simply mix the salt and the flour and then knead with an egg and soft butter. Chill for at least 30 minutes in the fridge. Then roll out and lay over the tin, making sure to push the pastry into the tin with your hands. 
Now mix the eggs, cream and milk with a whisk and season with salt and pepper. Then add the sliced ​​zucchini, goat and Emmental cheeses, mix everything and then pour into the tin. If you want to create a beautiful pattern as on our image, add the egg mixture first. Then form a rose from zucchini strips on a plate before adding it to the egg mixture. Separate the strips with a knife to create the effect as on the photo. Cook for 20-25 minutes at 180C/160C fan/gas 4.
Wine accompaniment
Here, too, you'll hit the spot with a dry white Bordeaux wine. Why not try Château Thieuley dry white? This refined and aromatic blend of semillon, sauvignon blanc and sauvignon gris is a particular success in the excellent 2017 vintage and is equally lovely with and without food!
Mango and avocado on toast
Avocado on toast is great but it can get a little boring so we are here to offer you a slightly different take on this brunch staple.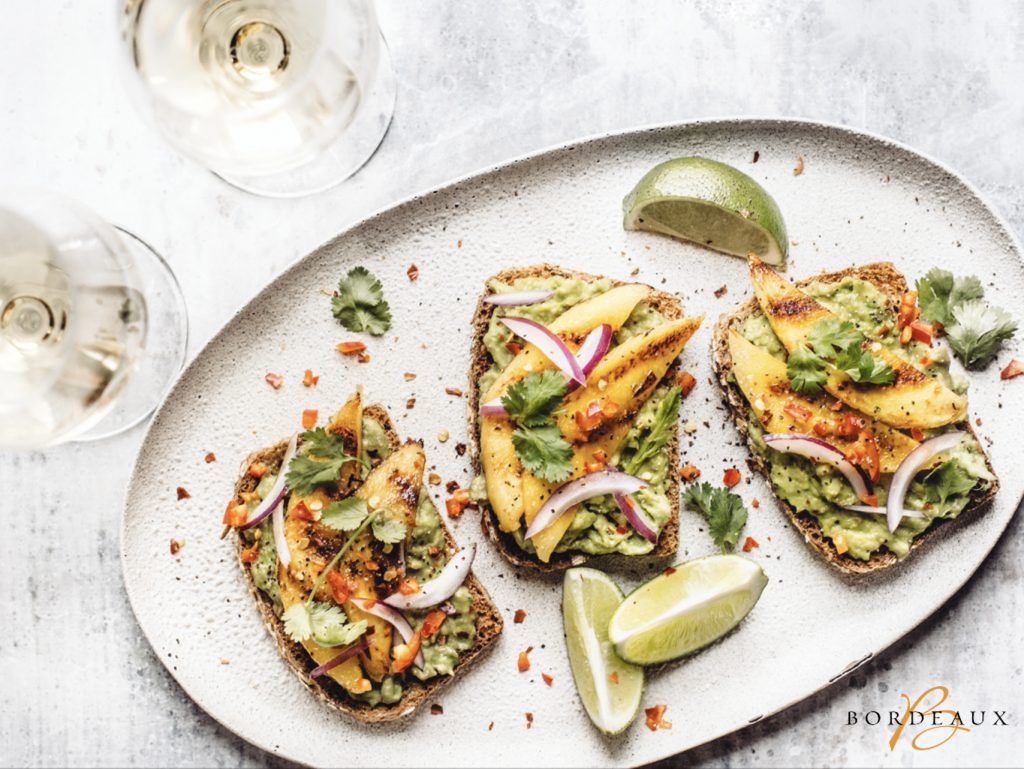 This recipe is very easy to make at home and will only take a few minutes to prepare. It can be served on rye or sourdough bread depending on your preference and what you have at hand at the moment. First, cut your bread into slices and then toast it. In the meantime, mash avocado with a fork to your preferred consistency. We love adding a dash of lemon or lime juice to it. Season to taste. Slice mango and grill lightly, then arrange on top of mashed avocado on your toast. If desired, add a bit of red onion, chilli flakes and coriander.
Wine accompaniment
Pair mango and avocado toast with a glass of Entre-Deux-Mers or Côtes de Bordeaux dry white. Château de Beauregard Ducourt from Entre-Deux-Mers region of Bordeaux will be perfect here with its fresh gooseberry and citrus nose, intense ripe fruit and zesty lemon peel flavour.