Three winter comfort recipe ideas
After consuming a copious amount of festive food, winter is the time to detox – but it's so dark and chilly outside that all you do is crave a good glass of wine and comfort food to go with it!
For those days when comfort food craving is unbeatable, we've rounded up for you 3 delicious winter warming recipes, all perfectly paired with Bordeaux wines.
Meatballs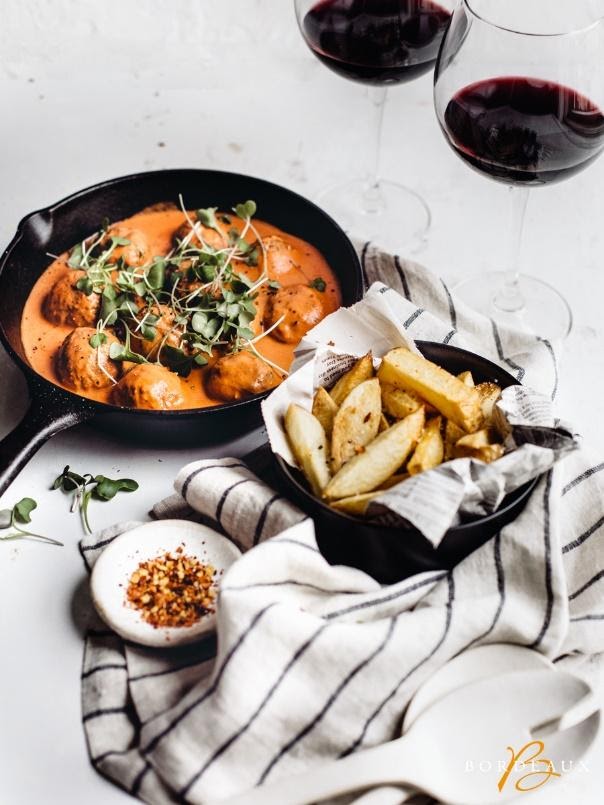 Ingredients
800g minced meat (a mixture of beef and pork works well here)
100g white bread
100ml milk
1 egg
½ cup Parmesan cheese, freshly grated
Salt and pepper
4 garlic cloves, minced
Handful parsley leaves, finely chopped
1 tbsp dried oregano
Tomato Sauce
4 tbsp olive oil
3 garlic cloves, minced
2 x 400g cans chopped tomatoes
1 tsp brown sugar
Optional – smoked paprika or crushed chilli flakes
Extra Parmesan, for serving
Salt and pepper
Method
In a medium bowl mix together milk and bread, leave to soak.
In a large bowl, mix together the ground beef, pork, garlic, parsley, oregano, cheese, egg and the soaked bread. Season with salt and pepper.
Lightly mix the meatballs with your hands. Then scoop about one tablespoon of meat into your palms and roll it into a ball, repeat with all of the meat. Place the balls on the tray lined with baking paper.
Place the baking tray in the oven to bake for 12 to 15 minutes, or until they're cooked through.
Heat olive oil in a large saucepan on medium heat.
Add chopped garlic and saute for 1 minute, then add brown sugar and spices (if using). Next, add the chopped tomatoes, season to taste and stir well to combine. Simmer the sauce for at least 10 minutes, stirring occasionally.
Add meatballs to the sauce, stir to ensure they are fully coated in the sauce. Cover the pan and simmer on a low heat for about 5 minutes, spooning the sauce over the meatballs occasionally.
Serve warm over spaghetti or with potatoes.
Wine pairing
To complement the rich flavours of the meat and tomato sauce, we suggest opting for a full-bodied red Bordeaux wine from the Medoc region, the famous 'left bank' of the Gironde river which runs through the Bordeaux region. Why not try Légende, created by Domaines Barons de Rothschild (Lafite), a bold, modern style blend of Cabernet Sauvignon and Merlot, with notable freshness, structure and elegance – a bold, modern style of Médoc with notable freshness and firm, ripe tannins.
Vegetable lasagne
Ingredients
3 medium sized aubergines (can be replaced with courgettes)
Olive oil
2 garlic cloves, crushed
1 onion, chopped
125g ball mozzarella, sliced (or vegetarian alternative)
100g Parmesan, grated (or vegetarian alternative)
Tomato pasta sauce 400ml
Fresh lasagne sheets 250g
Salt and pepper
Dried oregano
Fresh basil
Method
Preheat oven to 200°C. Trim ends off aubergines, then cut into slices about ½cm thick. Lightly grease a baking tray, then place aubergines on top. Toss with olive oil, season to taste, then roast for about 25 mins until lightly browned.
While the aubergines are roasting, place a medium pan over medium heat with a little olive oil. Add garlic, onions and oregano and saute for a few minutes. Then add tomato sauce and cook until warmed through.
Lower the heat in the oven to 180°C. Take a medium shallow roasting tin or a round ovenproof dish. Arrange a layer of aubergines at the bottom, then pour over a third of the tomato sauce, one third of mozzarella slices and grated Parmesan. Top with a layer of lasagne, then repeat until you have three layers of pasta. Top the last layer with Parmesan. Cover the dish with foil and bake for 20-25 minutes. Remove the foil and bake for another 10 minutes.
Garnish with basil and serve.
Wine pairing
There are several wine options that will match well with a vegetarian lasagne. Bordeaux Sauvignon Blanc, such as Dourthe Roqueblanche available from Waitrose, would be a safe choice. This expressive wine with lifted aromas of gooseberry and freshly cut green apple, has a dry and smooth texture that will complement the rich flavours of lasagne. A Bordeaux rosé, such as Château Tour de Mirambeau available from Tanners Wine Merchants, would make another interesting pairing.
Macaroni and cheese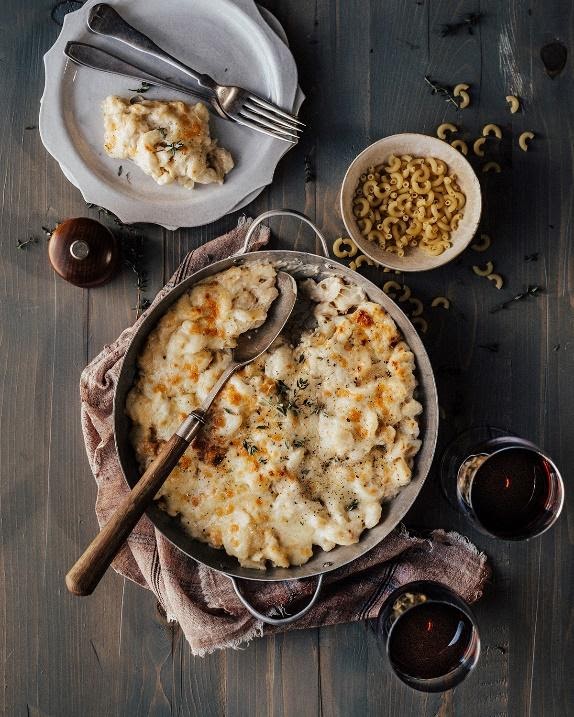 Ingredients
250g macaroni pasta
350ml milk
2 tablespoons plain flour
150g Cheddar cheese, grated
1 teaspoon dry mustard powder
Salt and black pepper
50g Parmesan cheese, grated
Method
Bring a large pot of salted water to a boil and cook pasta according to instructions (don't overcook). Rinse under cold water and drain well.
While the pasta is cooking, preheat oven to 200 C / Gas 6. Grease a medium baking dish.
Combine milk and flour in a saucepan. Whisk until smooth. Cook over medium heat, whisking continuously until the mixture starts to thicken.
Remove from heat and add Cheddar cheese and half of Parmesan cheese, whisking until smooth. Season with mustard powder, salt and pepper.
Stir cheese sauce into the cooked pasta. Spoon mixture into the prepared baking dish. Sprinkle grated Parmesan on top.
Bake for 25-30 minutes until the top is lightly browned. 
Wine pairing
When it comes to wine pairing, you need a wine with great acidity and balance to stand up to the richness of the cheeses. A classic red Bordeaux Superieur such as Château Fleur Haut Gaussens available from Berry Bros and Rudd, with ripe plummy fruit complemented by savoury, oaky notes will enhance the creaminess of the sauce while making the texture seem less dense at the same time.