Get ready for Pancake Day with Bordeaux wines
We have been eagerly anticipating Pancake Day this year. It's date changes because Shrove Tuesday is always 47 days before Easter Sunday. But finally, Pancake Day is here (the 16th February) and we are so ready to enjoy it!
Today we would like to share with you sweet and savoury pancake recipes to satisfy all your cravings! What's more – one is a fluffy pancake recipe, while the other is a good old French-style crêpe – both paired with Bordeaux wines to match.
Fluffy banana pancakes
Ingredients
200g all-purpose flour
2 tsp baking powder
3 eggs
200ml milk
20g melted butter or 2 tbsp vegetable oil, plus extra for cooking
2 tbsp caster sugar
A pinch of salt
For serving
Maple syrup
2 sliced bananas
Toasted, chopped hazelnuts (optional)
2 tbsp caster sugar (if caramelising bananas)
Method
In a medium bowl combine the flour, caster sugar, baking powder and salt. In a separate bowl, mix together eggs, milk and vegetable oil or melted butter. Combine the two mixtures together, stir gently until thoroughly mixed.

Heat a knob of butter or a drizzle of vegetable oil in a non-stick frying pan over moderate heat. Pour 1/4 cup-sized pancakes onto the pan. Leave about 1,5 inch space between the pancakes as they will expand. Cook until golden for 2 to 3 minutes on one side. Flip, and cook until the bottom is golden, about 1-2 minutes more.

Optional – caramelise the bananas – scatter 2 tbsp caster sugar in the pan. Heat until the sugar melts and starts to bubble. Then add in the sliced bananas and coat them in the caramel.

Serve topped with maple syrup, banana slices and toasted chopped hazelnuts (if desired).
To balance the sweetness of the maple syrup and caramelised bananas, pair with a light and refreshing dry white Bordeaux, such as Château La Rose du Pin, 2020 from the Entre-Deux-Mers region. This vibrant white Bordeaux blend of Sauvignon Blanc and Sémillon with flavours of apples, pears and citrus with a crisp pleasingly balanced almost saline finish, will take those already delicious pancakes to the next level.
French crêpes with ham, cheese and eggs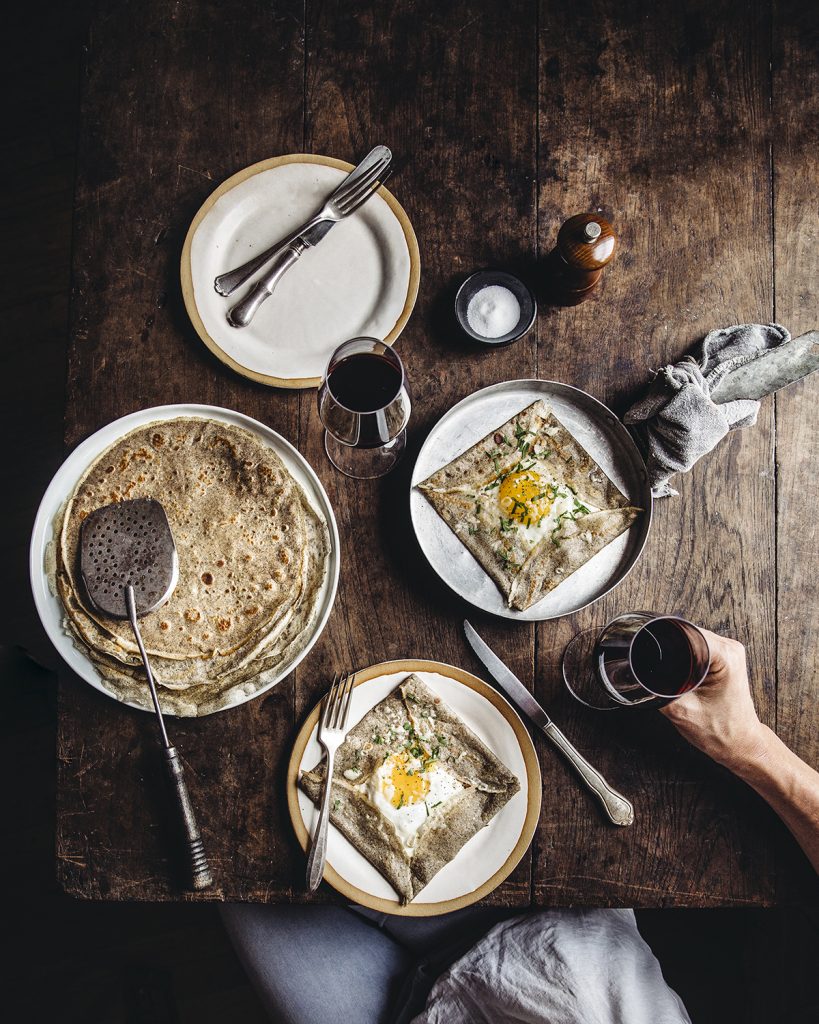 Ingredients
For the pancakes
100g plain flour
2 eggs
300ml milk or 200ml milk mixed with 100ml water
Pinch of salt
40g unsalted butter
For the filling
8 slices smoked ham
8 tbsp grated Cheddar cheese
8 eggs
1 tbsp chives, chopped
Method
Sift the flour and salt into a large mixing bowl. Add eggs and milk, then whisk to a smooth batter.

Melt the butter in a nonstick pan. Spoon 2 tbsp of it into the batter and whisk it in, then pour the rest into a separate bowl, ready for the next pancake.

Pour in enough of the batter to coat the pan, swirling the pan around to get an even coating.

Cook until the underside of the

crêpe

is very lightly starting to brown, about 1-2 minutes. Flip over with a spatula. When the next side is almost done, put the ham on top, then add the grated cheese.

Fold in each side of the

crêpe

to make a square. Crack an egg into the space left in the middle.

Cook for about 3-4 minutes until the egg white is done.

Serve sprinkled with chopped chives.
Pair your crêpes with a supple and fruity red Bordeaux wine, such as Château Daviaud, 2019. This modern slyle, full of fruit and flavour, easy-drinking red wine with an unforced fruity nose and ripe, fruity, polished palate with excellent balancing structure and gentle grip is a good match to the ham and cheese flavours.
There you have it – two different pancake recipes with Bordeaux wines to match – to please those with a sweet tooth, as well as savoury pancake lovers. Happy Pancake day!