Three vegan recipes and vegan wine pairing ideas
Whether you have been vegan for a while or decided to try a vegan diet this January for the first time, we wanted to reassure you that vegan food doesn't have to be boring. In this article, you can find three of our favourite vegan recipes, all paired with vegan Bordeaux wines to match.
Although it may seem self-evident that wines are vegan this is not necessarily the case as some winemakers use isinglass (a kind of gelatin obtained from fish), casein (dairy protein) or albumen (egg white) to filter their wines. However, vegan wines are made without the use of animal products in the fining process, instead using plant-based fining agents or forgoing the fining process altogether. The production of vegan certified wines has increased significantly in Bordeaux over the past 10 years.
We hope you will enjoy these vegan wine and food pairings!
Vegan creamy mushroom spaghetti
This recipe is really versatile – spaghetti can be replaced with another pasta shape, you can use any mushrooms you like and add any vegan milk alternative of your choice.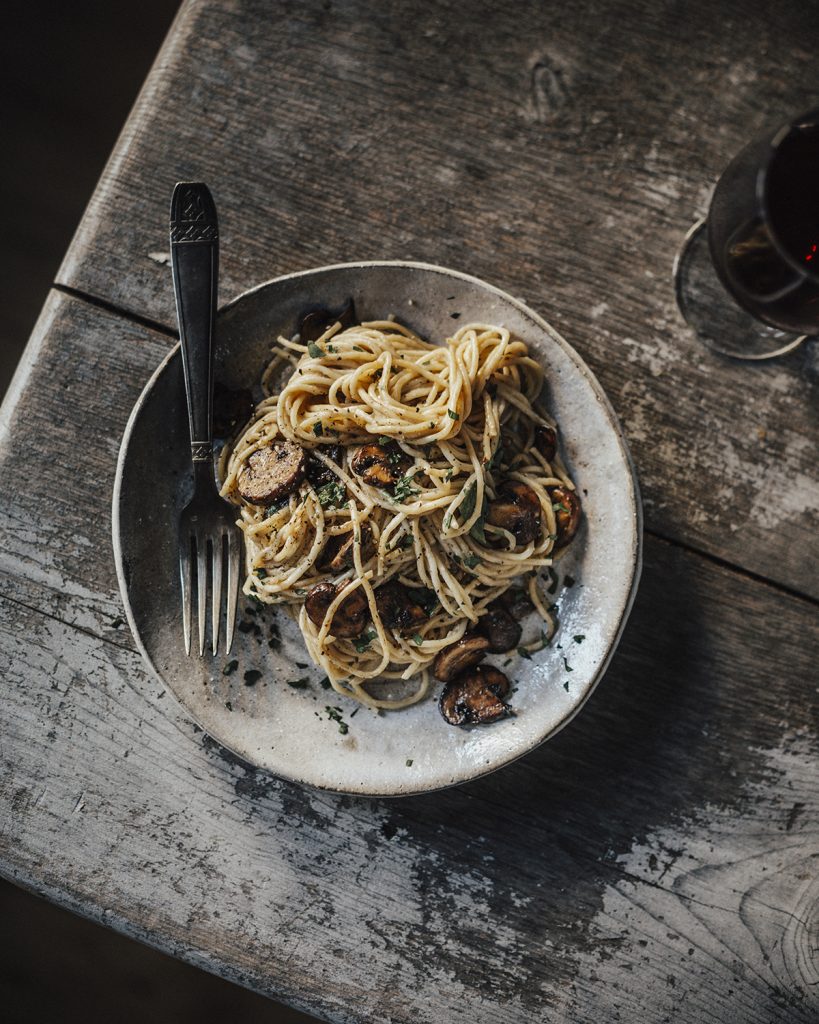 Ingredients
250g mushrooms
250g spaghetti
4 garlic cloves, chopped
1 small onion, thinly sliced
1 tsp herbs of Provence
A bunch of parsley
2 tablespoons flour
300ml your favourite dairy-free milk or soya cream alternative
100ml water
Salt and pepper
4 tbsp olive oil
Method
1. Bring a pan of salted water to the boil, add the pasta and cook according to the packet instructions, until just tender.
2. While pasta is cooking, add some olive oil to a medium pan, then add the thinly sliced ​​onion and half of the chopped garlic. Let caramelise for about 5 minutes. Then add sliced ​​mushrooms and fry for 5-10 minutes until golden brown. Set aside.
3. To make the sauce, add some olive oil to a pan and fry the remaining chopped garlic for one minute, stirring constantly. Then add the herbs of Provence and the flour and stir. Slowly add the dairy-free milk and mix with a whisk. Simmer until the desired thickness is reached.
4. Add the mushroom mixture and chopped parsley to the sauce. Season with salt and pepper. Drain the pasta in a colander and stir into the mushroom sauce.
Wine pairing
The earthy flavours from mushrooms combined with the hearty flavour of a white sauce pasta dish call for a powerful red wine. Why not try Plaisir de Siaurac Lalande de Pomerol, 2019 – this rich and fragrant vegan blend of Merlot, Cabernet Franc and Malbec is packed with redcurrant and blueberry aromas, robust but with a purity and elegance. Lingering on the palate with a charming floral note on the finish – which makes it the perfect match to our creamy mushroom pasta.
Stuffed zucchini
This dish is light and filling at the same time, tasty and easy to prepare – what more can you wish for! Of course, you can also swap zucchini with aubergine, sweet potato or butternut squash – it is very versatile.
Ingredients
4 medium zucchinis
150g black rice (white or brown rice works too)
1 onion, chopped
1 tomato, finely chopped
1 tbsp tomato paste
2 cloves garlic, grated
Fresh parsley, finely chopped
Thyme, finely chopped
Vegan cheese, grated
Olive oil
Method
Rinse the rice well with water, then simmer with 530ml water on low heat until cooked.
Heat some olive oil in another pan and add chopped onion, garlic and tomato paste. Now add the chopped tomato and the herbs, remove from the heat and mix with the cooked rice. Season to taste with salt and pepper.
Cut the zucchinis lengthwise in half and remove the seeds to make room for the filling. Now add the rice filling and spread the grated vegan cheese on top. Bake for 30 minutes at 200C until zucchinis are fork-tender.
Wine pairing
The perfect wine match here would be a dry white Bordeaux, such as a delicious vegan Sauvignon Blanc Mouton Cadet Sauvignon Blanc, 2021. This wine is aromatic, with intense aromas of gooseberries and grassy herbs, spiked with lime. Lively and refreshing with a zesty bite.
2-ingredient vegan chocolate mousse
Traditionally, the basic recipe for this light, chocolatey treat consists of 5 ingredients: chocolate, sugar, eggs, cream and butter but did you know that you can make it completely vegan while using only 2 ingredients?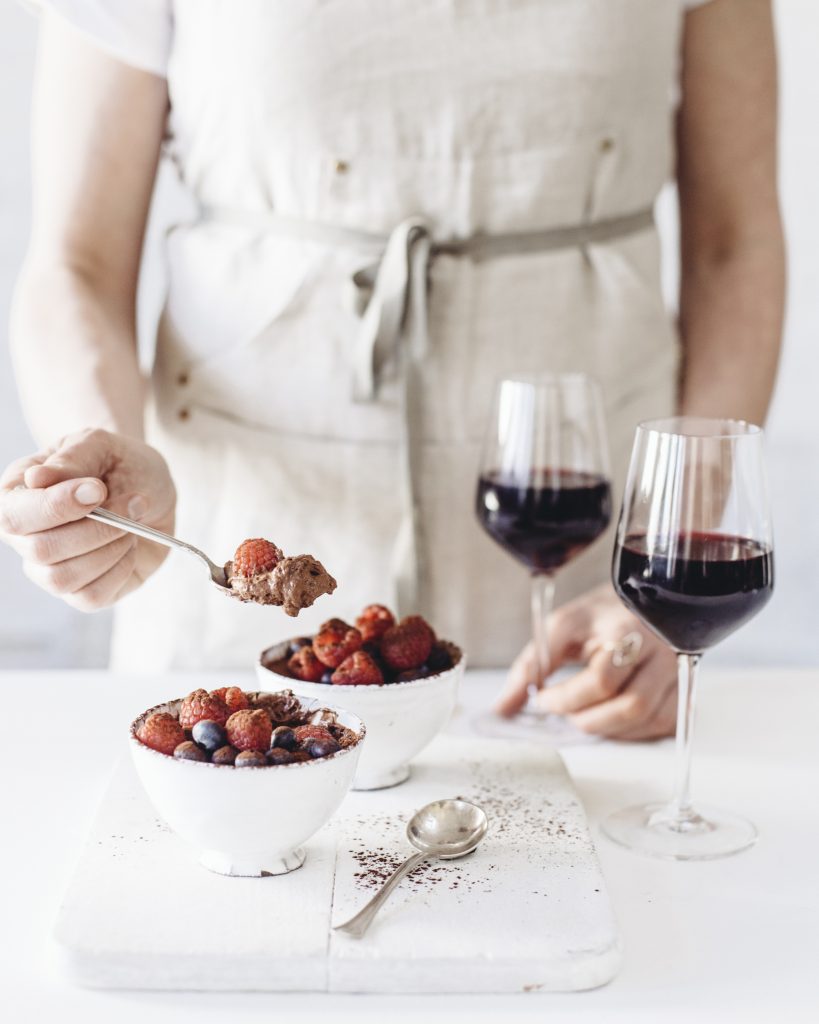 What you need:
Aquafaba (the liquid from a 400g can of chickpeas) and
150g dark chocolate bar
This recipe really depends on the quality of your chocolate. As a rule, chocolate with at least 60% cocoa contains no milk and is therefore vegan. Double-check this on the packaging.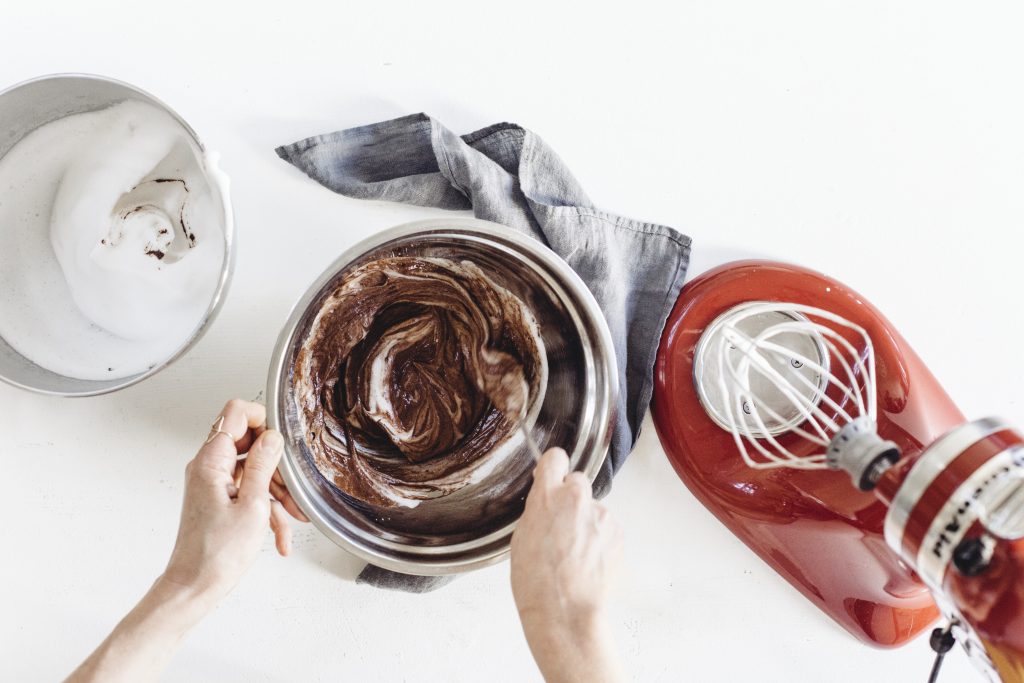 Method
Break the chocolate into pieces and heat in a saucepan or metal bowl in a water bath until melted. Set aside to cool.
Meanwhile, beat the aquafaba with a mixer for at least 7 minutes.
Once the chocolate has cooled down, carefully fold it in the foam (it needs to cool down as the foam collapses when it hits the hot mass).
Pour the mixture into small bowls or glasses, or leave in a large bowl. Then put your bowls in the fridge and let it cool down and set.
Serve with berries and cocoa dusting to decorate.
Not only is this dessert extremely easy, it's also really delicious and incredibly easy to make. If you like, you can of course refine this basic recipe to taste and add things like vanilla extract, nut butter or caramel syrup.
Wine pairing
We love a smooth and fruity Château Clou du Pin Bordeaux Superieur, 2016 with this dessert. Made from a blend of Merlot, Cabernet Franc and Cabernet Sauvignon grapes, this vegan wine is showing fruit cake and red fruit flavours, a brilliant bistro claret with some power. Enjoy!