Surprise your loved ones with sweet pairings
Valentine's Day is just around the corner, and no matter if you are celebrating or not, it's the perfect time to spoil yourself or your loved ones with those delicious sweet treats, with Bordeaux wines to match. We've rounded up our favourite desserts for you to choose from – why not try something new this time? Spoiler, there's no red velvet involved.
Cheesecake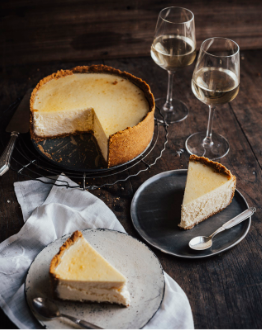 Ingredients
150 g digestive biscuits

50 g butter

500 g cream cheese

100 g icing sugar

1 vanilla pod or 1 tsp vanilla extract

200 ml double cream
Method
To make the base, crush the digestive biscuits up into small crumbs, melt the butter, and then mix them together.

Press the biscuit mixture into the bottom of a round cake tin (ideally with a removable base) covered with parchment paper. Use a spoon to create an even layer, then put in the fridge to set for one hour.

Place the cream cheese, icing sugar and vanilla pod seeds or vanilla extract in a bowl. Beat together with a whisk or an electric mixer until smooth.

Fold in the double cream and continue beating until the mixture is completely combined.

Take the digestive base out of the fridge and spread the cream mixture over it. Leave to set in the fridge overnight or for a minimum of one hour.
To pick the right kind of wine that works with the cheesecake, think of the toppings and flavourings that are used in the cheesecake recipe. Since we have a plain vanilla cheesecake here, a dry white blend of Sauvignon Blanc and Sémillon, such as Château de Chantegrive Cuvée Caroline, 2020 from the Graves region is the perfect choice. This wine has an elegant balance between oak and fruit with a satisfying pithy finish, and goes so well with the flavourful cheesecake.
Toffee apples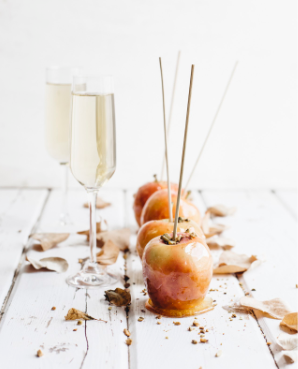 Ingredients
8 small Cox's or Granny Smith apples

400g golden caster sugar

120ml water

4 tbsp golden syrup

50g (2oz) unsalted butter

lollipop sticks
Method
Place the apples in a large bowl, then pour over boiling water – this helps to remove any wax coating from the apples and will make the caramel stick better.

Dry thoroughly, twist off the stalks and push wooden lollipop sticks halfway into the stalk end of each apple.

In a medium saucepan combine golden caster sugar, golden syrup and water. Bring to the boil, then stir constantly over low heat with a wooden spoon for about 5 minutes until the mixture reaches 150°C. If you don't have a thermometer, test the toffee by pouring a teaspoon of the mixture into a bowl of cold water. It should harden instantly and, when taken out, be easy to break. If it still can be squeezed, continue to boil for a bit longer.

Remove the pan from the heat. Holding the apple by its stick, dip in hot syrup one at a time, turn to coat evenly. Then place on a tray to harden.
Serve your toffee apples with a sparkling Calvet Crémant de Bordeaux. This wine is frothy, lightly fruity, with aromas of toffee apple flecked with citrus blossom. Creamy textured, with subtle notes of spice and brioche. Clean, fresh and easy drinking, it perfectly complements the caramel flavour.
Rhubarb custard pie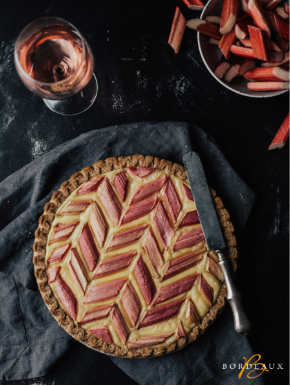 Ingredients
1 pack (320g) ready rolled pastry (or make your own)

400g rhubarb, cut into 3cm length

250g caster sugar

2 tablespoons plain flour

1 vanilla pod or 1 tsp vanilla extract

2 eggs

200ml double cream

Dash of salt
Method
Preheat oven to 180 C / gas mark 4. Roll out pastry for the bottom crust and place in a pie tin, make sure to press the edges of the pie shell well.

Spread rhubarb evenly on the crust (leave a few pieces for decoration).

Mix well the sugar, flour, salt, and vanilla, then add eggs and cream. Beat until smooth and pour this over the rhubarb. Decorate the pie with extra pieces of rhubarb before popping into the preheated oven.

Bake for 40 to 50 minutes.
Sometimes matching food and drinks by colour works best. Why not try serving this colourful rhubarb custard pie with a light and refreshing Bordeaux Rosé, such as Château Panchille Bordeaux Rosé? With raspberry, lime and mandarin aromas on the nose, a subtle spice character, fruity but dry, with a creamy, rounded finish that will not overpower but nicely complement the rhubarb and custard.
Chocolate hearts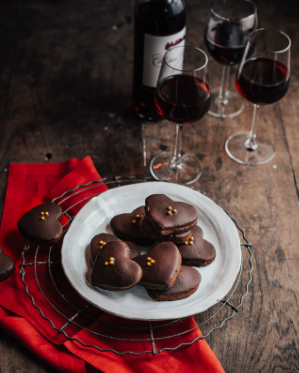 Instead of buying heart-shaped biscuits or chocolate, make your own at home. Those chocolate hearts look great, are very easy to cook and will surely make your dear one feel loved.
Use your favourite biscuit recipe – it could be shortbread or even gingerbread. You can use any shape cookie-cutter but for Valentine's day heart shapes, of course, work the best.
Once the biscuits are cool, melt chopped dark chocolate in a double boiler or in a microwave. Then simply dip each biscuit in the melted chocolate. Place the biscuits on a tray lined with greaseproof paper to set. You can decorate your biscuits even further using cake decorations and sprinkles. Once you are happy with the result, cool the biscuits for 5 minutes at room temperature, then transfer to the fridge for a further 30 minutes.
Dark chocolate calls for a full-bodied red wine. With its rich bouquet of forest floor and mushroom, sandalwood, cassis and redcurrant, a wine from the Médoc region, such as Château Moulin de la Bridane, 2017 matches those dark chocolate delights exceptionally well.