5 perfect food and wine pairings for Valentine's Day
This year there might be no romantic trips or exciting restaurant dinners and hotel stays. But we believe that the most important ingredient for a cosy and romantic evening at home is a meal made with love … and paired with great wine, of course! Here are some of our favourite matches to surprise your other half (or to enjoy yourself) this Valentine's Day.
Crémant de Bordeaux + oysters

Rumour has it that Casanova, Italy's most famous lover, ate 50 oysters a day to maintain his romantic stamina – so this is an ideal food pairing to serve on Valentine's Day! Not only are oysters absolutely delicious, they're also packed with zinc and amino acids that scientists believe can enhance your charm.
Be sure to pair them with a glass of Crémant de Bordeaux to further enhance the sparkle!
For a wine to qualify as Crémant de Bordeaux, all grapes must be handpicked and the wine aged for at least twelve months (perfect to celebrate a one-year anniversary) – and while Crémants de Bordeaux come in white and rosé, we recommend a white Crémant de Bordeaux to pair with oysters. A blend of Sémillon grapes, the wine has floral aromas and a mineral flavour.
Why not try Château Bauduc Blanc de Blancs – a top-notch Crémant from an ambitious, English-owned Château – crisp, dry and appetising.
Dry white Bordeaux + goat cheese and vegetable tarts

How about goat cheese tarts as a simple but tasty starter? And to accompany it, we recommend a dry white from the AOC Bordeaux Blanc! A blend of Sauvignon blanc, Muscadelle and Sémillon, these wines are refreshing and crunchy, with hints of fresh herbs and citrus – ideal with the savoury and rich flavours of goat cheese.
The Bordeaux appellation covers the entire Bordeaux vineyard, a very large geographical area with a wide variety of soils and terroirs – whatever your palate, there is a Bordeaux Blanc for you. Some wines may be fuller and rounder if there is more Sémillon in the blend, while wines composed mainly of Sauvignon Blanc will be light, spicy and crunchy.
We suggest trying G de Guiraud Bordeaux Blanc – a classic Bordeaux blend of Sauvignon Blanc and Sémillon – ripe, textured and dry, yet delightfully fresh and crisp on the finish.
Bordeaux Rosé + scallops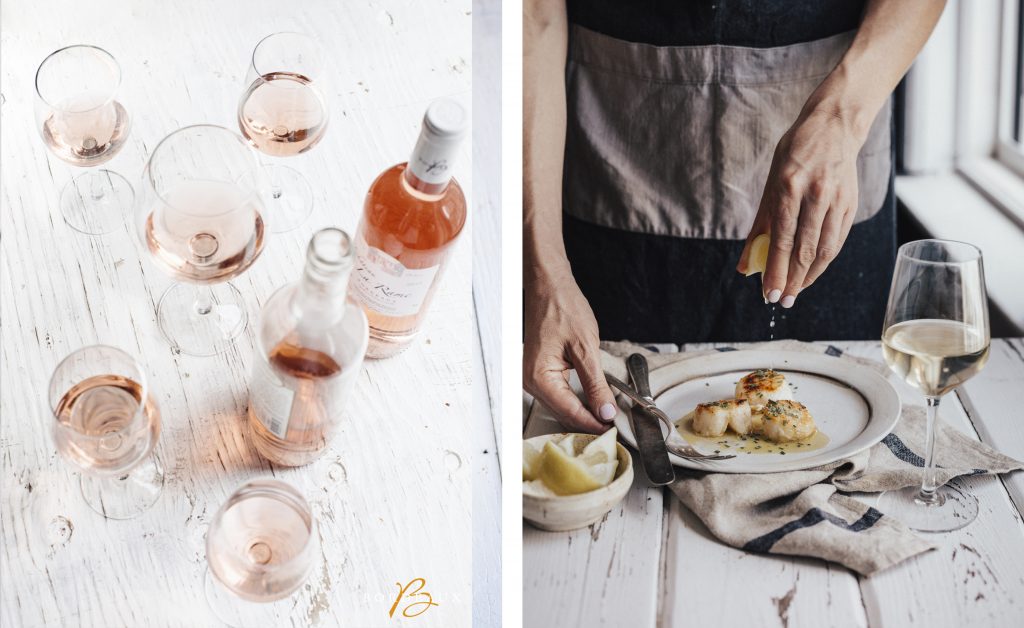 Bordeaux Rosé pairs exceptionally well with seafood so why not try this delicate pairing of silken scallops with pink pepper and a Bordeaux Rosé, which isn't just for summer sipping. Yes, Bordeaux rosés are wonderful to enjoy all year round and are fantastic food-wine pairing partners!
The popularity of rosé has soared over the last few years and there's no surprise that Bordeaux produces more rosé each year (last year, rosé represented 7.0% of the total wine production of the Bordeaux region, or 12 million bottles).
Bordeaux rosés are produced from a blend of Cabernet Sauvignon, Cabernet Franc and Merlot grapes, then vinified at low temperature. Finally, during assembly, these components are assembled by the winemaker to create beautiful wines with flavours of red fruits, strawberry and blackcurrant, citrus and grapefruit.
An excellent choice here would be Château Tour De Mirambeau – with wild strawberry and pear aromas, this wine is bright and fruity, with mouthwatering freshness on the dry finish.
Sweet Bordeaux wine + spicy food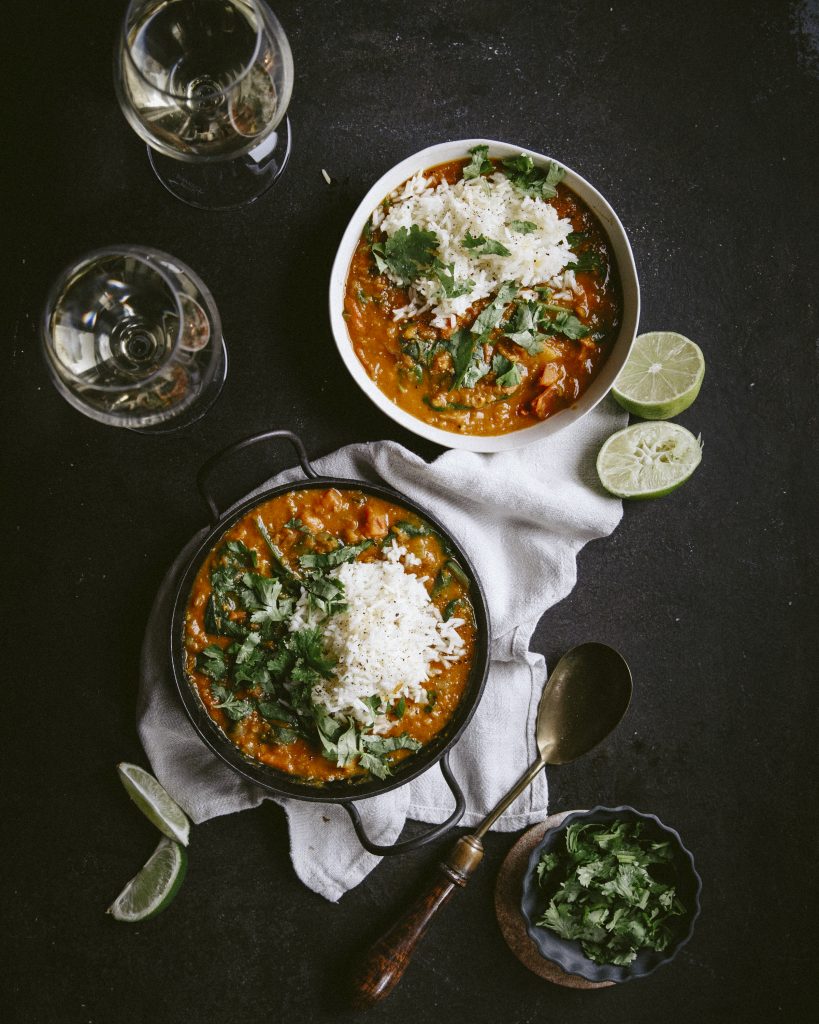 In addition to delicately blushing your cheeks and increasing your heart rate, chilli peppers are a delight for the palate and release endorphins. The trick to pairing spicy dishes with wine is to select a wine with a touch of sweetness: a little sugar will balance the heat of the dish and keep all the flavours in balance.
So why keep sweet wines for dessert? Our sweet wines go deliciously well with spicy food: there are many appellations in Bordeaux that produce sweet wines, for example Barsac, Sauternes, Cadillac, Cerons and Graves Supérieures, so you can find many delicious and affordable options to surprise your "date".
Why not try Château La Rame from Sainte-Croix-du-Mont – packed full of elegant honeysuckle nose and bright, citrus zestiness to balance the gentle sweetness.
Bordeaux Red + lamb chops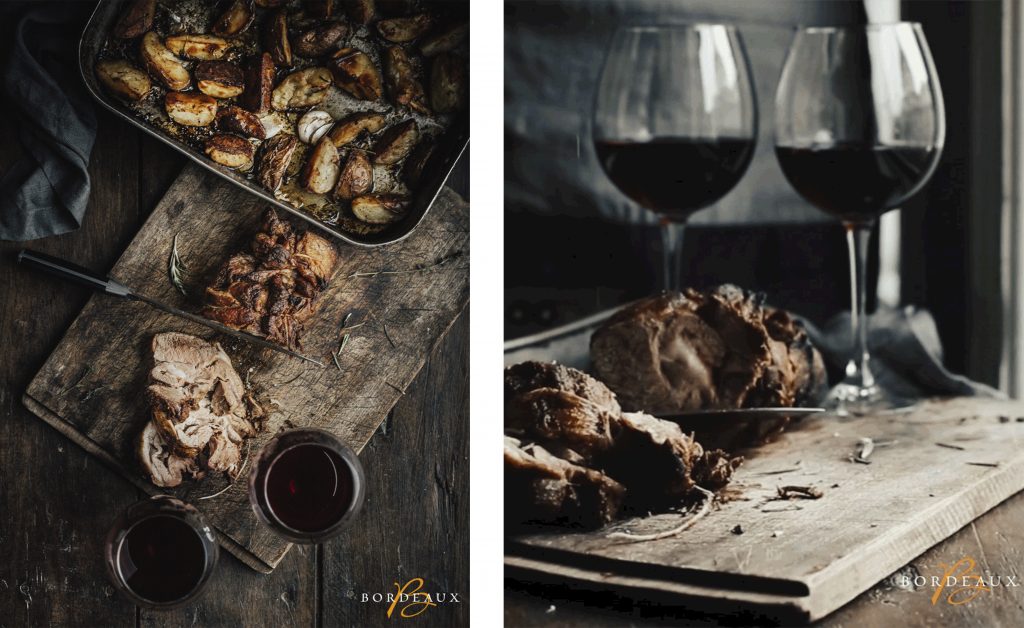 No Valentine's Day would be perfect (in our opinion) without a rich, velvety red wine, and Bordeaux produces some of the best red wines in the world. With a hearty and succulent meat dish like lamb chops, a full-bodied and structured wine like a Médoc would be a perfect match. We suggest Château Patache D'Aux, a lovely example of mature, complex and elegant left-bank Bordeaux. It has intensity of flavour whilst retaining freshness and finesse, and is incredible value too.
For lovers of round notes, red wines from the right bank (region of Saint-Émilion or Côtes de Bordeaux) can be combined with daring flavours such as braised beef, hearty stews, roast chicken and of course lamb.
Hopefully, these pairings will make your mouth water, and inspire you to cook, Happy Valentine's Day!
Looking for ideas of how to pair desserts with wines? Find more inspiration here.