Three warming autumn recipes paired with Bordeaux wines you need to try
As the days are getting shorter, the evenings chilly and the leaves are starting to turn into autumn hues, our food and wine preferences are changing too. Light summer dishes such as salads are being replaced by warming comfort food. Here we would like to share with you three of our favourite autumn recipes, all matched with Bordeaux wines.
Stuffed pumpkins
You can find many different ideas for stuffed pumpkins but we love the version with quinoa, walnuts and pomegranate. By the way, it's vegan too.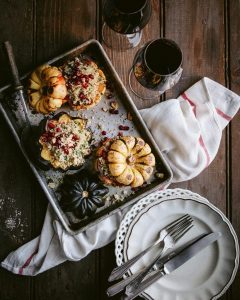 Ingredients
6 small pumpkins
250g quinoa
1 chopped onion
2 chopped celery stalks
2 chopped garlic cloves
5 sprigs of thyme
½ teaspoon oregano
Sea salt and black pepper to taste
75g walnuts (roasted)
5 sprigs of parsley, chopped
Pomegranate seeds
Method
Preheat the oven to 200 ° C. Wash the pumpkins, cut the tops that would serve as a "lid" and scrub out the inside. Then rub the pumpkins with olive oil both inside and outside and season with salt. Place on a baking sheet lined with baking paper and bake for 45 minutes, until tender.

Toast the walnuts in a pan for about 10 minutes under without adding any oil.

Cook the quinoa according to instructions and let it stand for 10 minutes with the lid on to permeate.

Add 2 tablespoons of olive oil to a pan and fry the onion for about 5 minutes. Then add the garlic, oregano and thyme and season with salt and pepper.

Mix the mixture with the pomegranate seeds, chopped parsley and quinoa.  Fill the pumpkins with it. Place in the oven for another 10 minutes before serving.
Wine accompaniment:
Our stuffed pumpkin version is meat-free and it doesn't have any heavy sauce, so you can be quite flexible with a wine pairing here. As we are slowly moving into colder months, we would suggest going for a red Bordeaux Supérieur such as Château Fleur Haut Gaussens, made from Cabernet Sauvignon grapes and available from Vinatis, this elegant, complex wine has lovely long bilberry and cedar-scented aftertaste and finely textured tannins.
Spinach Salmon Lasagna
Hmmmm lasagna, the word alone conjures up all sorts of great associations. And you are welcome to get creative here! There is a lot more to lasagna than just the classic one. In our case, we would like to share with you a recipe that combines lasagna with salmon and spinach, so not only tasty but also healthy!
Ingredients
500g salmon fillet
250g baby spinach
100g grated Gouda cheese
50g parmesan
8 lasagna pasta sheets
1 tablespoon olive oil
Salt and pepper to taste
For the bechamel sauce you need:
50g butter
50g wheat flour
600ml milk
3 sprigs of rosemary
Method
To prepare bechamel sauce, heat the milk together with rosemary. When the milk begins to boil, take the pan off the heat and remove the rosemary.

Heat the butter on a low heat in a large pan, then stir in the flour with a whisk. Then gradually stir in the milk. When all of the milk has been mixed up, turn up the heat and bring to a gentle boil until a thick sauce is formed. Season with salt and pepper to taste.

 Bring a pan of water to the boil and cook the spinach in it for about 20 seconds. Then take pout the spinach, drain and cut into small pieces.

If the salmon fillet has skin on, cut it off first. Then drizzle the salmon with olive oil and season with salt and pepper. Bake in the oven for 8 minutes at 180 °C until it is half cooked. 

Pull the salmon apart with a fork and mix it with the spinach – this will be the filling of our lasagne. Then add two-thirds of the bechamel sauce before layering the lasagna.

Brush the bottom of the baking dish with a little bechamel sauce to prevent pasta from sticking. Add the first sheet of pasta followed by the first half of the filling and a layer of grated cheese (50g), then again a pasta sheet and the second half of the filling and cheese. Add the final sheet of pasta and top with the remaining bechamel sauce. Sprinkle with grated parmesan cheese and put in the oven. After about 30 minutes at 180 °C, your lasagne should be golden brown and ready.
Wine accompaniment: 
Even though this is a fish lasagne, due to a rich bechamel sauce, both a dry white Bordeaux and a red Bordeaux would go well with it. Why not try Mouton Cadet Blanc 2018, a classic blend of Sauvignon and Sémillon. This aromatic wine is fruity, dry and uplifting. Available from Ocado.
Baked maple pears
To finish with a sweet note, try these baked maple pears. You can almost smell the scent of cinnamon just after looking at this incredibly delicious dessert. You only need 5 ingredients and a few minutes preparation time, ideal for the gloomy autumn season!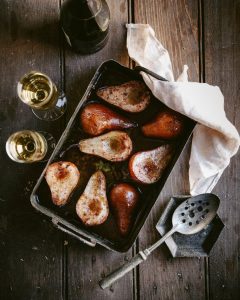 Ingredients
4 pears
100ml apple juice
60g butter
2 tbsp maple syrup
cinnamon
Method
Preheat oven to 200 °C. Heat up the apple juice in the microwave for about a minute and melt the butter in it.

Halve the pears and remove the seeds. Place them on a baking tray, pour apple juice mixture over it, drizzle with maple syrup and sprinkle with cinnamon.

Bake in the oven for 30 minutes. Baste with juices from the tray every 10 minutes.

Serve warm either as is or with a scoop of vanilla ice cream.
Wine accompaniment:
We suggest pairing this dish with a glass of sparkling Crémant de Bordeaux, such as Calvet Crémant de Bordeaux Brut, made from Sémillon and Cabernet Franc grapes. This lovely wine is crisp and refreshing, yet with attractive creaminess on the palate and well-integrated fizz. Available from Tesco.