Try something other than red wine with your cheese
Pairing wine and cheese is one of the most classic combinations and the best idea for a memorable night in. While we are all patiently waiting for the hospitality venues to reopen, why not try unusual cheese and wine pairings at home?
With so many options to choose from, picking a balanced and focused pairing can be a tall order. The key to curating an excellent selection is to offer distinct wine varietals with cheese particularly tailored to eat with each. We have recently run a series of virtual tastings, and as they proved to be very popular, we decided to share some of the most unexpected cheese and wine pairing ideas with those of you who couldn't take part.
All of the wines and cheeses mentioned here are available to buy from Tanners Wine Merchants and the Cheese Society.
Firstly, let's start with a few tips from the Cheese Society on how to taste cheese:
1. Ensure your cheese has been out of the fridge for at least an hour so it reaches room temperature.
2. Try to use separate knives for each cheese to avoid crossing flavours over.
3. Smell, taste the cheese on its own, then taste with the wine to enjoy the flavour profiles.
And this is what you need to look for when tasting wines:

Now, let's get to the pairings.
Bordeaux Rosé and Brie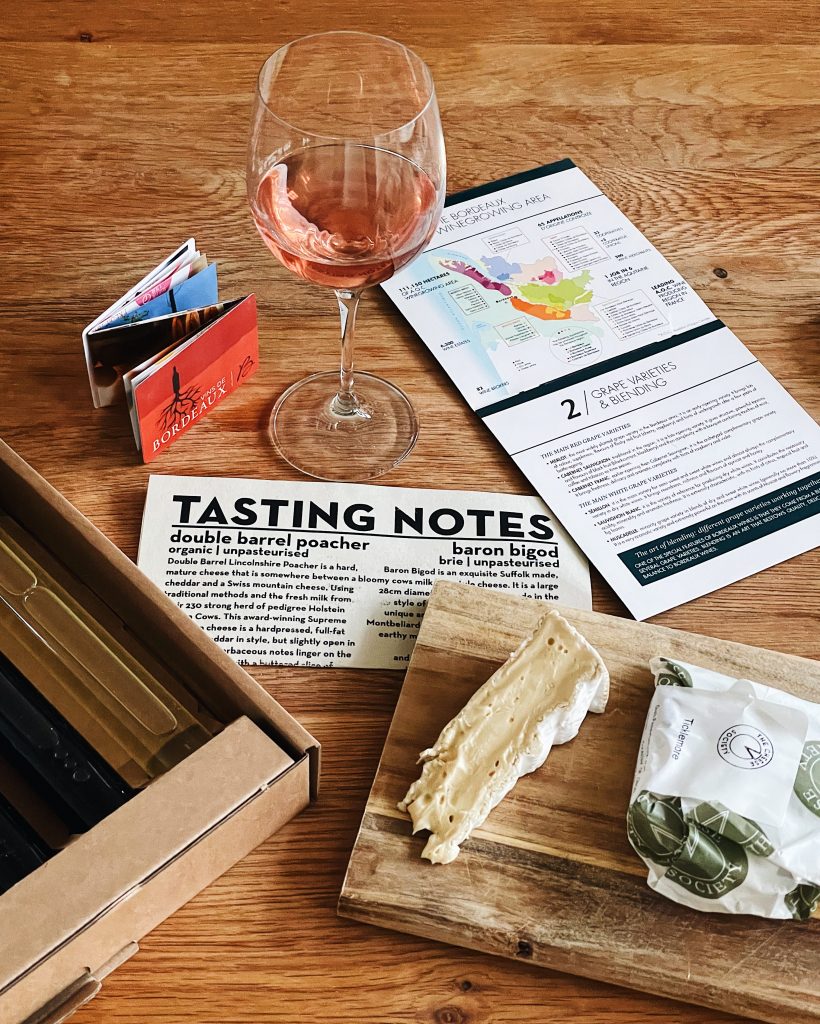 Rosé is produced throughout Bordeaux under the appellation 'Bordeaux rosé AOC', which is a large appellation, meaning the styles can differ greatly. However, for most rosés from Bordeaux, the focus is on light, elegant and fruity wines with flavours of fresh strawberries and floral notes. To make rosé wines, a short maceration occurs. This means that after the grapes are harvested they are gently pressed and left in contact with the red skins for a short time, usually 4-8 hours. This short contact time allows just enough colour to be extracted and create the signature pink tinge associated with this style of wine.
Château Tour De Mirambeau 2019 Bordeaux Rosé is made from Cabernet Sauvignon grapes. It's a delicious strawberry-scented rosé, with great balance. The palate is fresh and succulent, with hints of cassis and strawberry. The finish is long and clean.
Baron Bigod is an exquisite Suffolk made, bloomy unpasteurised cows milk brie style cheese. It is a large 28cm diameter round cheese, made in the style of a good Brie de Meaux with the unique and delicate milky flavours of the Montbeliarde cows' milk, combined with rich, earthy mushroom notes.
The creaminess of the cheese is elevated by the freshness of the wine and you can really feel the red fruit coming through. Our experts recommend trying the cheese first and then having a sip of the wine.

White Bordeaux from Entre-Deux-Mers and Goats Cheese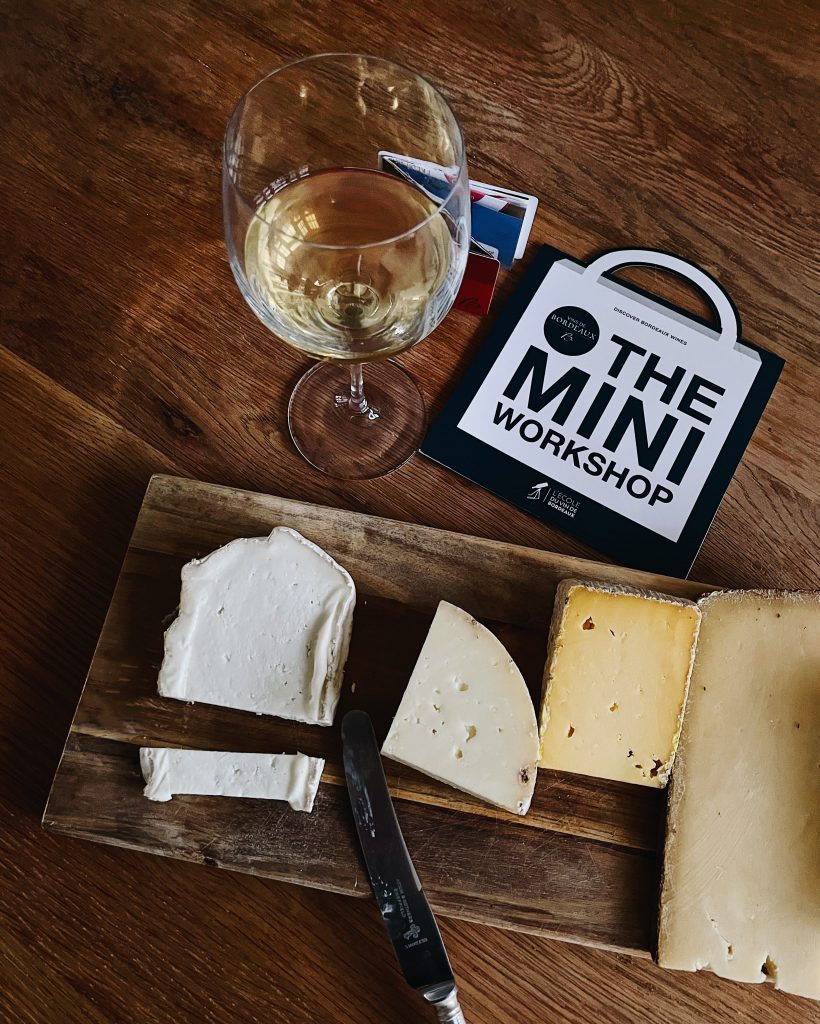 Although Bordeaux may be better known for its red wine production, the dry whites long predate the reds and there are currently almost 2000 winemakers producing this alluring wine style in 10 appellations across the region. The combination of diversity of terroirs, the oceanic crispness and the winemakers' expertise results in high quality crisp, fruity and structured wines that are not only affordable and versatile but are also great with cheese.
Château Argadens Blanc 2019 is produced in Entre-Deux-Mers region of Bordeaux and a blend of Sauvignon Blanc and Sémillon grapes. This sustainable wine (HVE certification) has lovely weight and texture with a touch of oak and citrus and grapefruit character.
Ticklemore goats cheese is a handmade cheese pressed in an unusual basket mould. This cheese is allowed to develop a natural rind and the resulting flavour is mature with a lingering finish. Maturation is usually around 2-3 months when the texture softens and becomes richer with ageing. The cheese is named after the village in which it was originally produced.
The acidity of the wine which comes mostly from the Sauvignon Blanc really lifts the wine and gives freshness to the palate, a classic combination with a goats cheese.
Pessac-Léognan White Bordeaux and Sheeps Cheese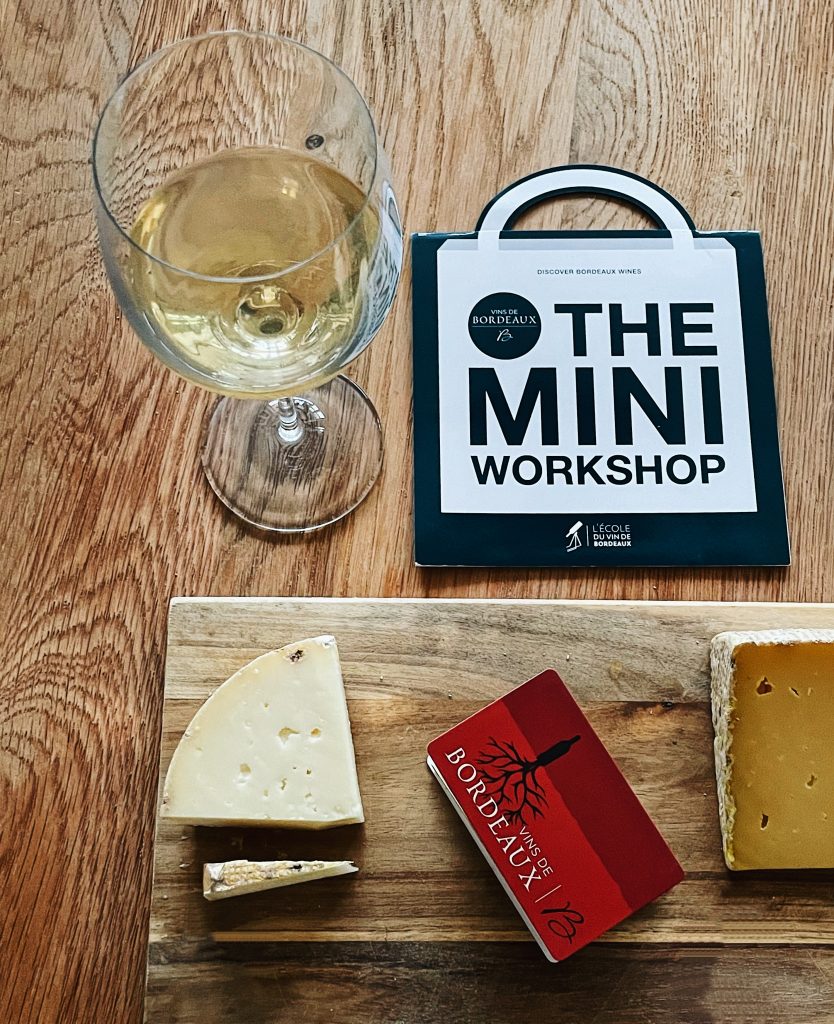 Château Lafont Menaut Blanc 2018 is a Sauvignon Blanc from Pessac-Léognan. Oak-aged, it has plenty of fresh Sauvignon fruit and lovely depth to finish. A hint of vanilla flavour is coming from using new oak barrels.
Sheep Rustler, the Supreme Champion at the 2018 British Cheese Awards, a semi-hard, ewes' milk cheese with a warm, nutty, lingering flavour with a hint of sweetness.
The creaminess of the cheese works very well with the smokiness and vanilla flavour of the wine.
Sweet Sauternes and Blue Cheese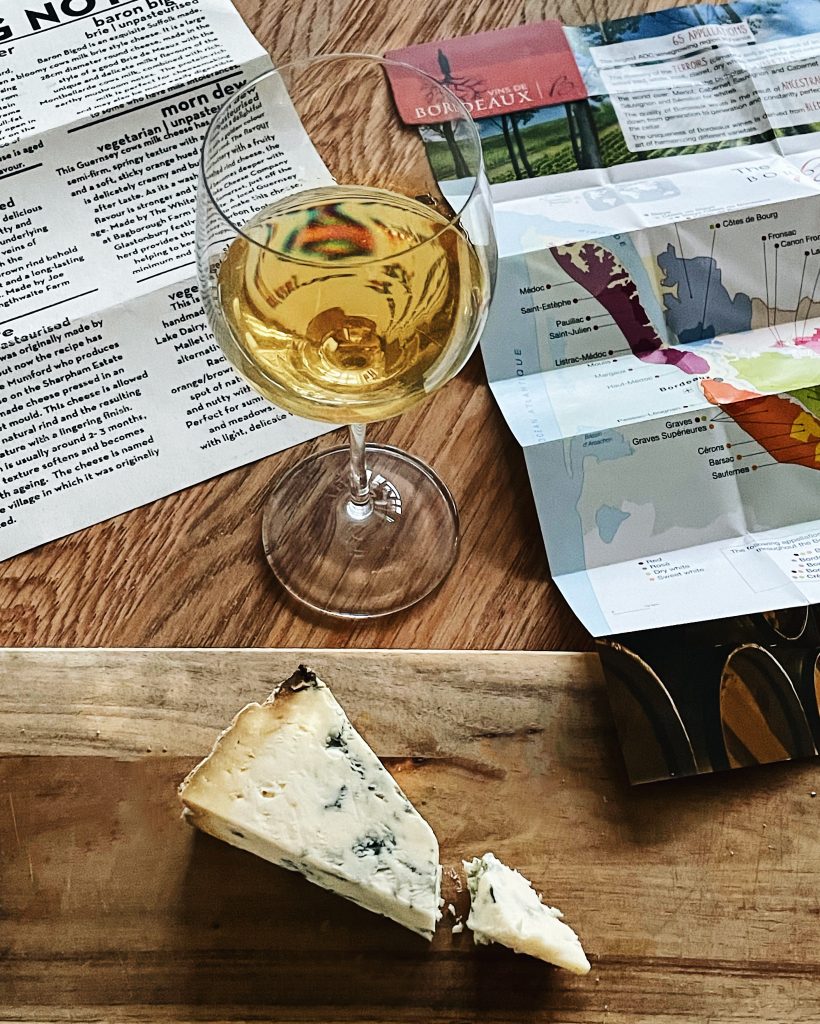 Last but not least – the most unexpected and delicious pairing you can't miss!
Sauternes is a sweet wine made from Sémillon, Sauvignon blanc, and Muscadelle grapes that are picked by hand and have been affected by Botrytis cinerea, also known as noble rot. This causes the grapes to become partially raisined, resulting in concentrated and distinctively flavoured wines. Due to its climate, Sauternes is one of the few wine regions where infection with noble rot is a frequent occurrence.
Tanners Sauternes is a rich and complex wine with honeyed flavours and good freshness to maintain balance. It's packed full of citrus, marmalade, stone fruit, tropical fruit, herbal notes but with a real freshness that comes from acidity and a touch of lime peel bitterness. This wine will also pair beautifully with spicy food.
Stichelton is an English blue cheese made using organic, unpasteurised Friesian-Holstein cow's milk. It is made to a traditional Blue Stilton recipe, except that it uses raw milk and natural rennet. The cheesemakers could not legally use the name 'Stilton' since it is granted the status of PDO by the European Commission. Therefore, they decided to use an early form of the name of the Stilton village mentioned in the 1086 Domesday Book. The flavours of this intensely delicious creamy white cheese are nutty and reminiscent of apples with underlying toasty notes. The delicate veins of blue-green mould beneath the rusty-coloured, orange-brown rind behold a spicy, savoury element and a long-lasting caramel-like sweetness.
The sweetness of the wine perfectly complements the saltiness of the cheese – you just have to try this combination for yourself and let us know what you think!
There you have it – four unexpected cheese and wine combinations. We hope you discovered something new today and will give these pairings a go next time you have a cheese and wine night.