Bordeaux and Miami: The Perfect Pairing [Guest Blog by Miami Food Pug]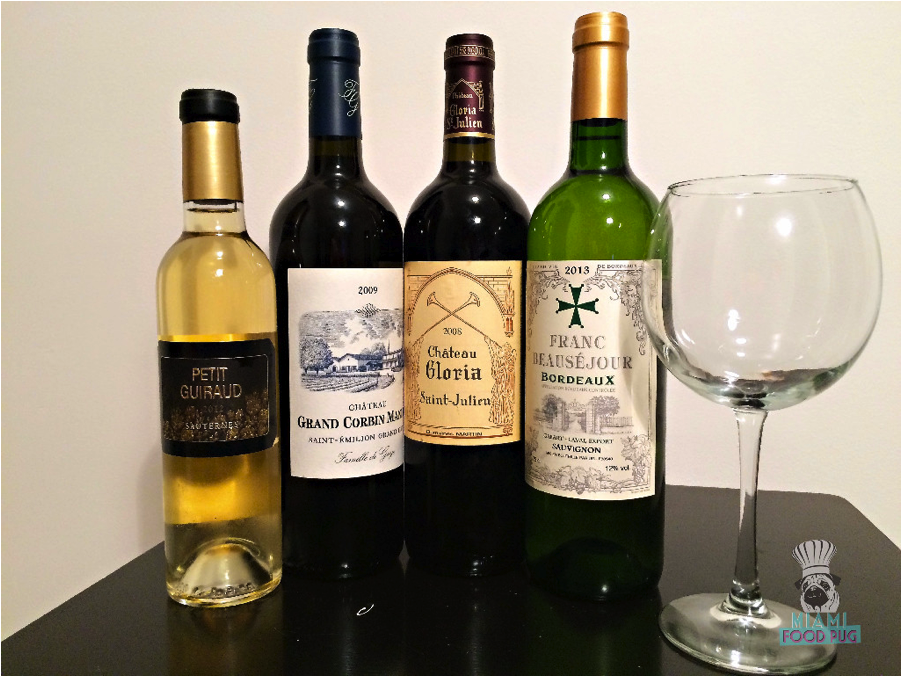 Bordeaux wine. 
Just the name can seem intimidating to some, especially casual wine drinkers who only drink wine because "it tastes good." That used to be us.
If you asked us about Bordeaux wines a month ago, we'd stare at you blankly and mumble something about France. Luckily, the lovely folks at Bordeaux Wines invited us to learn about the wines and try out ones available in Miami. After having the chance to study Bordeaux wines, we discovered that they are as diverse as they are flavorful.
That's why Bordeaux and Miami make for the perfect pairing. Our diverse city is comprised of over 400,000 people from all walks of life that bring their own flavor (or sabor) to the 305. Similarly, Bordeaux wines are produced in vineyards across – surprise!  – Bordeaux, and each terroir offers up a distinct wine. With that in mind, we tried four wines from different terroirs to get a well-rounded experience.Without further ado…
The Wines
Chateau Grand Corbin Manuel '09 – Saint-Emilion Grand Cru ($33)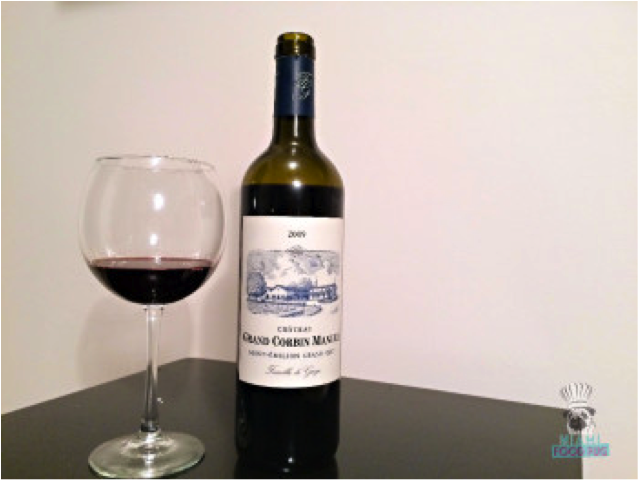 Our Notes: Wines hailing from Bordeaux's Right Bank tend to be fruitier than their western counterparts. That rings true for this Saint-Emilion Grand Cru wine, which is predominantly Merlot (80%). The first thing you notice: the powerful aroma. The scent of red fruits like cherry and berries hits your senses almost instantly.
The color – ruby red – signifies a young wine, and that's apparent in the taste as well. With that said, there's still a medium body and firm finish that will pique the interests of more experienced tasters.
The Perfect Occasion: This is a writer's wine. When you're busy writing a story or just working away into the night, you want something that you can savor and nurse. As the evening unfolds, you'll continue to discover new elements at play in this wine.
Pairing Suggestions: White meats, particularly chicken. Our ideal meal: a glass of this French wine with the just-as-French poulet rouge at one of our favorite local spots: MC Kitchen in Miami"s Design District.
Chateau Gloria '08 – St. Julien ($48)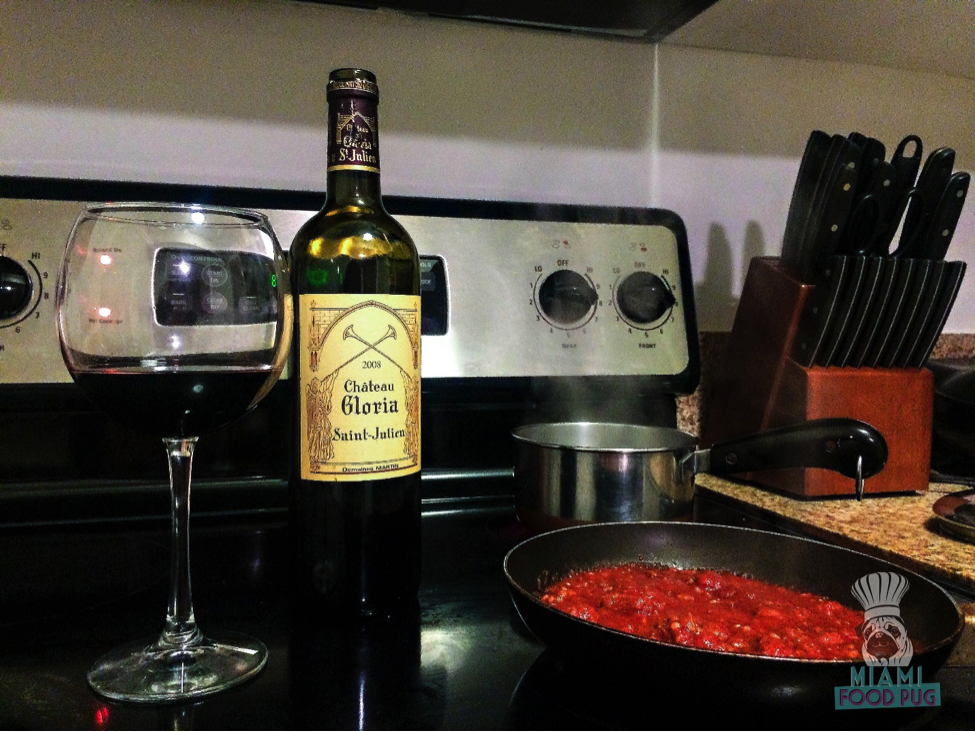 Our Notes:  From start to finish, this wine is solid on all fronts. Let's start with the color: a ruby red-garnet amalgam that denotes a younger wine; although it's ready to drink now, it could age for a couple decades more.
The wine is predominantly Cabernet Sauvignon, and you'll note the smell of darker berries like blackcurrant and blueberries. However, the fruits take a backseat to the licorice and tobacco when it comes to taste. There's noticeably more body in this wine, and its robust – albeit short – finish will certainly grab your attention.
The Perfect Occasion: Cooking. The aroma and flavors of the wine are a great fit for a kitchen, where aromas and flavor are equally abundant.
Pairing Suggestions: A heavier wine like this deserves a heavier dish like short rib. We suggest trying it with the short rib at the Coral Gables wine bar Uvaggio. Over there, you"ll find a braised short rib with black licorice tea consomme that is elevated by this St. Julien"s profile.
Franc Beausejour Blanc '14 – Bordeaux ($10)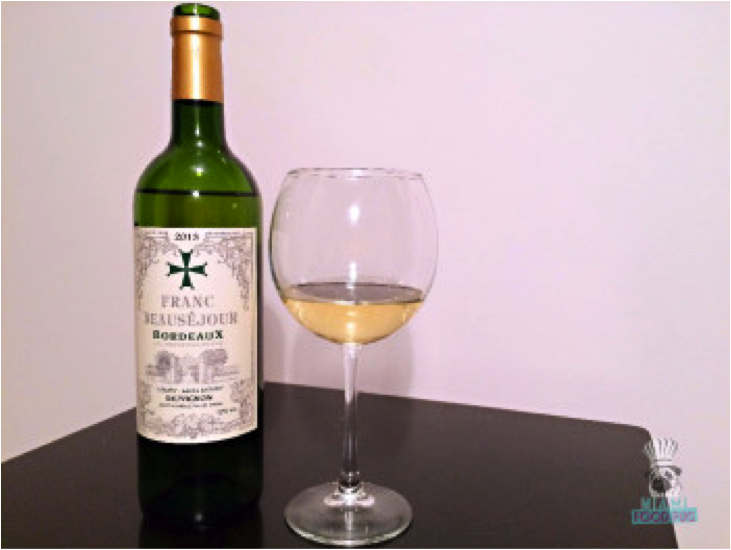 Our Notes: Bordeaux's dry white wines are typically derived from the Sauvignon Blanc grape. This particular wine is 100% Sauvignon, so the aromatics and tastes you associate with the grape carry over here: lemon, apple and grapefruit are all present in the wine's profile. And if the vintage and greenish-yellow hue didn"t give it away already, this wine is a baby – yet still holds its own, and is underpriced at just $10 per bottle.
The Perfect Occasion: Netflix and chill – this is your lazy Sunday wine. Whether hanging out alone, with your partner, or with friends – you"re going to want this wine close by. And the lighter fruits here make it a great introductory wine for first-timers.
Pairing Suggestions: Fish, shellfish and greens. The wine"s crispness and leanness can be easily overpowered, so simple dishes are best. Our perfect pairing: the rock shrimp tempura with some citrus, basil aioli, hearts of palm and avocado at Golden Fig in Brickell. These clean ingredients touch upon the subtleties of the wine, resulting in a memorable meal.
Petit Guiraud '12 – Sauternes ($19)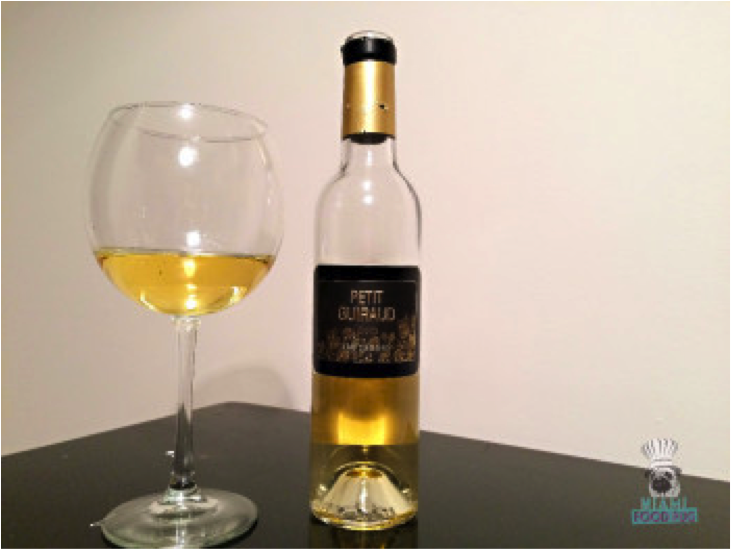 Our Notes: The dominant fruits here are honey, apricot and peach, which are known for their intense flavors. In fact, the sweetness can be somewhat overwhelming to some – it's the richest wine on our list due to the high concentration of sugar. For the most part, however, there"s some nice acidity that balances the wine out, ultimately producing a clean, fresh finish.
The Perfect Occasion: The end of a meal. The notes of this dessert wine should satisfy any sweet tooth you might have after a savory dinner.
Pairing Suggestions: Ironically enough, desserts. Enjoy it with your favorite fruity panna cotta, whose creamy texture and subtle sweetness will make for a mindblowing bite each time. We're partial to the panna cotta at Miami Beach's Quattro, which features lemon sorbet, berries and other sweet fare that bring out the wine's delicacies – and vice versa.
Where to Buy
Miami"s Bordeaux selection is vast. Family-run wine shops and giant corporate stores abound, so you shouldn't have trouble finding your ideal Bordeaux wine. If you do, there's always the Internet. Seriously, Bordeaux.com is a valuable resource.
That said, a big part of our site is supporting local businesses, and we picked up our wines at El Carajo, a local family-run restaurant/wine bar and shop in the back of a gas station (2465 SW 17th Avenue). Yes, it may sound like a sleazy rendezvous, but don"t let appearances fool you: it"s one of the top wine stores in South Florida.Here's a list of other wine shops we recommend:
– Happy Wine Calle Ocho (5792 SW 8th Street)
– Total Wine and More (8851 SW 136th Street)
– Vintage Liquor and Wine Bar (3301 NE 1st Avenue)
– Sunset Corners Wine and Liquor (8701 SW 72nd Street)
*This post is sponsored by Bordeaux Wines. We did not pay for any of the wines listed.