2016 Sommelier Favorites by Matt Montrose
I'll be the first to admit that I'm into a lot of geeky wine. As much as I would love to be drinking Grand Cru Burgundy all day long, I'm not exactly able to afford such a hedonistic lifestyle (I live in San Francisco after all, you've heard what we have to deal with when it comes to rent!).
In my everyday drinking habits, I'm twice as likely to be buying and drinking really neat wines from all around the world from lesser seen regions or grape varietals – I love wine that tells a good story and reflects a unique culture and lifestyle, and there are so many wines that do that without breaking the bank.
Currently, I've been really enthralled with some of these slightly more obscure regions of Bordeaux that are, unfortunately, often left in the shadow of the big classified Chateaux stuff that everyone immediately thinks about. First growths are not exactly everyday drinking wine for most of us, but there's no need to eliminate an entire incredible region from your wine adventures. The range of affordable, high-quality Bordeaux is bountiful and, quite frankly, has never been more exciting to explore. Even more important is the flexibility of this wine with food, which I've learned is a lot more compatible that even I thought.
Recently, I brought two examples of Bordeaux from the slightly more obscure region of Côtes du Bordeaux to a lunch at a modern Japanese restaurant in San Francisco. There, I was very surprised at what I learned about the ability to pair Bordeaux with one of the world's greatest, yet challenging cuisines to pair food with.
Japanese food and culture has become more prevalent in modern America more so than ever. It remains incredibly popular and has proven to be extremely dynamic. The food has evolved to reflect a lot of modern flavors and ingredients from around the world. This isn't a cuisine that is solely compatible with sake and beer, as many experts claim, but rather the range of flavors of many of these modern styled dishes proved to be a great companion to both white and red Bordeaux. Many of these dishes have evolved to be quite bold, and I've noticed that so many of these flavors have evolved right out of the realm of sake and into prime territory for pairing with assertive and complex wines.
At Ozumo, one of the top Japanese restaurants in San Francisco, we ordered a wide range of dishes to explore with a couple of different wines. Château Les Charmes-Godard is a white blend from Côtes du Bordeaux – Francs. Semillon is the dominant grape here with a significant percentage of Sauvignon Gris and a small amount of Sauvignon Blanc. A classic style of white wine from this region, this wine integrated extremely well with a few dishes, but my favorite pairing was with a tuna tartare that was served with avocado, cucumber, and ponzu. Texturally, this wine has some weight to it due to the high percentage of Semillon, and with avocado, it felt like it was neck-in-neck with the richness. A lovely floral and lemon-lime citrus zest note from the Sauvignon Blanc lit up on the palate from the flavors of the ponzu (a citrus based soy sauce). It was symphonic how the wine and the tartare built each other up without overpowering one another. The wine also because of the fresh and zippy acidity proved to be a great accompaniment to vegetable tempura, since the high acid helped cut right through the beautiful crispy fried exterior and some of the vegetal characteristics that we love about Sauvignon Blanc were nothing short of perfect for the fried sweet peppers.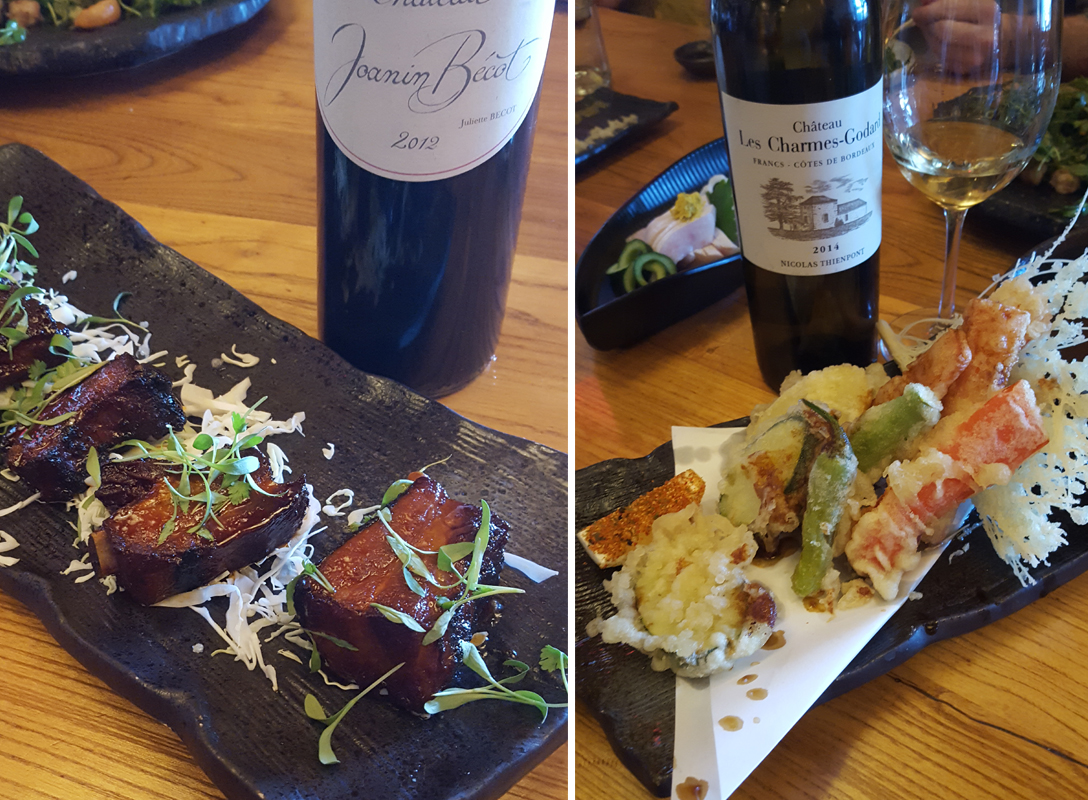 Château Joanin Becôt proved to be a great companion to sweet chili glazed pork and plum ribs that were garnished with micro cilantro. This wine, primarily Merlot with a dash of cabernet franc, was plush and juicy with that classic Cabernet Franc green herbal tone. The fresh herbs on the ribs really brought out the bright green notes of the wine, while the depth of plum and blackberry richness from the Merlot made the ribs taste even fruitier – another great example of how a wine and a dish can both elevate each other even further. This was everyone's favorite pairing by far. Hailing from the Côtes du Bordeaux – Castillon, this region is known for high-quality Merlot based blends much in the style of Saint-Emilion, but for a fraction of the price. If you like the round and plush fruit flavors of left bank Bordeaux, this is a region truly worth exploring.
The best part of this lunch? Besides the amazing food and the incredible wines, both of these wines cost less than $20 each. It can't get better than that. You can bet my own collection is filling up with these wines, and I'm already talking to others about how Côtes du Bordeaux is truly deserving of some attention.