Pairing Bordeaux wines with dessert !
The Bordeaux region produces an incredibly wide range of delicious – and often very affordable – wines, and today we want to focus specifically on suggestions for pairing Bordeaux wines with dessert.
The most obvious choice when it comes to Bordeaux and dessert pairings is, of course, Sauternes – the most famous Bordeaux appellation for sweet wine, and home to some of the most legendary Chateaux, such as d"Yquem. However, there is more to sweet Bordeaux wines than Sauternes, and there is more to pairing Bordeaux with dessert than exclusively 'sweet Bordeaux.' For example, as unusual as it may seem, the rich, voluptuous, densely-flavored Bordeaux reds from the Right Bank are often excellent choices for dark chocolate based desserts.
1. Go sweet.
While there are certainly exceptions, in general the simplest and most traditional way to pair wine with dessert is to choose a wine that is sweeter than the dessert. You do not need to 'outsweet' your dessert in order to create an effective wine pairing but, in a pinch, this logic tends to lead to successful pairings.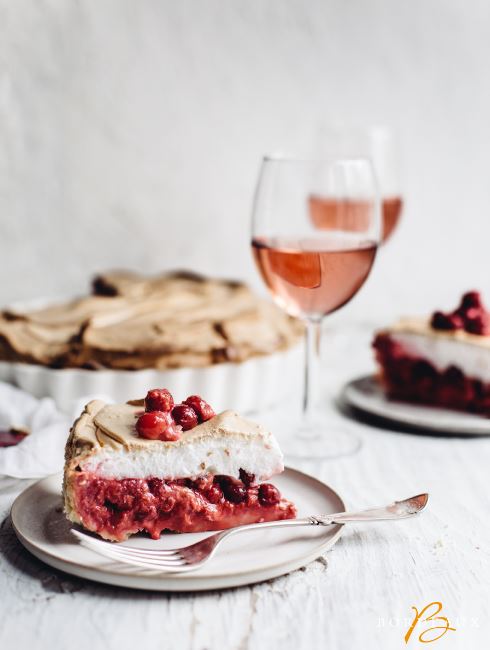 2. Let color be your guide.
This may almost sound too obvious but red wines often—but not always—pair well with red fruit-based desserts and white wines regularly pair well with white or lighter-colored desserts. Sauternes, for example, with its complex flavors of honeyed apricot, vanilla, ginger, butterscotch, pineapple and toasted spices, pairs quite well with vanilla custard, crème caramel, or cheesecake (particularly one with tropical fruit).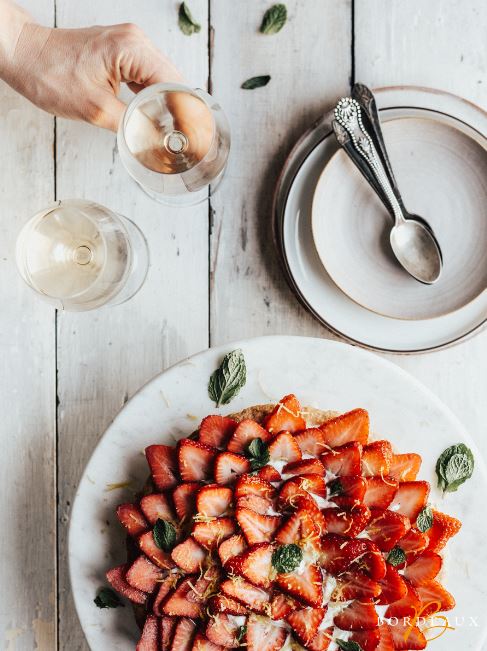 3. Sparkling wine is your friend.
Though most sparkling wines are not very sweet, they can work with certain types of dessert. For example, we heartily recommend Bordeaux's sparkling wine  'Crémant de Bordeaux'  with lighter nut, honey, or fruit-based desserts, biscotti or a simple fresh fruit salad. Fresh &  fruity and lighter in style, this fine but often overlooked sparkling wine, which (by the way) comes as either white or rosé in color, provides an elegant end to any meal.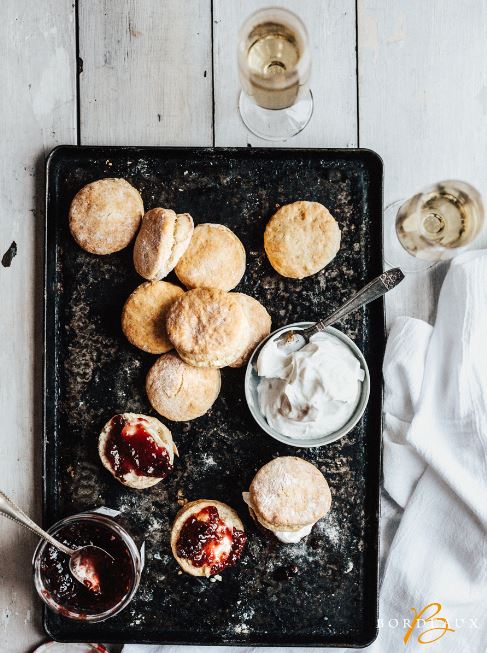 4. Leverage wine descriptions.
The words that are used to describe a wine (either on its label or in a review) are often good sources of help when searching for a suitable pairing. Without prompts, you may not personally detect the "lingering citrus flavors" or "notes of stone fruit" purported to describe your wine, but reading such tasting notes can nonetheless be helpful and can create ideas for complementary pairing possibilities. For example, while Pomerol wines are not sweet, their rich, fleshy textures and dense licorice, black cherry, and spiced plum aromas and flavors make them a good match for plum or cherry-based desserts.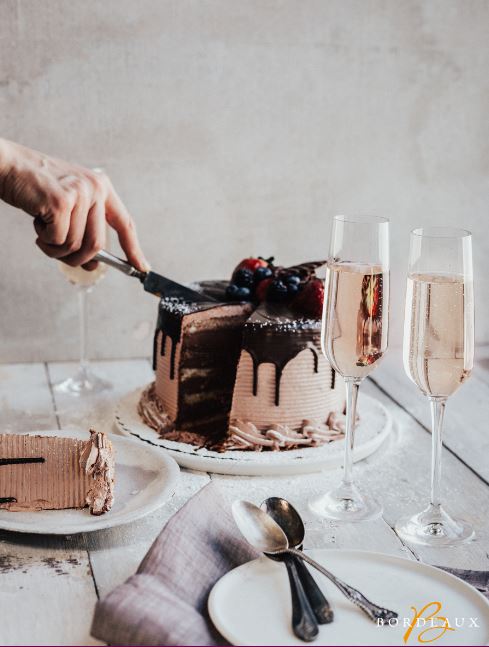 5. Don't be afraid to (occasionally) be bold.
As we mentioned in our first tip, a wine does not necessarily need to be sweet in order to be an effective dessert pairing. Contrast is often welcomed between food and wine and, for example, a Right Bank Bordeaux red can effectively and deliciously cut the richness of a dark, almost bitter chocolate dish.
We hope you will find these tips to be helpful and, in general, we recommend seeking out lesser known sweet appellations from the Bordeaux region: second labels of Sauternes chateaux, for example, or wines from Loupiac, Cadillac, Cérons, or Sainte Croix-du-Mont – which tend to be lighter, perfect to enjoy while young, and very easy on the purse strings!

Tips for healthier desserts, substitute:
– Fat-free cottage cheese for heavy cream or other rich dairy products
– Agave syrup for refined sugars
– Almond butter (or similar substitute) for butter
– Spelt or corn flour for refined white flour
Here's one idea for a quick dessert recipe using these healthy tips:
Preheat your oven to 350 degrees (F) and set aside a greased baking pan. In a large bowl, combine corn or spelt (or another healthy) flour, cocoa powder, baking soda, salt, and agave syrup, and stir well. In a separate bowl, mix almond butter, cottage cheese, water, and vanilla. Pour the second, wetter, mixture into the bowl of dry ingredients and stir. Pour the combined mixture into your pan and bake for 25 minutes or until cooked through but still moist.
Enjoy with Bordeaux wines !