The ultimate Easter Sunday lunch with Bordeaux Wines
If you're planning a traditional Easter meal this year, why not zest it up by choosing the wine pairings that will enhance and complement the flavours of each dish?
Here are some ideas on which Bordeaux wines to serve with some classic Easter dishes. All the wines are available from a wide selection of UK retailers and are priced between £6 and £25.
Easter starter ideas
A classic prawn cocktail is always a winner but why not try something different this year? Our version is made with shrimps, an addition of tomatoes and avocado, all ingredients beautifully layered in a transparent glass with sauce served on top. A dry white Bordeaux, such as Tesco Bordeaux Blanc, would make an excellent pairing. Made from Sauvignon Blanc grapes with a touch of Sémillon, this wine is dry, crisp and with a fine, lingering aftertaste, and great value too.
Alternatively, to compliment the pink prawns, the freshness of the lemon and the sweetness of the sauce there's nothing better than a fresh and fruity Bordeaux Rosé. Why not try Château Bauduc Rosé – with rose petal aromas and racy, delicately balanced strawberry fruit, this lovely pink wine is fresh, dry, and moreish.
If you're not a big fan of prawn cocktail or just want to switch it up this year, try these creamy mushroom vol-au-vents – flaky puff pastry bites loaded with a creamy garlicky mushroom filling.
As a wine pairing we suggest Château de Cruzeau Blanc from the Pessac-Léognan region of Bordeaux. This 100% Sauvignon blanc has floral and grapefruit aromas, is textured and complex, with crisp green apple flavours. Well balanced oak, long, complete finish is just perfect to cut through the rich creaminess of the filling.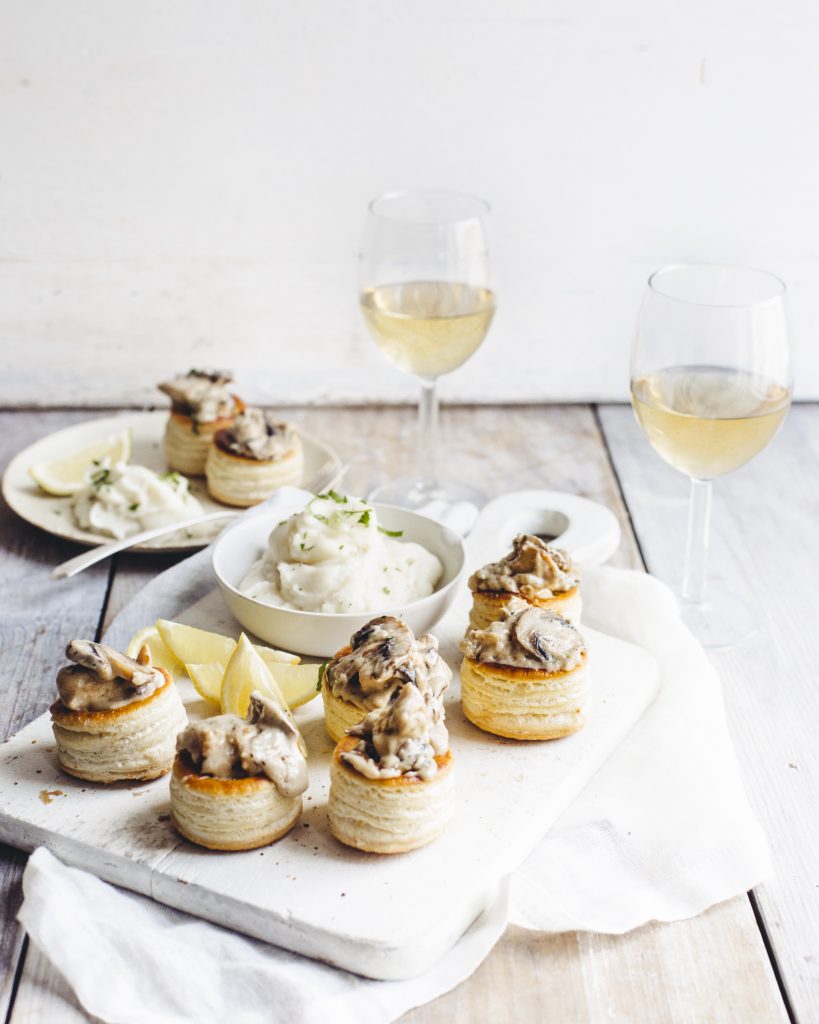 Easter main dishes and wine pairings
Lamb is of course a classic Easter main dish. The rich sauce and flavoursome meat need an equally full wine, and there's nothing better than a powerful and intense Bordeaux red from the Médoc region of Bordeaux.
We suggest Château Patache D'Aux – a delightful blend of Cabernet Sauvignon, Merlot, Cabernet Franc and Petit Verdot grapes, it's a lovely example of mature, complex and elegant left-bank Bordeaux. This wine has a great intensity whilst retaining freshness and finesse that stand up to the powerful flavours of the lamb.
As not everyone loves the taste of lamb, roast chicken is a great substitute. We love roasting chicken with lemon and rosemary. It's simple too – just throw all the ingredients, along with the marinade, into a large baking dish and pop in the oven. You'll want to pair it with an aromatic, structured and generous dry white wine, which will balance the juicy flavours of the chicken, such as Bordeaux Sauvignon Blanc blends – why not try Château Perron, from Graves or Château La Louvière Blanc from Pessac-Léognan – these wines have a toasty quality that makes them an ideal companion for the citrus-scented poultry.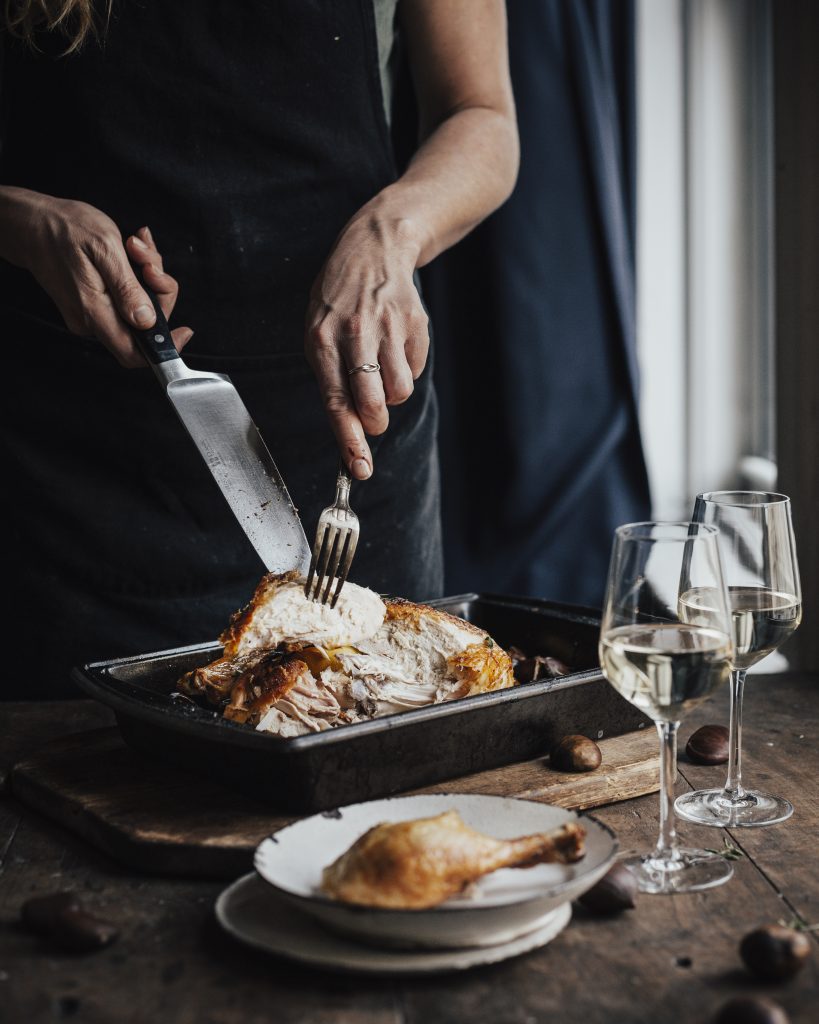 While white Bordeaux wine is a more classic pairing here, right bank Bordeaux red blends are typically a little bit lighter in body and, therefore, it's more than acceptable to serve them with chicken. Château des Laurets from Puisseguin Saint-Émilion, a blend of Merlot and Cabernet Franc, with dense fruit on the palate, would be another great choice for chicken.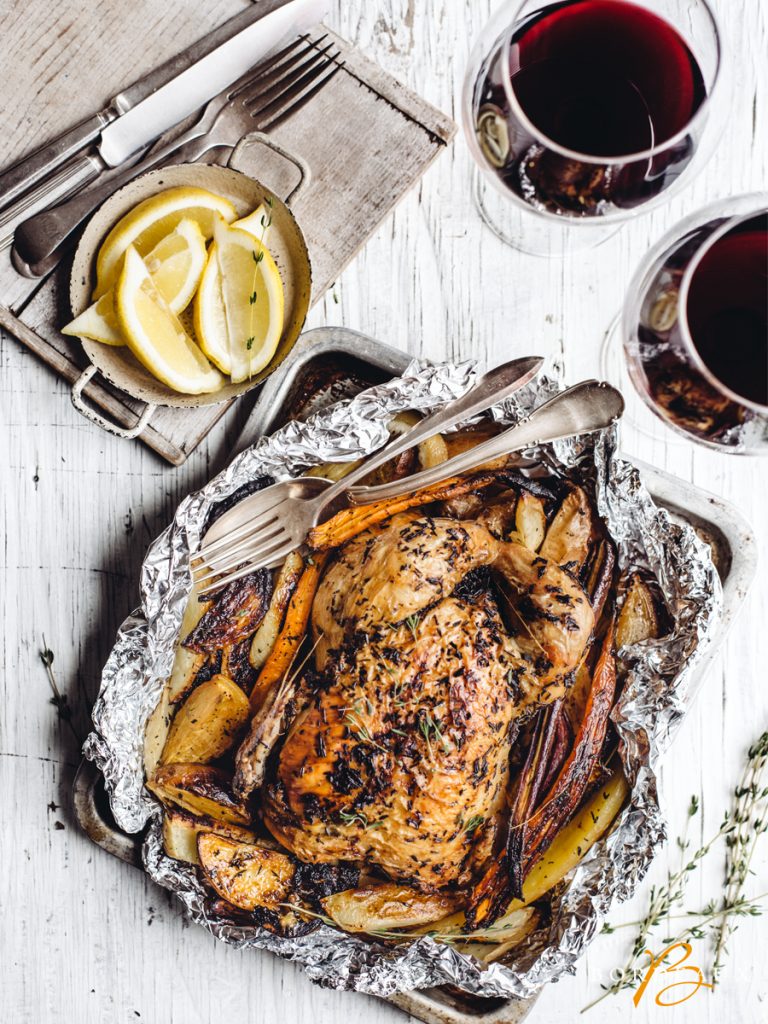 Sweet Easter treats and wine pairings
Easter is not Easter without an abundance of sweet treats. From chocolate eggs to hot cross buns and Simnel cake, there's a lot to indulge in.
When it comes to Simnel cake, we need something to match the warm spice that won't be outdone by the amount of sweetness. We suggest serving it with a glass of sweet Bordeaux white wine such as Tesco Finest Sauternes. This elegantly gold, rich and luscious, yet supremely fresh sweet wine, with aromas of pink grapefruit and Seville orange, will beautifully complement the sugary Simnel cake.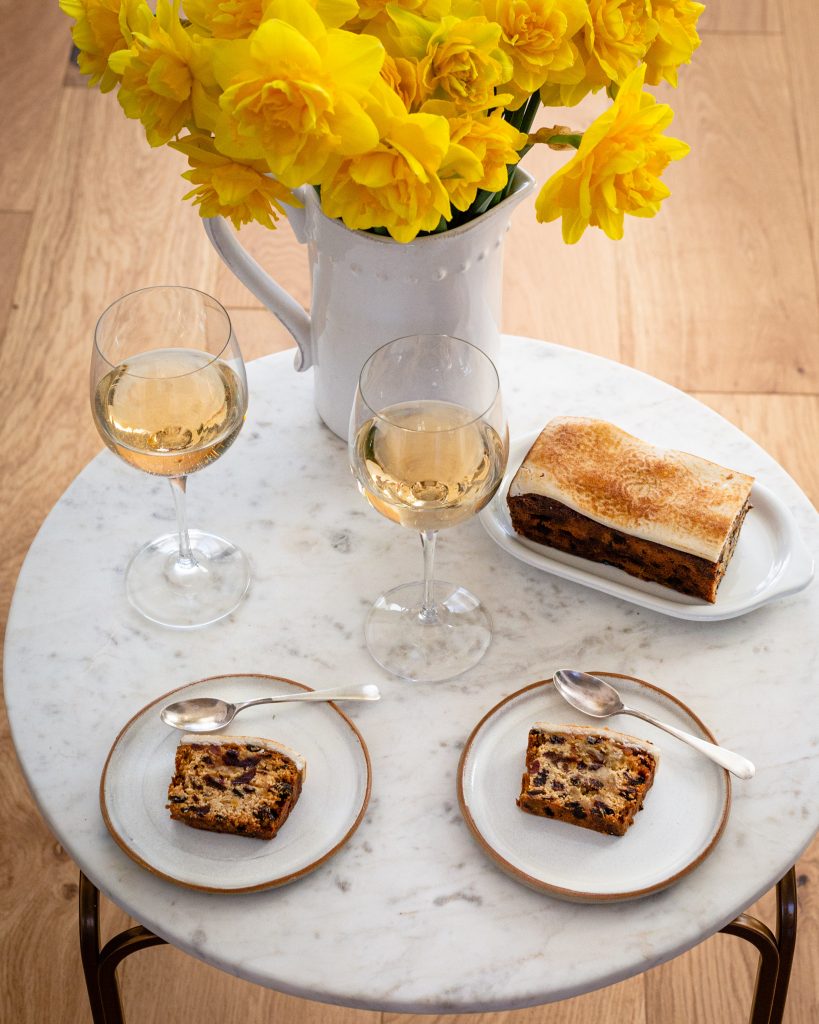 Hot Cross Buns is another must-have Easter treat. Of course, a good old cuppa would be the most obvious choice but we are talking wine here so why not serve them with a dry white Bordeaux for a change – try Laithwaites Sauvignon Blanc – a classic, dry Bordeaux Sauvignon, fresh, fruity, zesty and supremely refreshing. It will work equally well with hot cross buns and Simnel cake if you want to balance out the sweetness.
Finally, for all the wine and chocolate pairing ideas – check this article.
Whatever dishes you choose this Easter, we hope you enjoy them with Bordeaux wines!