Try these new wine and charcuterie pairing ideas
Following our sold-out virtual food and wine pairing masterclasses, we are sharing some of the best Bordeaux wine and charcuterie pairing ideas that you can easily recreate at home.
With so many options to choose from, picking a balanced and focused pairing can be a tall order. The key to curating an excellent selection is to offer distinct wine varietals with charcuterie particularly tailored to eat with each.
A tip on how to make the most of your charcuterie is to take the meats out of the fridge an hour before you plan to eat them, to let them come up to room temperature. If there's one thing wine and charcuterie have in common is that some are made to enjoy young and some will develop over time, and both are best served at the right temperature.
All of the wines and meats mentioned here are available to buy from Lea & Sandeman and Tempus Foods.
Dry white Bordeaux wines and charcuterie
Although Bordeaux may be better known for its red wine production, the dry whites long predate the reds and there are currently almost 2000 winemakers producing this alluring wine style in 10 appellations across the region. The combination of diversity of terroirs, the oceanic crispness and the winemakers' expertise results in high quality crisp, fruity and structured wines that are not only affordable and versatile but are also great with cheese.
Le G de Guiraud 2019 white Bordeaux is made from Sauvignon Blanc and Sémillon grapes. The extra touch of ripeness of the 2019 vintage pushes forward the ripe citrus, nectarine and fragrant grapefruit notes that abound on the nose and palate, but that isn't to the detriment of balance and freshness. In fact, good dry white Bordeaux can age nicely and provide great drinking for 10 years or more and this wine will do just that.
King Peter Ham is produced using a recipe that one of Tempus Foods founders, Tom, developed in memory of his late father, Peter, who adored air-dried hams of all styles. Tom has taken elements from many of these hams to create a genuinely unique product that shows off the attributes of the pork while enhancing it with a blend of black pepper, juniper and gentle chestnut wood smoke. Sweet and nutty with a hint of smoke, resulting in an incredible depth of flavour.
When it comes to charcuterie, white wines are often overlooked, but wrongly so, as they can be an excellent match without being too overpowering. This ham is very lightly smoked and the freshness that comes from acidity in the wine given by Sauvignon Blanc grapes balances the meat really nicely while Sémillon body gives a great mouthfill.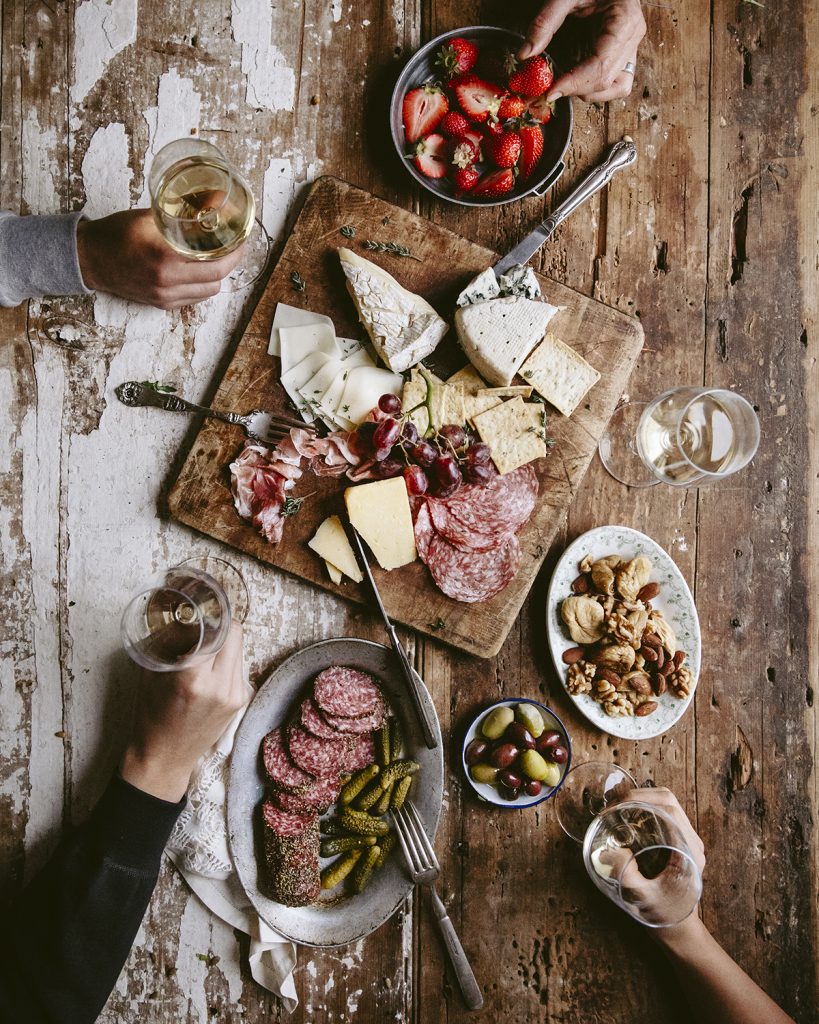 Château Beaumont 2018 Blanc 'Les Pierrières' Blaye – with its origins in 1824, Château Beaumont is a Cru Bourgeois estate in the Haut-Médoc on the left bank of the Garonne. A blend of Sauvignon Blanc and Sémillon grapes, this dry white wine displays pineapple and grapefruit on the nose along with a hint of vanilla. On the palate, the texture takes over. The juice is dense with good focus and energy. There are bags of flavour and character.
Smoked Coppa – the coppa, or pork collar, is a cut synonymous with charcuterie the world over. Characterised by its natural golden ratio of lean muscle to fat (around 70:30) it has a deep, rich flavour and a wonderful texture. Tempus foods add to this cut a delicate blend of carefully sourced whole spices that are grinded and blended in-house, including cardamom, cloves and cinnamon.
There is a hint of toasty smokiness in the wine that comes from barrel ageing but with a great balance between the smokiness and freshness. The fruit notes of the wine enhance the savoury, smoky notes of the meat.
Red Bordeaux wines and charcuterie
Lea & Sandeman Bordeaux 2016 is made from 100% Merlot grapes and comes from a small estate near the village of Gensac in the Entre-Deux-Mers. Just a moment in oak – this red Bordeaux is loaded with lovely plummy red fruit – some cigar box spices and just the right amount of grip and some juicy acidity.
Handcut Salami is flavoured solely with black pepper, fermented for 2-3 days and then aged for 2-3 months. It is made very much in the French style of a saucisson sec while displaying Tempus foods unique touch.
The peppercorns of the meat sit beautifully with the fruitiness of the wine. It's smooth tannins and plummy notes make that peppery flavour pop.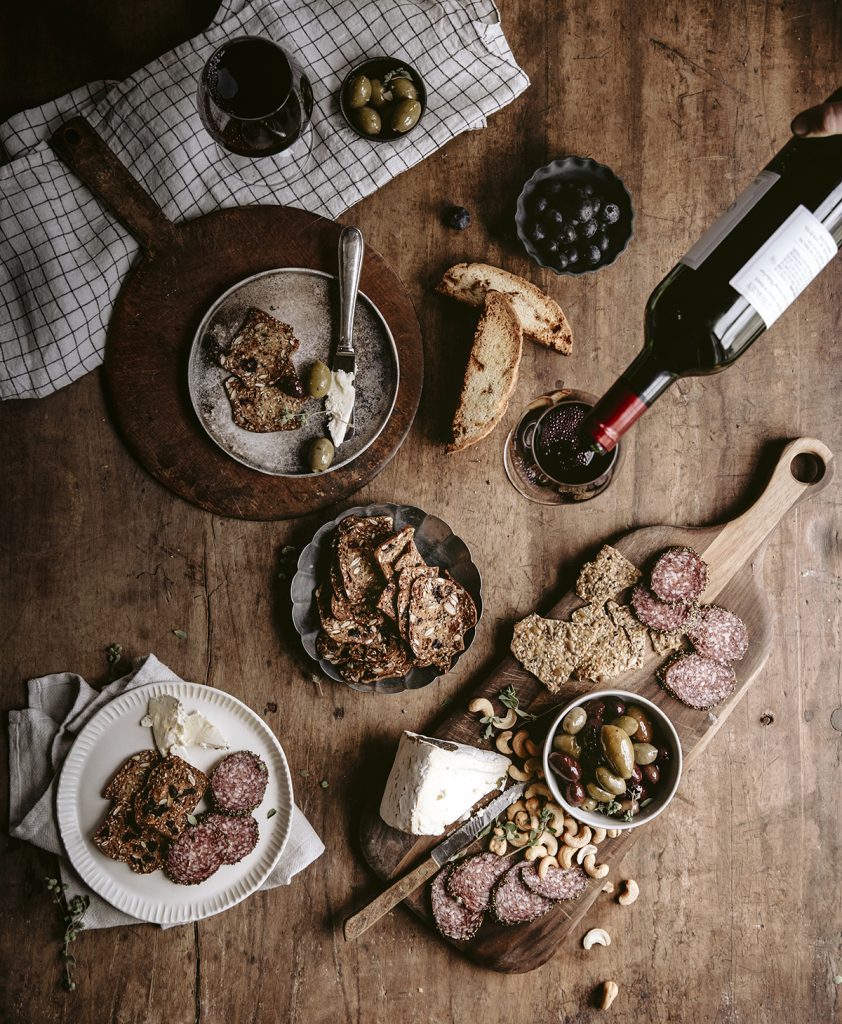 Château Lauriol 2016 Côtes de Francs – 100% Merlot second wine of perennial over-achiever – Chateau Puygueraud, owned by the Thienpont family. It comes from their vineyards in the Francs Côtes de Bordeaux. Sleek and sophisticated this is remarkably classy for the price. Indulgent Bordeaux in a lovely, modern fashion.
Achari Spiced Salami – the spice mix for this salami is based on an Indian recipe for pickling going back hundreds of years. This is combined with traditional methods for fermenting, and ageing which come together to create a unique, contemporary product. A delicate blend including fennel seed, Talicherry black pepper, and fenugreek give this salami a complex yet subtle flavour.
Generally, wines from Francs Côtes de Bordeaux offer really good value. Compared to the previous wine, this one has more savoury notes and the extra strength of fruit, concentration of body holds up well to balance the meat flavour and spices.
Sweet Bordeaux wine and charcuterie
Château De Cérons 2010 – the small region of Cérons sits just downstream of Barsac and Sauternes. This delightful sweet wine is a blend of Sémillon, Sauvignon Blanc and Muscadelle grapes which are barrel-fermented and aged for 18 months. Cerons sits next to Sauternes and shares much in common (apart from the fame and the price tags) but this wine has a lighter character, with citrus lemon touches.
Tempus No.8 After the salami is harvested, it's removed from its natural casing and then the fully aged product is passed through a fine grinding plate, and finally mixed through the fresh spices to complete the process. It's a spreadable product. Really complex, quite fiery. Great on sourdough.
Sweet Bordeaux wines are a lot more versatile than you might think – sweet goes with spice, sweet goes with sweet, sweet goes with salty. The marmalade flavours of the wine and the combination of the sweetness with the spiciness make this pairing stand out.
There you have it – five charcuterie and Bordeaux wine combinations. We hope you discovered something new today and will give these pairings a go next time you have a charcuterie and wine night.
For cheese and wine pairing ideas check this article.