The best summer spots in Bordeaux to enjoy Bordeaux wines
In Bordeaux we make wine, but there's a lot more to the city than just that. We taste wine, we enjoy it, and above all we love to share it. Every place, every meal is an opportunity to discover or rediscover flavours and to awaken your taste buds. There are so many wonderful restaurants in Bordeaux so inevitably it's hard to choose which ones to try first. Fear not – we have done the job for you and scored a selection of perfect spots to enjoy the summer in the city with a glass of Bordeaux wine in hand.
Les Chantiers de la Garonne
Head to the former shipyard, on the bank of the Garonne river at the Angéliques Park and enjoy a glass of refreshing organic white Bordeaux wine paired with some delicious seafood. With your feet in the sand, watch the sunset with breathtaking views of Bordeaux and the Garonne river – it's the perfect place to unwind.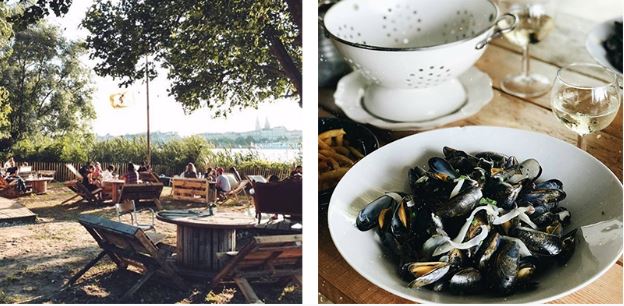 Les Chantiers de la Garonne Park Activities Queyries (Right Bank) – open Tuesday to Friday from 12pm – 3pm and 6:30pm – 11pm. Saturday and Sunday 11am -11pm.
Le bar à vin du CIVB
With its terrace overlooking the Grand Théâtre, this must-visit bar offers the best selection of Bordeaux wines of all styles: reds, dry and sweet whites, rosés, Clairets, sparkling wines – all to be enjoyed on the terrace, or within the specially designed interior of this 18th Century building, which was constructed like a ship's prow, a reference to the city's role as a port.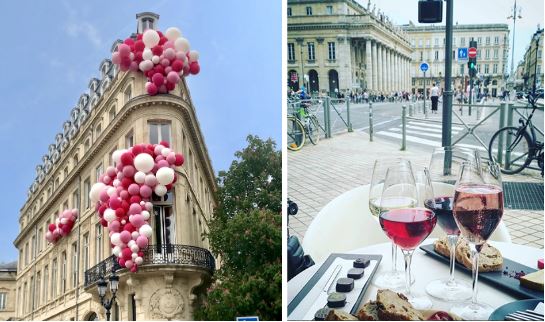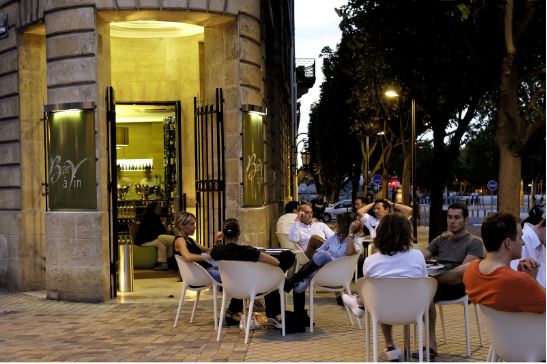 Le bar à vin du CIVB 3 Cours du 30 Juillet. Open Monday to Saturday 11am – 10pm.
La Brebis au Comptoir
Must-visit spot for a brunch or lunch on St Michel's square, especially if you're a cheese lover! Whether you choose to sit on the terrace to admire the Basilica or indoors at the cheese counter, the atmosphere is relaxed, the dishes are seasonal (don't miss homemade jams) and the place feels like home.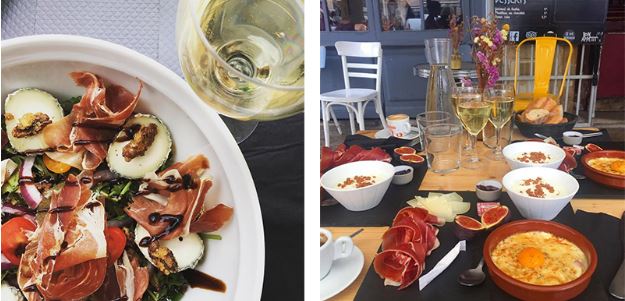 La Brebis au Comptoir 9 rue Gaspard Philippe Open Monday, Thursday, Friday 10am – 3pm and 7pm – 11pm Saturday 10am – 3pm and 7pm – 11:30pm Sunday 11am – 4pm. Closed on Tuesday and Wednesday
Le Saint James in Bouliac
Got a special occasion to celebrate or just want to treat yourself? This little jewel designed by Jean Nouvel offers a tasting menu at 60€ lunchtime on weekdays – to be enjoyed on the terrace, with an incredible view of the surroundings.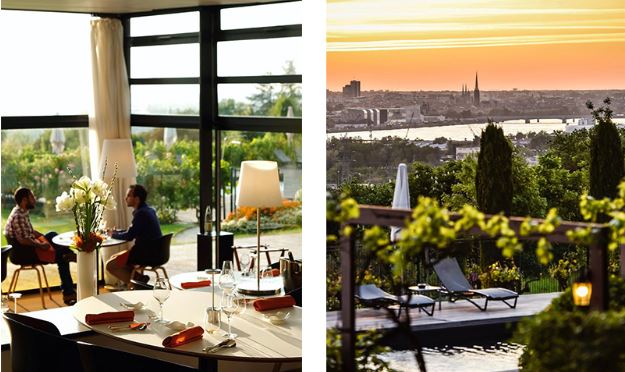 Le Saint James 3 Place Camille Hostein, 33270 Bouliac Lunch 12pm – 1:15pm (except Sunday, Monday and Tuesday). Dinner 7:30pm – 9:15pm (except Sunday and Monday).
Worth a mention are also Ligne Rouge, Des 3 Pinardiers, De l'Iboat, de Chez Pompon and Darwin – but that's the beauty of Bordeaux – you will always find a nice spot to relax and enjoy a good glass of Bordeaux wine, in moderation, of course.