Sea, sun and a fresh glass of Bordeaux Rosé..the good life!
Summertime: picnics in the park with friends and loved ones; long, sun-baked days at the beach; the scent of meats grilling over hot coals; and, of course, rosé.  For most wine drinkers, it just wouldn't feel like summer without a little rosé.
You may initially think of red wines when it comes to French rosés, but what about trying something a little different this summer?  You might not know it, but Bordeaux produces delicious, fruity, dry rosé wines and — get this — they're easy on the pocket, too.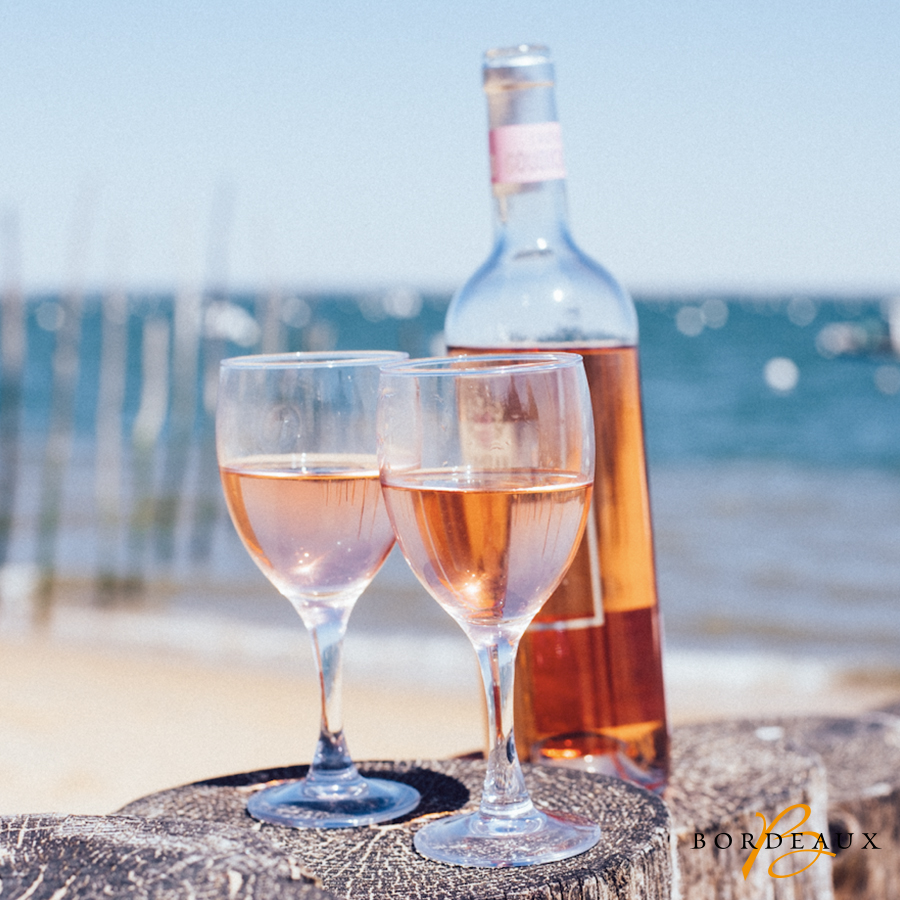 Bordeaux is producing more rosé every year (last year, rosé accounted for 7.0% of the total wine production of the Bordeaux region, or 12 million bottles!) so we recommend getting in on this new trend now while these delicious wines are still under the radar and super affordable. Below, we provide a few suggestions to whet your appetite for the long summer months to come.
The primary style of rosé produced in the Bordeaux region is fresh and fruit forward. Light pink in color, these rosés often exude aromas of grapefruit, red berries, and currants, and can go with almost any type of food, but are particularly perfect when paired with burgers, grilled fish or lamb, or merguez sausages.
Bordeaux rosés are produced from a combination of Cabernet Sauvignon, Cabernet Franc and Merlot grapes and then vinified at a low temperature (the process is the same for Bordeaux white wines). Different grape varieties are blended before bottling, an essential step in allowing the true style and personality of each winemaker to shine through in their respective wines. This process, called assemblage, is a vital and unique characteristic of the entire Bordeaux winemaking region.
You really can't go wrong with any Bordeaux rosé, but these are a few of our current favorites:
Château Bonnet Rosé
This delightful, easy drinking Bordeaux rosé has a beautiful pink hue and lively red fruit cocktail flavors. Energetic, packed with flavor, with an attractive creaminess mid-palate and refreshingly crisp finish.
Jaillance Rosé, Crémant de Bordeaux Brut NV
Displaying a delicate pink hue, this sparkling rosé wine has an attractive red berry cream nose with a whiff of biscuit notes and a refreshing mouthfeel.  This is truly a super all-around bubbly for any day of the week.
Château de Brague, Bordeaux Supérieur
Deep red in color, with a focused nose driven by aromatics — including cherries, raspberries, and currants — crisp acidity, and touch of minerality.  This easy-drinking Bordeaux Supérieur is the perfect choice for summer BBQs.
Verdillac, Bordeaux Rosé
This easy going, minerally rosé exhibits aromas of strawberry, currant, and grapefruit and is ideal for whiling away long summer afternoons by the pool or beach.
Mouton Cadet, Bordeaux Rosé
Soft in character, more fruity than structured, this zesty, bright wine has watermelon, strawberry and cranberry flavors, and an acidity that provides a nice lift on the finish.