Food and wine pairings
Cheese table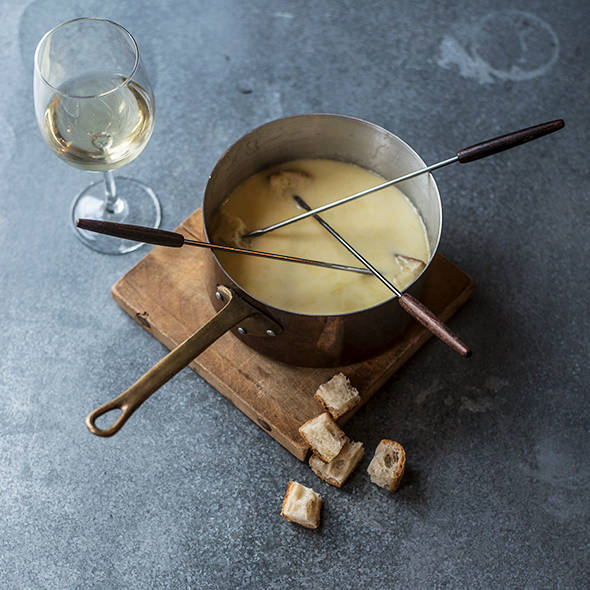 Perfect fondue
For 6 people
CLASSIC WINE PAIRING
Fondue, with all its rich creaminess calls for a refreshing high acid, fruity wine such as a classis Entre-Deux-Mers – a typical Sauvignon Blanc-Semillon-Muscadelle blend bringing crispness, texture and vibrant citrus, stone fruit flavors – a perfect foil for this delicious cheese fondue.
ORIGINAL WINE PAIRING
Refreshing dry white wine from the Graves de Vayres appellation, which have extra hints of spice and dried herbal notes
INGREDIENTS
- 400 grams of Gruyere and 400 grams of Vacherin Fribourgeois
- rosemary
- toasted baguette
- a copper poellon
- 1 clove of garlic
- 30 cl of dry white wine
- a pinch of pepper
Rub the skillet with the clove of garlic that you can leave (or not, depending on your preference) in the fondue. Mix the diced Gruyère AOP and the white wine in the skillet, and bring to a boil while stirring constantly.
Reduce the heat, add the Vacherin Fribourgeois AOP and stir quickly until the cheese is melted. Turn the heat off. The finished fondue should never reach a boil. Add pepper and rosemary.