Food and wine pairings
Autumn Table by Clément & Mathilde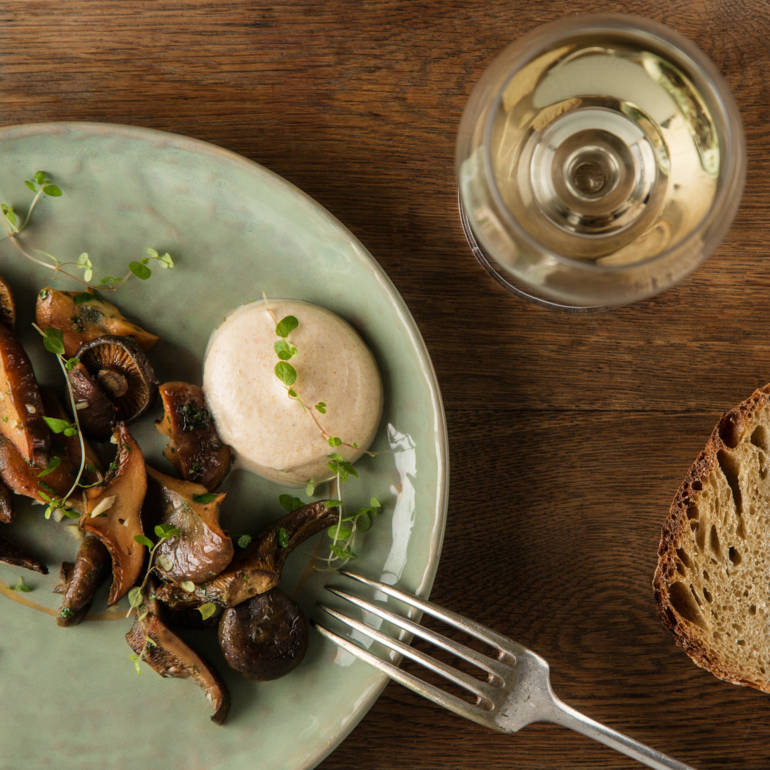 Sautéed ceps and toasted bread mousse
For 6 people
CLASSIC WINE PAIRING
A gentle, velvety match! The tannic structure of the wine is counterbalanced by the silky cep texture and its fat.
ORIGINAL WINE PAIRING
The subtleness of ageing Pessac Léognan dry whites in barrels provides a nice aromatic overtone resonating with the toastiness of the bread and ceps. An original and elegant pairing!
INGREDIENTS
1.5kg of ceps or wild mushrooms
3 litres of milk
800g toasted bread
250g of single cream
Salt
Espelette chilli pepper
Chopped parsley (and garlic)

Soak 800g of toasted bread in 3 litres of milk overnight. Recover 750g of liquid by pressing in a strainer. Add 250g of single cream, season with salt and chilli pepper. Pour the mixture into a cream whipper (siphon) and pressurize using two gas cartridges.
Clean and coarsely cut 1.5kg of ceps. Cook them in a frying pan with a knob of duck fat (or butter). Add the chopped parsley (and garlic). Dress the plate with the mushrooms and add the toasted bread mousse using the siphon.