Food and wine pairings
Autumn Table by Clément & Mathilde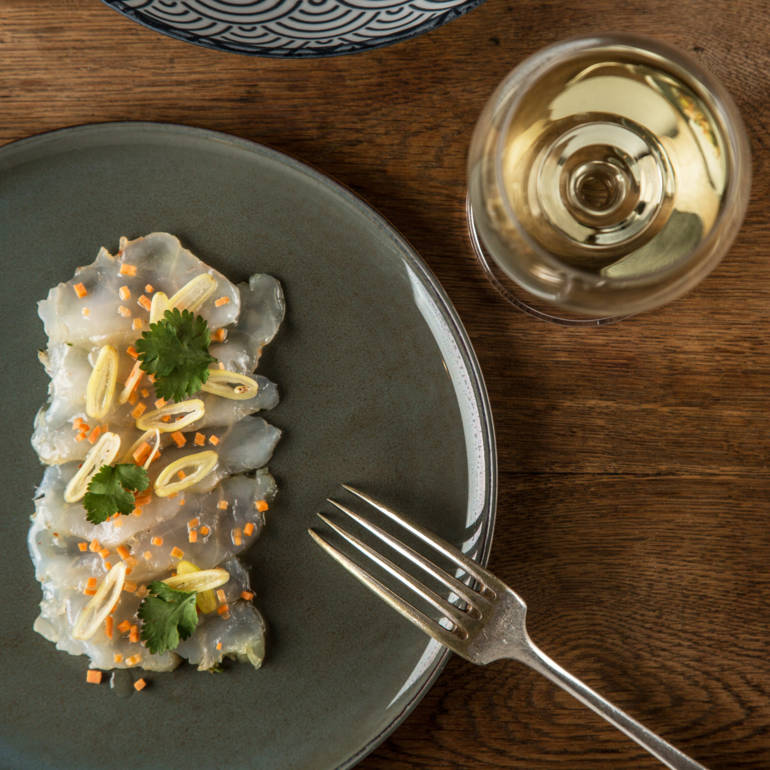 Marinated monkfish carpaccio with coriander, garlic, chives and olive oil
For 6 people
CLASSIC WINE PAIRING
The elegance of a dry white Graves pairs up perfectly with the fine texture of the monkfish, while the Sauvignon Blanc grape variety highlights the herbaceous aromas of the dish.
ORIGINAL WINE PAIRING
A more lively pairing with a semi-sweet wine will provide the dish with sweetness and fullness, favouring the harmony of the textures.
INGREDIENTS
1 monkfish tail, approx. 1 kg
Olive oil
1 head of garlic
Chives
Coriander
Coarse salt
Espelette chilli pepper

Dress the monkfish tail (remove skin and sinews). In a dish, cover the monkfish with coarse salt and let it stand for 10 mins to firm up the flesh. Rinse thoroughly. Place the monkfish on a piece of cling film.
Cover the monkfish with olive oil, chopped garlic, coriander and chives, then sprinkle with Espelette chilli pepper. Roll the monkfish up tightly in the cling film. Let it stand overnight. Cut wafer-thin slices and enjoy!