Words on Wine with Richard Bampfield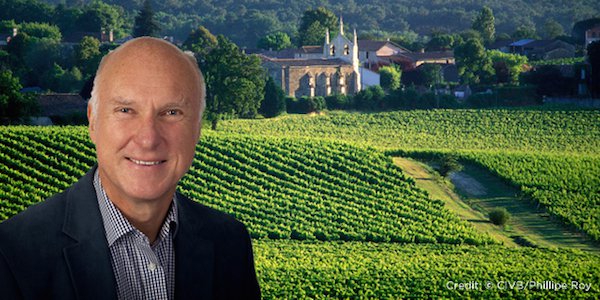 Richard Bampfield chaired the judging of this year's Everyday Bordeaux Selection, which was released last month. The Selection is a range of excellent value for money Bordeaux wines, covering a diversity of colours and styles to suit every occasion, priced between £6-£20. This year Bampfield and his fellow judges, blind-tasted a staggering 160 Bordeaux wines, which is obviously no mean feat. So we thought we'd find out a bit more about the man who's helped make your Bordeaux wine choices easier!
Ironically Richard's introduction to wine didn't start with a great vintage, but rather something less palatable: "My earliest wine memory was drinking cheap French plonk on holiday in France when I was in my early teens. The best bit was that my father told me it came out of the taps."  (If only!) Nonetheless the experience set the wheels in motion for his future career. He went on to study French at Cambridge and thought what better way to use his language than to work for the wine trade. "It was a love of wine and a desire to use my French, or perhaps entente cordiale!" He graduated from university in 1981 and began his career managing retail wine shops in the North West of England for JW Lees Brewers. After seven years he decided it was time to get closer to the vines, so he traveled to California and Australia and worked for various wine cellars. In 1990 he passed the Master of Wine exam and joined the Australian producer, Brown Brothers, to manage their European Operations. Today he runs his own company educating people about wine, training, and handling PR. He's worked with the likes of Dom Perignon Champagne, Yvon Mau (Bordeaux), Château Sociando-Mallet, Leith's School of Food and Wine, Santa Rita (Chile), Lidl and the English Wine Group. And until recently he was the Chairman of the Association of Wine Educators. Suffice to say he knows his wine, hence why he was asked to chair this year's Everyday Bordeaux Selection. He's a big fan of the region's wine and particularly excited about its white wines – even more so after chairing this year's selection. "Don't get me wrong, I adore Claret.  However, every year in this selection, I am struck by the quality of the dry and sweet white wines – and their favourable price to quality ratio." He says. Something we are also keen to highlight. Bordeaux produces great white wines and they are getting better every year, meaning Richard's enthusiasm for the colour doesn't surprise us one bit. Bordeaux is also a region he is particularly enamoured with, which of course makes the judging all the more enjoyable, as he explains: "As a lover of Bordeaux, I am pleased to see the improvement in consistency and quality year on year.  As a wine professional, I love judging with other professionals – there is nothing like tasting blind in a group to fine tune our tasting skills, keep us humble and remind us how much we still have to learn." It's refreshing to hear a Master of Wine still has a lot to learn, but this is the beauty of the wine industry – there's always something new to learn, a new wine to taste!
One thing he can of course do without hesitation is recommend his favourite Bordeaux appellations: "The major appellation that I think has improved out of all recognition in recent years is Saint-Estèphe. For regular drinking, Graves is a consistently exciting source of interesting wines on the left bank: and, on the right bank, Castillon and Fronsac would be my top picks." Says Richard. And in terms of food-pairings – our favourite topic – he is also quick to suggest a few: "I suspect I am ultra-conservative.  I adore the Sauternes / Foie Gras combination so much that I normally go back for seconds.  If I do make it to the main course, lamb chops and 20-year-old Saint-Julien or Pauillac will guarantee a big smile on my face. And then I realise that I have forgotten the Pessac-Léognan blanc and Coquilles Saint Jacques combo. Just as well there is lunch AND dinner!"
Richard is obviously passionate about his job, as you might expect from a Master of Wine, who has done the hard graft to get where he is today. "[I love] the product, the people and the opportunity to enjoy cultures in widely different parts of the world." He muses. "I am also lucky that the job I have been doing for the last 15 years offers plenty of variety." Of course as with every job, even if it's one built on passion, there are challenges, as Richard explains: "There's not enough time in the day to talk to/with all the people I would like to. I like to think that my audience absorbs information about wine, without feeling that they have actually been educated!" A tricky task, but one we're sure he's mastered. So what advice would he give to anyone wanting to work in the wine industry? "As in any industry, I would recommend trying a number of roles so you can find out what you are really good at.  And then try to make a career of that.  A love of wine alone is unlikely to be enough to attract an employer.  To give yourself the best chance of becoming a Master of Wine, learn all you can from those around you; take the WSET qualifications and make sure that you have plenty of time and the support of your company and family.  And I would recommend it to everyone – I do not believe MW's are born with a great palate, I think we acquire the skills through training." We agree, it's not a skill you're born with – wine knowledge and appreciation comes through experience, training and being exposed to a lot of different varieties of wine that helps hone your palate. Richard is also in a good position to comment on how the industry has changed in the last 20 years, which we ask for next: "From a quality point of view, wine has never been better, so for the wine lover things are pretty good.  But business in the wine industry is tough.  It is harder than ever for producers to find a profitable route to the consumer.  And an over-reliance on price as a promotional tool means that it is hard for importers and retailers to make money.  We need to make wine more aspirational again and give the wine drinker some good reasons why they might find it worthwhile to buy a bottle." The very reason we launched the Everyday Bordeaux Selection.
To find out more about the Everyday Bordeaux Selection 2015 click here.