Pair a delicious Indian dinner with Bordeaux wines
India boasts an impressive and immensely varied culinary landscape, influenced by regional variations, religious traditions, and a history replete with Portuguese traders, Mughal rulers, and others from far-off lands who introduced new elements to an already rich panoply of flavours. It is perhaps best known for fiery curries, but there is a wide range of Indian cuisine that is well spiced but not overwhelmingly spicy, and just as well suited for the right wine as it is for an ice-cold beer.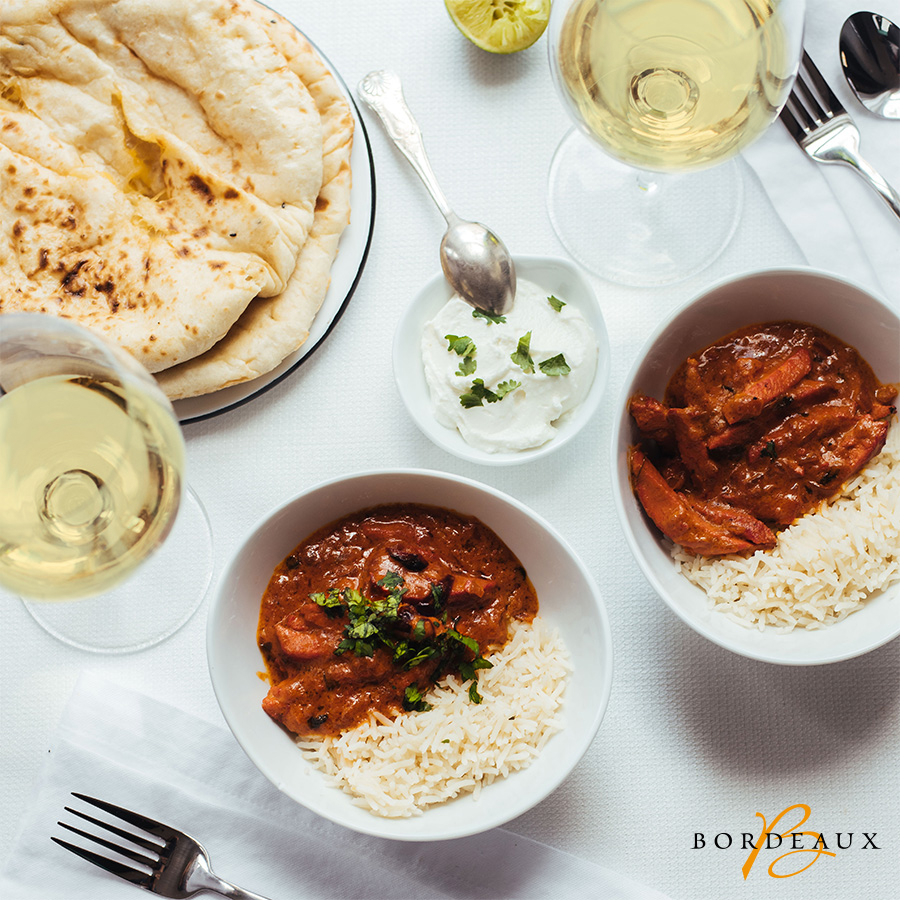 Butter Chicken may not be an entirely authentic Indian dish but it is today embraced from Sydney to San Francisco as a classic Indian dish regardless of its true origins.
To make Butter Chicken at home, first marinate chicken pieces in yogurt, lemon, and spices (a mixture like garam masala works well here, although you can also add extra cumin and turmeric to taste) for at least half an hour, ideally overnight, and up to 48 hours.
Next, cook some chopped onions in ghee (clarified butter) until translucent and then add whole cumin seeds, fresh chillies (chilli powder will work in a pinch), tomatoes, ginger, garlic, and a cinnamon stick. Let this cook for a few minutes before finally adding your marinated chicken, and then simmer until fully cooked.
Serve with rice, naan, and a bottle of Bordeaux wine. Although the complex spices of Indian cuisine might make you wary of drinking wine with a dish like Butter Chicken, we'd like to give you two different and equally delicious ideas for possible Bordeaux pairings:
The garlic, ginger, warming spices and tomatoes in Butter Chicken call for a young, fruity wine such as a Bordeaux rosé. These wines have the acidity and lively young fruit flavours to cut through the richness of the cream in this dish, yet are not tannic, making them the classic choice to stand up to the heat and spice of this bold sub-continental specialty.
For a more novel pairing, try a Bordeaux sweet wine (Sauternes is what you'll most likely find in your local wine store, but look—or ask—for some of the other 'lighter style' sweet wines such as Loupiac, Cadillac, or Saint Croix du Mont). The residual sweetness of these wines, coupled with zingy acidity and a cocktail of stone fruit flavours, creates a perfect foil for the rich spice of Butter Chicken. 
Whichever pairing you choose, we hope you enjoy your Indian feast with Bordeaux wines!