Get on Board with Bordeaux in 2022
Bordeaux activity in the UK is set to be bigger than ever in 2022, helping boost your sales, amplify your Bordeaux offering and help your team get to grips with the diverse offering of this world-famous region.
Bordeaux Day – Monday 11th July & Wednesday 13th July. After the success of the inaugural Bordeaux trade tasting events in 2021, Bordeaux Day will take place at Stoller Hall in Manchester on Monday 11th July and at Arlettie, 3-14 Margaret Street in London on Wednesday 13th July. Attendees will discover the quality, diversity and fantastic value that modern Bordeaux wines offer. They'll get exclusive insight into the region as we reveal the Hot 50 Selection 2022, present some of the best Bordeaux wines seeking representation in the UK, while a who's who of agents showcase their Bordeaux portfolios.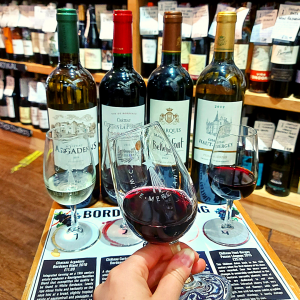 Bordeaux Wine Month returns – September. With a proven track-record of driving sales, Bordeaux Wine Month has become one of the most anticipated campaigns in the wine trade calendar. Independent retailers ca sign up for promotional support to run Bordeaux-focused activities during the month of September, showcasing the incredible diversity, quality and great value that modern Bordeaux has to offer.
The Bordeaux Bulletin – date to be announced. Brought to you from the vineyards of Bordeaux, the Bordeaux Bulletin will provide you with the latest new and insights from Bordeaux. Presented virtually by CIVB industry experts, you'll receive a preview of the 2021 vintage, export data and consumer trends to maximise your Bordeaux sales, as well as an update on the region's latest sustainability & CSR initiatives [Link to Mike's article]. For more information, contact teambordeaux@cubecom.co.uk
There will also be team training opportunities and masterclasses throughout the year… watch this space for more details.

 
And finally, as part of our strategy to reach a younger audience, we'll be taking our Bordeaux Wine Bar to the Abergavenny Food Festival from 17th – 18th September and Taste Festive in London from 18th – 21st November, where we'll be giving visitors the chance to explore the breadth of modern Bordeaux wines first hand.
For more information or to get involved in any of our events, contact teambordeaux@cubecom.co.uk