Food and wine pairings
Holiday table by menue. & Slice of Pai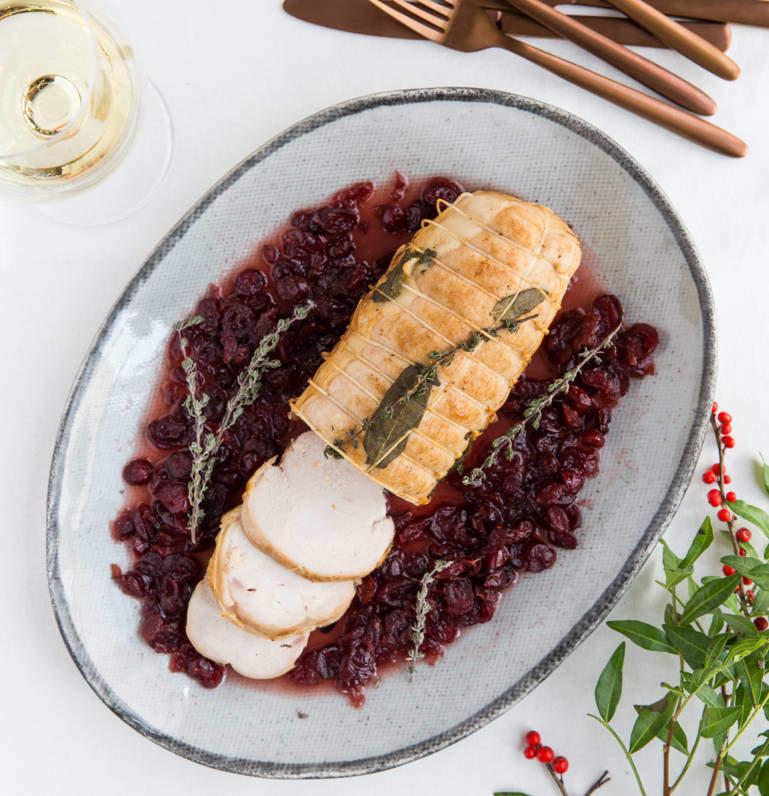 Turkey Breast Roast with cranberries
For 6 people
COOKING TIME
1 heure pour le rôti + 10-15 minutes pour la sauce
CLASSIC WINE PAIRING
The mildness of the meat pairs well with the subtlety of a smooth and fruity Bordeaux red, echoing the fruitiness of the cranberries.
ORIGINAL WINE PAIRING
Sweet wine and white meat, a perfect pair of smooth textures and flavours.
INGREDIENTS
1kg turkey breast roast
200g of cranberries
30cl of white wine
4 shallots
2 cloves of garlic
a few sage leaves
50g of butter for searing

1 hr before preparing, slip the sage leaves between the bard and the roast and let it stand at room temperature so the meat is tender. Preheat the oven to 180°C. In a hot, buttered frying pan, quickly brown the roast on each side. Then place in a baking dish. Next, sauté the garlic and shallots until the shallots are tender. Deglaze with white wine and pour over the roast. Bake in oven for 1 hr. Make sure the roast is turned over and basted regularly while cooking.
In the meantime, soak the dried cranberries in a bowl of warm water to re-hydrate. At the end of baking, lower the thermostat to 50°C, strain off the juices, pouring them into a small pan, add the cranberries and the water they soaked in. Simmer until the sauce is a pretty red colour. Thinly slice the roast, dress on a plate and add the cranberry sauce.