Food and wine pairings
Holiday table by menue. & Slice of Pai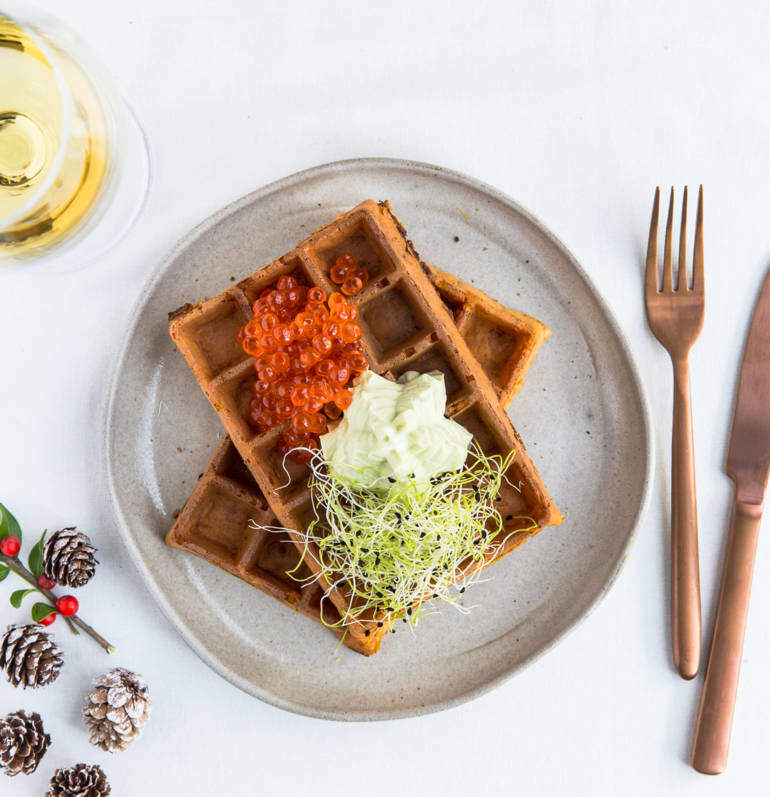 Sweet Potato Waffles with Comté cheese, wasabi ricotta and salmon roe
For 4 people
COOKING TIME
30 minutes for sweet potatoes and batter / approx. 5 mins for the waffles depending on the waffle iron
CLASSIC WINE PAIRING
A match all about roundness, highlighting all the waffle ingredients without leaving out a single one... A practically perfect pairing!
ORIGINAL WINE PAIRING
Let the contrast enhance this dish: the Sauternes stands up just right to the strong wasabi flavour and the salty character of the salmon roe.
INGREDIENTS
400g of sweet potatoes
300g of flour
3 eggs
40cl of milk
50g of Comté cheese
a tablespoon of baking powder
1 jar of salmon roe or lumpfish roe
500g of ricotta
wasabi paste

Peel and cut sweet potatoes into small pieces. Cook in boiling water for 15-20 mins or until potatoes are knife tender. Strain and mash into a purée. Progressively add the flour, baking powder, milk and roe, followed by the cooled, melted butter and the grated Comté until batter is smooth.
Pour batter into a waffle iron, and cook until slightly brown. Combine the wasabi with the ricotta until the mixture is a little spicy. Dress a spoonful of lumpfish or salmon roe, a spoonful of the ricotta-wasabi mixture and a few sprouts of one kind or another.