Words on Wine with Julia Oudill
We spoke to Julia last Friday on a quiet lull between her lunch and dinner rush, to find out about her passion for wine and her job as Head Sommelier and General Manager at the London-based bar and restaurant, Compagnie des Vins Surnaturels.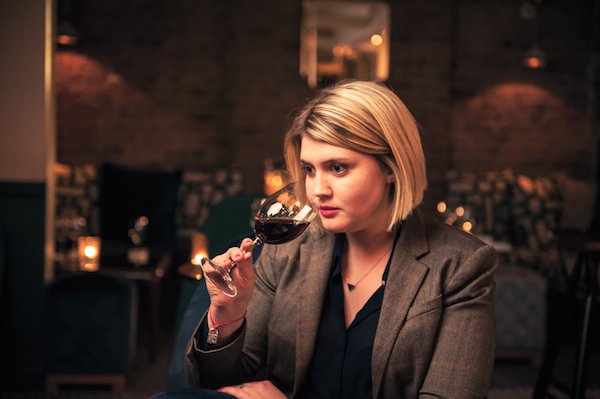 Image Credit: © Addie Chinn
Julia has been interested in wine since she was young, having been fortuitous enough to grow up in a family that has its roots firmly set in the restaurant business. "It's in my blood, my brother is a chef and my mother owns a restaurant", she explains. And from a young age she and her brother were educated about wine: "when we were children, my parents taught my brother and I about the taste of different wines; red, white, sweet and dry." While her brother followed the path to becoming a chef, Julia chose wine – having always been fascinated with how it's possible to create a £3000 bottle of wine from grapes. "When I was 14, I knew I wanted to be a sommelier, I wanted to know more and I wanted to study the subject. I think it was a matter of passion."
After studying at a catering school in her native Biarritz, she moved to Bordeaux to undertake the Mention Complémentaire Sommellerie, a diploma that trains students to work with wine in the restaurant and hotel industry. "It lasts for one year and you just learn about wine, from morning until night."
Following the course, Julia moved to Paris, where she gained experience working in various 2 & 3 Michelin-starred restaurants. It was while living in the French capital that she met the Experimental Cocktail Group (the team behind the Experimental Cocktail Club in Paris, London and NYC), who were to become her future employers.
Last year she moved to London to become head sommelier of their newest spot – a French bar and restaurant in Covent Garden. Her day-to-day role is varied, but she devotes two to three hours a day to looking for new wines. As the sommelier, she is in charge of the wine list (an ever changing list). "I have appointments with the suppliers or I try to go to the vineyards." It's her biggest challenge. With so many wines, she does her best to stay in the loop, as she explains: "There are a lot of challenges that come with the job, but the biggest is of course the wines! There are so many different wines in the world and as a sommelier; the challenge is to be aware of as many of them as possible. I always have a notebook in my handbag, so that every time I hear something, read something or taste a new wine, I note it down so I remember to look for it later."
The rest of the day is taken up with the stock take – making sure the wines on the wine list are in the restaurant, and then the all-important time spent on the floor with her customers, chatting to them, advising and recommending wine, which of course includes Bordeaux. "For our customer, Bordeaux is Bordeaux. When you buy it you know you are going to enjoy it, because the region produces some of the best wines in the world." We, of course, would agree with that, but does she have any favourites? "At the moment I'm particularly interested in Castillon Côtes de Bordeaux, which are round and structured red wines from the northern part of Bordeaux. I also like Côtes de Bourg. I think they are great wines and great value for money. But if I had to drink one last bottle of wine before I die, it would have to be from the Médoc. I particularly like the Saint-Julien appellation."
With Easter coming up this weekend we wanted to know what her favourite Bordeaux wine and food pairings would be! "We've added Pessac-Léognan 2010 from Château Haut-Lagrange by the glass to the wine list and have suggested pairing it with a rack of lamb that our chef has just created for our Easter menu." She says. "We tried it last night and it was amazing. When meat is perfectly pink in the middle and paired with a powerful and intense red Bordeaux wine, such as the Pessac-Léognan, the wine brings out the sweetness of the dish – it's delicious. We're also working on a chocolate pairing, which can be complicated. When pairing chocolate with wine, you need to add something to the chocolate that will make a link with the wine. For example if you take sweet Bordeaux wines from Barsac and Sauternes, they have mushroomy, sweet and spicy aromas that can be quite strong. I would suggest pairing them with a chocolate, which has had some ginger or pepper added to it – here you're going to create a link with the wine.
And finally what does she eat for Easter with her family back in France? "We're going to have lamb of course, and my father always makes another dish, whereby he pan fries an egg and then adds it to a salad of morel mushrooms and smoked duck breast. Then it's usually chocolate to finish." We can't think of a better way to spend Easter!