Wine Books We Love!
Wine books we love!
With the arrival of spring, you're probably already thinking about summer and that must-needed vacation, as well as which wines you might be drinking! We've picked our top three books to buy on wine, to help you broaden your wine knowledge and help you with everyday food & wine pairings. The first two will either make for good holiday reading, depending on how much you want to know (and pack) and the third is great to use as a guide to ordering wine, no matter what country you visit!
Wine & Food: Pick the right wine every time by Jane Parkinson
Jane is the darling of the London wine scene and won the Wine Communicator of the Year Award in 2014. She recommends wine and food pairings for Stylist magazine, is the wine expert for Saturday Kitchen and regularly writes for various food and wine publications. To say she knows a thing or two about wine would be an understatement! Her book Wine & Food gives the low-down on grape and wine varieties in the section aptly named The Cellar and The Table section will help wine fans old and new pick the right wines to pair with different foods, such as meat, vegetables, cheese and spicy dishes. She also gives top tips about pouring and storing wine, advice on chilling reds and suggests wine styles to pair with a take-away! A must-have.
We are doing a book giveaway on Twitter! Follow along here & retweet for the chance to win one of three copies. To enter you must be living in the UK.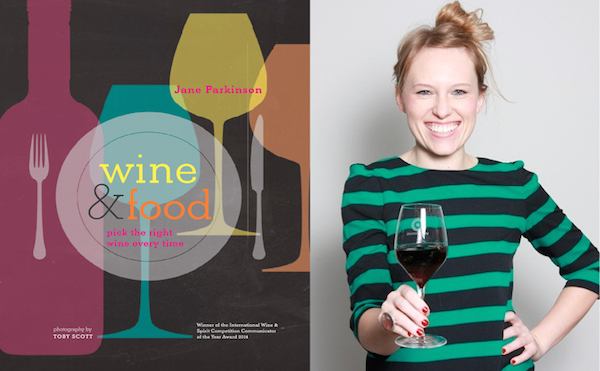 Wine Science: The Application of Science in Winemaking by Jamie Goode
If you already know your Graves from your Saint-Émilion, you might want to discover a bit more about how wine is made! This therefore, should be your next purchase. Jamie Goode is a wine expert and biologist, who writes about wine for various publications, including the Sunday Express and Decanter. He also runs his own wine blog, Wine Anorak – one of the best in the industry. In his new tome, he explains winemaking techniques, the practicalities of winemaking and lifestyle influences, as well as organics and biology in an easy to understand and digestible manner.
Hugh Johnson's Pocket Wine Book 2015
If you're only going buy one book about wine this year it should be Hugh Johnson's Pocket Wine Book 2015. Now in its 38th year, this is the definitive guide to wine. Not only does it contain a comprehensive list of every winemaking region in the world, with tasting notes and what grapes the wine is made from, it also advises which vintages to drink now and which ones to store in the cellar to be drunk at a later date. It's like a yearly-updated dictionary of wine. And being pocket-sized means it's small enough to fit in a handbag – so take it to the supermarket when you're buying wine or to a restaurant when you're trying to decide what wine to order with your meal!