Nature inspired DIY Christmas table decorations
It's impossible not to notice that Christmas is coming. The lights have been switched on, most of the major British retailers have now launched their 2017 Christmas adverts, the stores are filled with Christmas presents and decorations – everyone is breathing, talking and thinking of Christmas.But Christmas most of all means home. It's not only about the presents and festive food but about that special atmosphere shared by all members of the family around the Christmas table. And what if, for once, we swap glitter and fake snow for natural materials and handmade items?Here are some DIY ideas that will not only cherish the soul of Christmas but help your already empty wallets.
Light
Christmas candles
Candles are much warmer than fairy lights, they make Christmas more magical and soften the ambience. And yet, candles melt to the rhythm of the hours, slowly but surely, onto your festive tablecloth. So, to make them last the whole day, we suggest reusing your bottles of Bordeaux wine as candleholders. If the bottles are see-through you can fill them with some water and foliage to recreate a feel of a woodland hideaway.
Why not try wrapping the candles (preferably ones of large diameter) with leftover foliage, fallen branches from the trees or herbs like rosemary or thyme. The latter, with the help of the heat from the flame, will diffuse their scent throughout the evening. Just use a piece of string to attach those natural design details.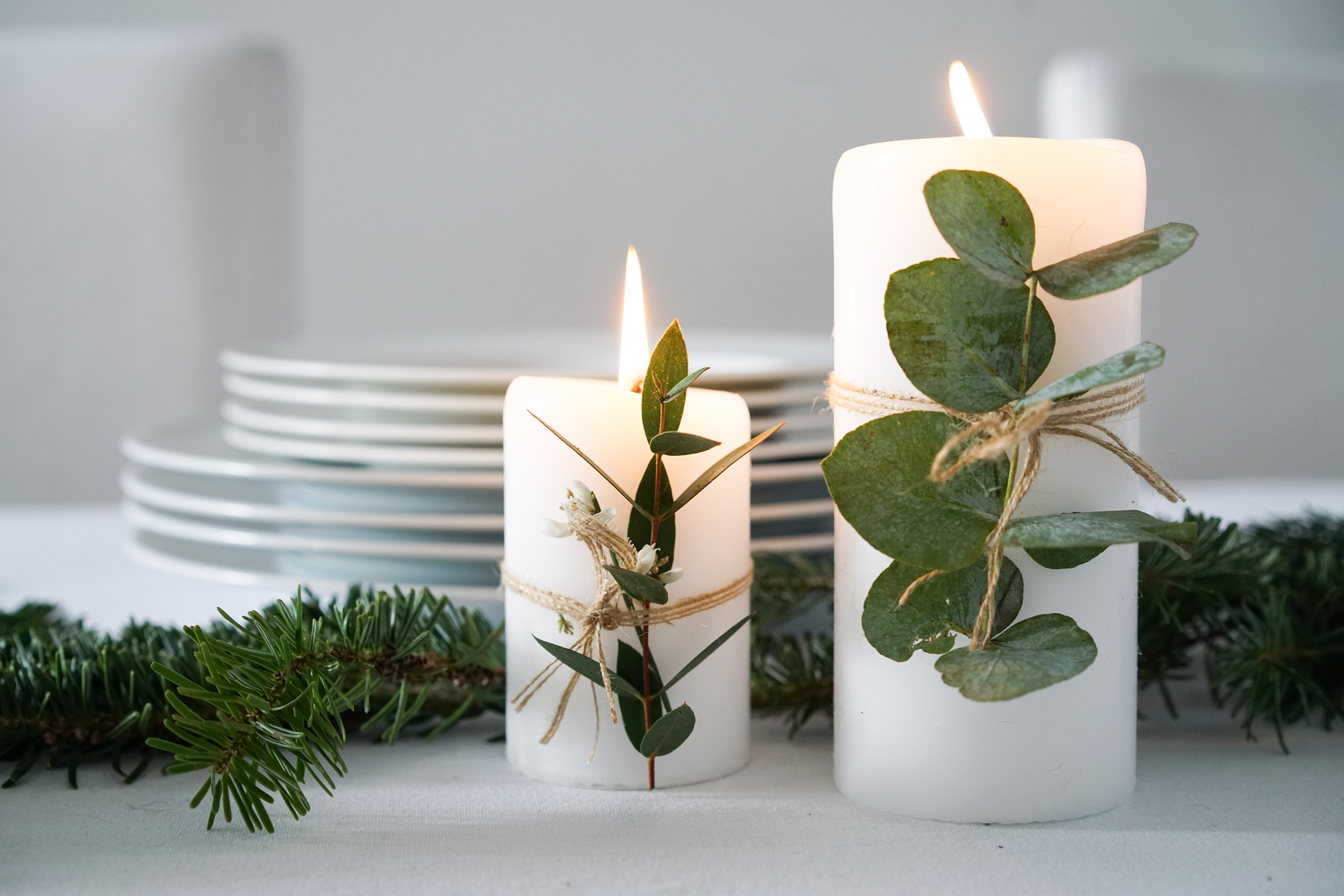 Flowers
From the wreath of holly over the front door, to the pretty bouquet on the Christmas table, not to mention the tree, green is a traditional Christmas colour.
So, in order to preserve this vivid colour until January or even longer (everyone likes to make the spirit of Christmas last), use greenery that does not fade, such as fir or eucalyptus. Gather a variety of foliage, berries, twigs, pinecones, and anything else you want to add to your wreath.  
Twist the flexible stems together in a loop and tie in place using twine. Continue adding more stems until you have a strong base. Decorate your base with evergreens by tying the sprigs to cover it completely.
The details
And because elegance is in the details, why not decorate your napkins with fresh sprigs of rosemary or eucalyptus tying them with a string. And why not do the same with the wrapped gifts?
Now the table is set, simple but elegant.
All you need to add are some delicious Bordeaux wines. Why not check our festive recipes and wine pairings ideas: www.bordeaux.com/uk/Bordeaux-Magazine-UK/Journal/News/Christmas-lunch-with-Bordeaux-Wines#o3ouWYVZekjbBMm5.97