Bordeaux becomes a foodie centre!
In March earlier this year, star French chef Joel Robuchon opened a restaurant at La Grande Maison – a small boutique hotel located on the city's left bank owned by wine magnate and art collector, Bernard Magrez. The "chef of the century" as Robuchon was crowned by the Gault et Millau guide in 1989, is the most Michelin-starred chef – 25 at last count and has restaurants all over the world. With his newest Bordeaux venture he is aiming for three stars, which will make it the first in Bordeaux! Surrounded by sumptuous old-world interiors, the restaurant also boasts a huge Bordeaux wine list, including an impressive 259 Grands Crus.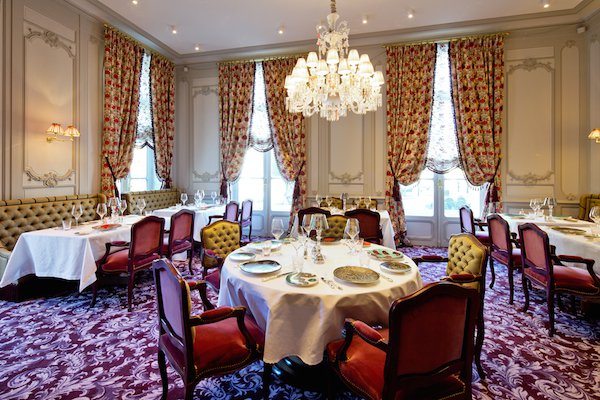 Image credit: here
Last month Gordon Ramsey launched Le Pressoir d'Argent, in the heart of Bordeaux, opposite the city's opera house. It's a fine-dining restaurant situated in the five star hotel, Le Grand Hôtel de Bordeaux & Spa. The space is Ramsey's second restaurant to open in France and is headed up by Executive Chef, Gilad Peled. Gordon Ramsey has said of the opening: "To open a restaurant in the wine capital of France with its world-class vineyards and glorious regional produce is extremely exciting."
Image credit: here
At the beginning of September, two-Michelin star French chef and host of Cauchemar en Cuisine – France's equivalent to Ramsey's Kitchen Nightmares, Philippe Etchebest, opened his newest restaurant, the Quatrième Mur next to the city's theatre. With his first based in Saint-Émilion, the chef knows the region well, but his opening in the city of Bordeaux goes to show how important it is for him to be a part of the culinary culture of the region.
Image credit: Château La Dominique is a great example: a terrace restaurant (La Terrasse Rouge) was incorporated into the renovation of the new wine cellar designed by French architect Jean Novel. Overlooking the Saint-Émilion vines, it opened last year and has become a favourite amongst Bordeaux wine fans and locals.
Image credit: 20 Minutes