Spring chicken salad toasts by Smitten Kitchen
We'd pair this dish – which will make the perfect lunch or light dinner – with a structured & generous dry white Bordeaux such as from the Graves or Pessac-Léognan appellations. These substantial white wines not only have a strong aromatic persistence with flavours of hazelnut and wild flowers that will stand up against the intense taste of the horseradish sauce, but their aromas of grapefruit and peach from the Sauvignon Blanc grape, will equally complement the recipe's fresh herbs, cucumber and radish.
Our top picks:
Château Baret 2011, Pessac-Léognan, £15-20: produced from a Sauvignon Blanc dominant blend, grown in a combination of sandy and clay soils that are characteristic of Bordeaux's Left Bank, this is an expressive wine with floral and oaky notes that feels rich in the mouth – a classic Pessac-Léognan!
Château La Rose Sarron 2013, Graves, £10-15: Dating back to the 19th century, the property's wine life began just 35 years ago when it was bought in 1985 and completely replanted. This wine has sweet peachy characters with a long finish.
Château Tour Léognan 2011, Pessac-Léognan, £10-15: Produced from the same vines as Cru Classé Château CARBONNIEUX, with the same attention and care, this wine is characterised by its freshness, elegance and balance with complex aromas of gooseberry, grapefruit and orange blossom.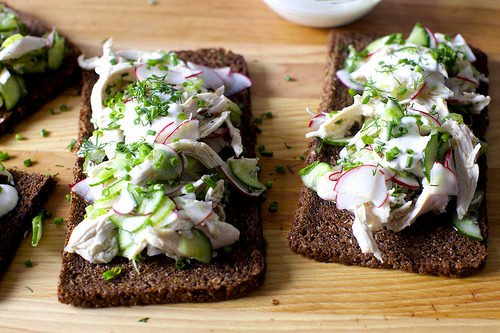 Ingredients:
2 to 3 large toasts; could be dinner for 21 large skin-on,
bone-in chicken breast (about 12 to 14 ounces)
About 2 1/2 tablespoons olive oil
Kosher salt
Freshly ground black pepper
Salt and freshly ground black pepper
1 tablespoon white wine vinegar
1/2 small cucumber, such as a Persian variety, halved, thinly sliced
1 small celery rib, sliced thin
3 radishes, quartered lengthwise, sliced thin
1 scallion, sliced thin
1 tablespoon chopped dill, chives or parsley, or a mix, for garnish
3 tablespoons creme fraiche1 1/2 teaspoons prepared horseradish, liquid drained off a little, plus more to taste
2 to 3 thin slices rye, pumpernickel or another dense health bread, toasted
Instructions:
Heat oven to 425°. Place chicken on a small rimmed baking sheet and rub with 1 tablespoon olive oil. Season with salt and pepper and roast until golden brown and cooked through, about 25 to 30 minutes.
Let cool, then remove skin and bones and shred meat into bite-sized pieces.
Place shredded chicken in a medium bowl and toss with 1 1/2 tablespoons olive oil, 1 tablespoon vinegar, 1/2 teaspoon kosher salt and freshly ground black pepper until evenly coated.
Add cucumber, celery, radishes and scallion to salad and toss to combine.
Adjust salt, pepper and vinegar to taste.If you need horseradish crème fraîche in your life — I know I always do — combine crème fraîche, horseradish and a couple pinches salt in a small dish and stir to combine.
Heap salad on 2 to 3 toasts (i.e. more on 2 or less on 3). Dollop with horseradish creme fraiche, if using, and garnish with herbs.
Do Ahead: Chicken can be cooked 2 days ahead; cover and chill. Shred just before using.